Utopia could be characterized as a place where all the problems we experience every day have been resolved. And for that, it could be a way to criticize the society we live in. Utopia is also a no-place as the etymology of the word itself tells us. And for that, it is a place that has not and also can not be realized. Nevertheless, utopian thinking has been and still is a basis for political ideas. A scale model can be one of the steps for developing or realizing a project. So isn't it just so smart to combine the two ideas in one's artistic practice?
I'd like to start with – maybe the most famous utopian scale model – Monument to the Third International. Tate.org.uk calls it the "world-famous symbol of utopian thought". It is a never realized project for a communist building that was supposed to serve various governmental purposes. But it is also a symbol of modernism, for it was the first project using steel and glass. And in its ambitions – at this time it was supposed to be the highest building on earth – we see the utopia. It looks in a way like the biblical Tower of Babel – the symbol of man's vanity –  a building so great and enormous it cannot exist. Even though the tower has never been realized, it is vital in our Europian culture. Not only as a part of Russian avant-garde history, but as a symbol of utopia.
Tower Bawher Theodore Ushev : National Film Board of Canada
Utopia is a social project, but as history shows us trying to implement it in society fully can be fatal. Swiss artist Thomas Hirschhorn tries to do so on a smaller scale. He has made sculptures referring to various philosophers and thinkers like Antonio Gramsci, Baruch Spinoza, George Bataille or Gilles Deleuze. He places his works in selected areas, where with members of the local communities it becomes a sort of inclusive, intellectually stimulating event. His sculptures seem to be social scale models. Scaling not space but time. Making use of their temporality. Hirschhorn calls them "social commitments".
I want to make non-hierarchical work in non-hierarchical spaces. The work is not something more in the museum and something less in the street; this is essential for me. I am concerned by equality and inequality in all forms. Thus I do not want to want to impose hierarchies (…) I am not interested in prestige. I am interested in community.

Thomas Hirschhorn, Interview with Okwui Enwezor, 2000
 Be sure to see it for yourself:

Spinoza Monument in Bijlmer Amsterdam, 2009

and


Thomas Hirschhorn: "Gramsci Monument"
Another artist that plays with the idea of utopia is Bodys Isek Kingelez. He builds scale models that represent the future state of cities/villages that already exist in the Democratic Republic of Congo. What the cities are in his scale models is not necessarily the desired way he imagines future, but rather a capitalist utopia – an inevitable way in which cities are transformed in a logic of consumerist society. Depending on how you look at it – it could be a utopia or a dystopia.
Kimbéville is a real town witch, given time, will exist; it is not an effigy made up of well-known brand names witch is doomed to remain a maquette. (…) This maquette is a promise of something real. The attractions of this town include a plethora of services, hotels and restaurants. Sometimes with an American flavor, sometimes Japanese, Chinese or European, not to mention African fare. 

The town has it all, from sun-up to sun-down, and for forever and a day. The artist, Kingelez, prophet of African art, is striding towards a new world witch is more modern, more prosperous and a better place to live.
Bodys Isek Kingelez, The Essential Framework of the Structures Making up the Town of Kimbembele-Ihunga (Kimbéville), 1993-4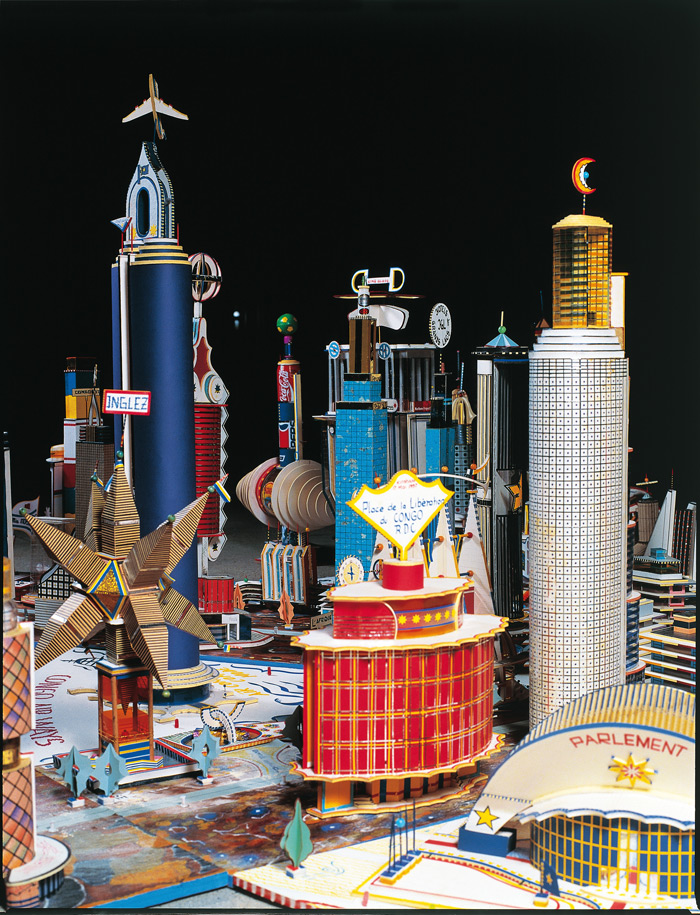 Utopia is a way to criticize the society we live in. Dystopia serves the same role but utopia does so by providing/imaging an alternative to what we have, whereas dystopia points out the risks that society might face in its development. Dystopia is a utopian project that went wrong.
(…) there remains something subversive about these attempts to celebrate the beauty of utopia as inherently totalitarian while maintaining a critical distance from the implications of this attraction.
The ultimate dystopia has been indeed realized in a history of human activity and probably is still in realization in places like North Korea. But for western people, the most horrifying part of the world's history is likely to be the Second World War. The unimaginable dystopia that has been created by the Nazi government is the concentration camp, where the idea of efficiency has been realized to the point where a mass genocide could be profitable in the logic of capitalism.
Polish artist Zbigniew Libera has made an art piece in dialogue with this historical fact. It's 1996 "Lego. Concentration Camp". He used popular Danish construction toy to make a scale model of a concentration camp.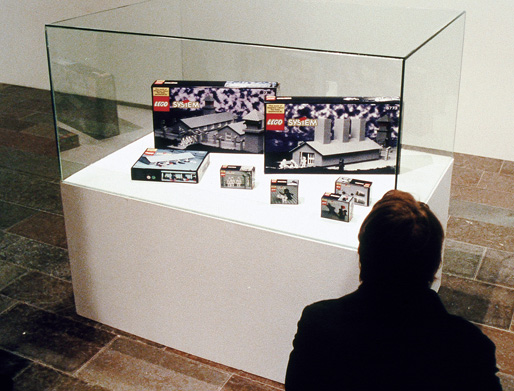 Holocast LEGO 1996 by Zbigniew Libera ©2016