Maybe you find it puzzling that this posting about Helvetica and Wim Crouwel starts with an image of Paul Elliman's "Bits" Alphabet.
Extremes can sometimes meet when you least expect it, and this fascinates me. It became apparent again during the investigation by the FoundationYear C group, into Gary Hustwitt's Movie "Helvetica" and our consequently visit to the Wim Crouwel exhibit last month at the "van Abbemuseum".
left: Bits by Paul Elliman, right: Objectified by Build (click images for blog info)
"Bits" was developed by Paul Elliman in the mid 90ties and published in the 15th (Cities) issue of Fuse's conceptual Font Box. quote: "Language moves between us and the world on patterns of repetition and variation, and a mimetic example of this might be something like an alphabet"
Later, in 2004, it was included in the Cooper-Hewitt Design Triennial N.Y. which made "concept type" part of the established design world.
Gary Hustwitt's new documentary "Objectified" takes design, and as a matter of fact "Bits" too, one step further by making it popular in the same way as he did with "Helvetica".
Modernist thinking, or even constructivist-, lays at the base of the "Helvetica" concept and the work of Wim Crouwel, as this first movie on typography has him stated. As a true Dutch graphic design icon Wim Crouwel illustrated this through work, presented at the library exhibition of the van Abbemuseum, celebrating his 70th birthday. A small but beautiful display of catalogues and posters made for both this and the Stedelijk Museum in Amsterdam.


pages by Crouwel versus pages by Jan van Toorn from publication "Het Debat"
Extremes met in person when Crouwel and Jan van Toorn celebrated their life long controversy with a recurrence of their famous 1970 debate. Functionalism versus engagement. Jan van Toorn succeeded Crouwel as a designer at this museum under the directorate of Jean Leering to manifest in an inspiring cooperation what that leads to in terms of exhibition concepts and graphic design ("Museum in Motion" at the library). Jean Leering also closely work together with Jan Slothouber (read part 1 of C group's research) at the TU-Delft where the published several internal essay's on the philosophical and social consequences of design.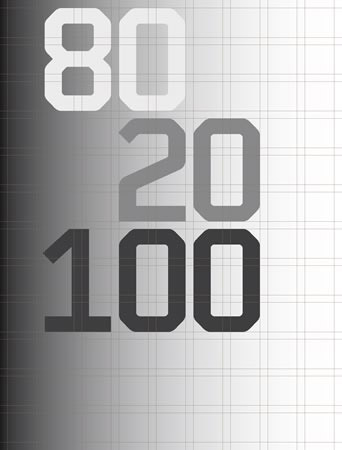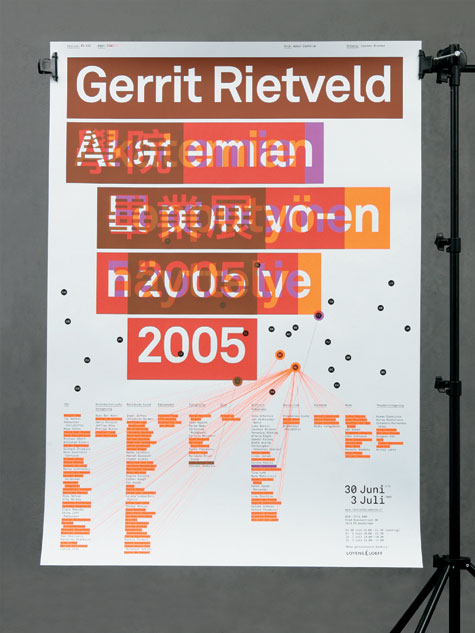 80/20/100 © Nijhof&Lee booksellers – Laurenz Brunner, final exam poster
More research was conducted to explore related content or work approach of other designers like, Laurenz Brunner's "Akkurat", his successful contemporary remake of Helvetica, Experimental Jetset convicted users of Helvetica, the cooperation "8020100" between Vivid Gallery in Rotterdam and Nijhof&Lee Bookstore in Amsterdam. Context was created by turning the focus on Adriaan Frutiger, designer of Helvetica's conscientious alternative "Univers". To further explore the relation to language and image we further focused our investigating efforts on the visual legacy of Charles & Ray Eames, the "El Hema" exhibition/store and Massin's timeless publication "Letter and Image".
With the inclusion of Belgian artist Guy Rombouts the full circle of our focus on type design was completed. The investigation into his visual language concept "AZart" will be presented soon in a separated part 3 C_group posting. This was part II of the C_group research
All researches linked in this posting can be downloaded in A4 format and are also available as hard copy research prints at the ResearchFolders available at the academy library