1933. 
John Laxaabakk was born in Sultielma, a small mine village in the north of Norway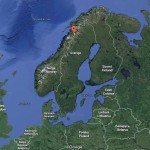 2010.
My grandmother's stepsister came from Holland to Gothenburg and told us (my family) that he (John Laxaabakk) had been living in our city in Sweden but now had passed.

He had been laying in his apartment without anyone knowing it for almost a year.

2010.
We went to the apartment. It was sad, beautiful and intense.

There were decorative things everywhere, carefully chosen places for everything, there was a presence of life even though no one was there. Red velvet curtains, golden frames, vitrine cabinets, books, records, video games, posters, cassette tapes, paintings, instruments.. It really felt like we were invading someone's home. Someone's own important and personal space.

John Laxaabakk was rejected by his mother and father (my great grandfather) because of his sexuality.

My grandmother moved to Sweden to work at a factory when she was 16-17 years old. I do not think they ever saw each other again, but I'm not sure of that, I never met her either.
2016.
When we got the assignment to make a mask/headpiece inspired by someone else I immediately thought of John, I had been thinking about that I wanted to make a work inspired by and for him and with this project I saw that opportunity. The process have been quite complicated for me, both emotionally and aesthetic wise. I did not think of, at first, that when you bring something personal like this to school, or let's say the public you have to be completely open. I learned that the information I have, my process and and final work is for everyone else to judge even though the subject is highly personal. In the end I saw my work as a homage for John rather then a mask of him
–
I started working with what I had, pictures we took when we visited his apartment, researching the village he came from, listened to cassettes he recorded where he sings and plays the guitar. I had some contact with his sister although she seemed a bit distant to wanting to talk to me about this. And I had to respect that. I decided along the way to focus more on what I saw and felt when I looked at what I had and thought about him and his life destiny.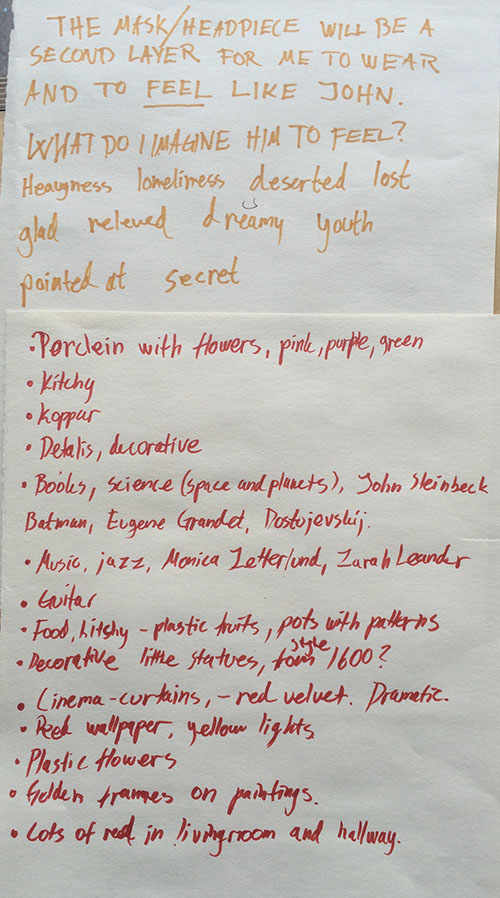 I remember I was touched by the theatrical interior John had. I've always wanted to have red velvet curtains as well. I imagine us sharing an interest for the dramatic. That is another reason why I chose to work with John in this assignment. It seems that he has been forced to act during his life. That social conventions and the time and environment he grew up in didn't accept him for who he was or wanted to be. I extracted colours in his home, thought about music he listened to and what titles in his bookshelf I could see from the old pictures. I started experimenting.

But realized it was way to "spacey" an I needed more decorative elements for it to be right. I listened to songs he recorded, here is one of them with a musician he admired, Nat King Cole with Nature Boy. Further down in the text there is a song from Monica Zetterlund, Swedish jazz singer.
I made it more romantic.

And started working on a costume as well. I felt I could not say it all with a headpiece. I got some dark red fabric and used interior fabric in beige and white to drape and improvise shapes and qualities.

I made the arms long to show the feeling of being captured and I added more and more layers to the costume, the person who wears it is captured but beautifully so, like a Geisha.
When I was almost done with the costume and mask I still wanted to add something more. This project was getting bigger than I had anticipated but I went with it because it felt like the right, and only, thing I could do. There was so much to say and somehow I started to get to know this person a bit, through me. My mum showed me a diary she had found the day we were in John's home and I decided to make a small booklet out of it. He only wrote small notes a few times a month but it shows his delicate observations, his finding out that he got cancer and his quiet joy and ode to life.
2005/2016.

"At the doctor's 9 a.m
Found out there is something wrong in my stomach
He called Axess.
And got me an appointment at 8 p.m"
"Taxi to Axess.
              The doctor found a tumor in the kidney.
               He faxed Ben, he called me and told me.
               Sahlgrenska next."
"Grey & rainy.
No spring in site.
Suppose to get colder again.
Am a bit depressed.
But it will pass.
As long as there is life e.t.c."
Results.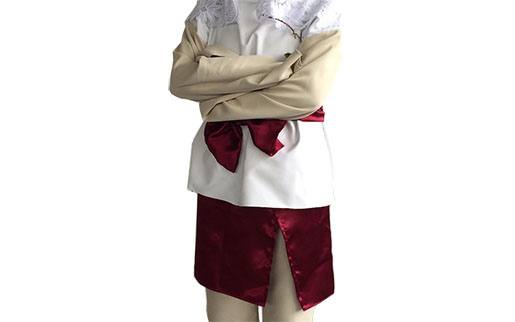 To complete the costume I made a pair of platform shoes in wood before the presentation. I wanted to be taller and more restrained to really get into the feeling of being restrained. However I should have covered them because they took to much attention from my other work. For the next presentation I will have worked on them for a bit, to make them more low key.
Thank you, John. 
I am glad I did this, I hope you are too. And I hope you know that I would love to have gotten to know you. I would have love to talk with you about music, books and all the other things that are important in life. Even though you had a tough time sometimes I see your love to life through small windows  in your home, music, writings and photographs. Thank you again.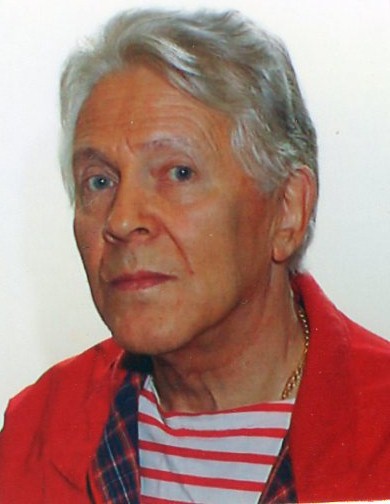 photo of Laxaabakk
[audio:https://designblog.rietveldacademie.nl/wp-content/uploads/2016/04/Monica-Zetterlund-Trubbel-live-1968.mp3|titles=Monica-Zetterlund-Trubbel-live-1968]
Sound file: Monica Zetterlund – Trubbel (live 1968)