by Marguerite Bonneil
who has been proposed to design a headpiece for someone of her own choice.
You want to know about my design process ?
How do you want me to explain it to you clearly ? It's such a mess …

OH I LIKE IT //1// Bring your shits and sheets
First aim. Find a character. Find an universe. Find an aesthetic.
You didn't ask me to create a headpiece.
No, no, no. You asked me to design it.
So, if I wanna be free in my design,
I should design my own character.
Let's see what I want to work with,
let's hang this stuff on my wall,
and see what comes out of it…
I WANT SOMETHING WHICH IS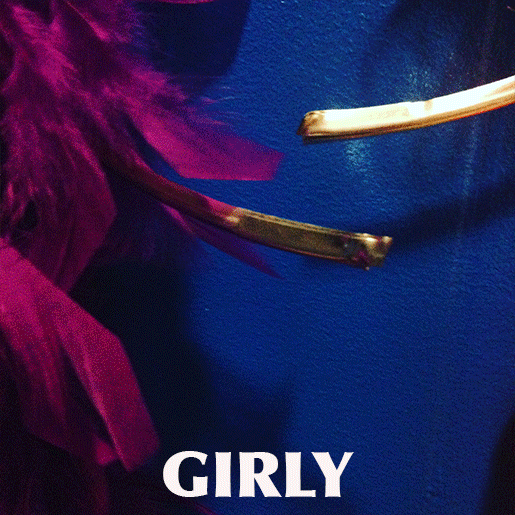 TELL A STORY //2// Colors, characters and desires
I want to tell a story, a story for grown-ups,
to remind them that we are never the same,
to remember that we never know what is going to happen.
I want to tell a story about materialities,
about this objects among us, in which we recognize ourselves so well.
I want to tell my fascination for objects, who are so human,
because they all reflect one human's mind.
Here is the beginning of the story;
(this is a slow gif, be patient)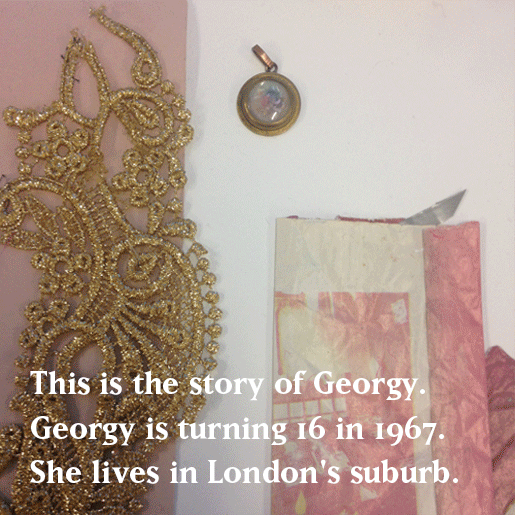 Gold, Clear Pink, Sand and soft.
Those are the materialistic translations of Young Georgy.
–
Georgy has a neighbor, a creepy neighbor …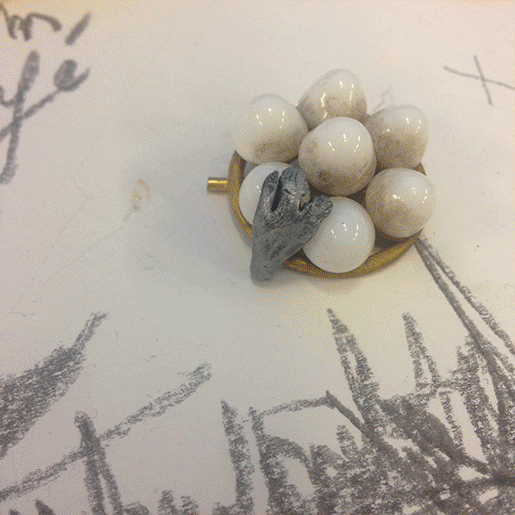 Slimy, Latex, Yellow, White, Creamy, Blury. Those are the materialistic translation of The Creepy Guy.
He looks at her through his window when she's going to school.
And when she's coming back.
Georgy met a new girl, Kristy, she became her friend.
Her BFFFE (Best Friend First Forever & Ever).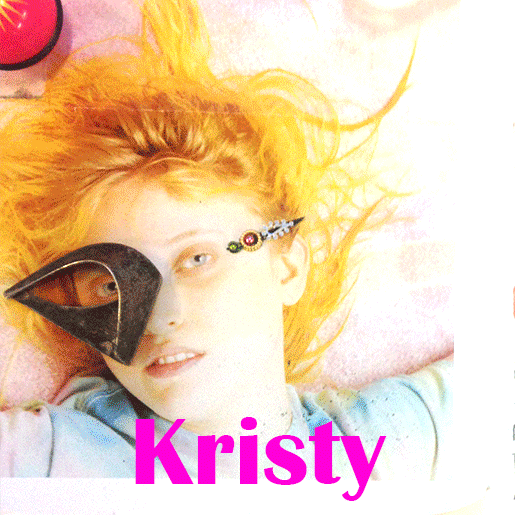 Fluo, Shiny, Plastic, Too much. Those are the materialistic translations of Kristy.
As you may have understand Kristy is the one who is gonna free Georgy.
Adventurous, gorgeous, extrovert, insolent, our girls discover London's night life. As usual, they went out on a Saturday.
Georgy is gonna tell you what happened.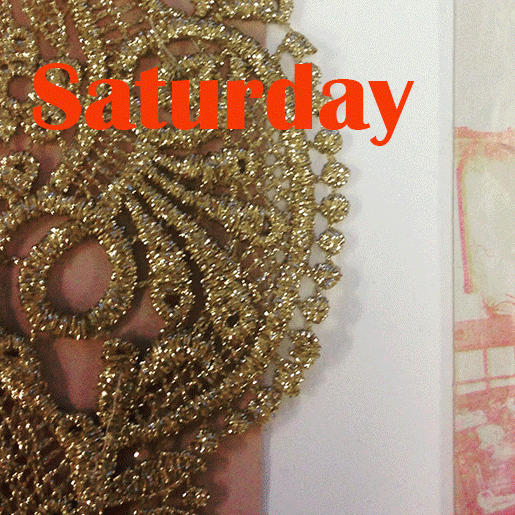 So now, we have a story with 3 characters.
At one point they were 4, including a man that Georgy would meet at this party.
As you will understand everything didn't happened as it was supposed to.
And I wanted to show the Georgy Before (16 years old) and the Georgy later (20 years old).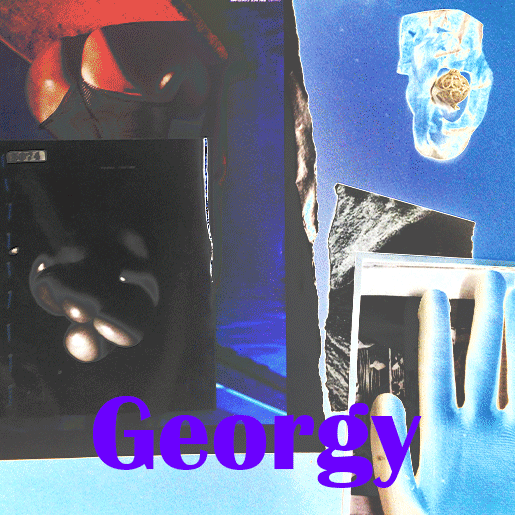 Cool blue, dark, This is how Georgy would materialistically look at her 20-tieth.
4 HEAD PIECES, YOU WILL MAKE 4 HEADPIECES.
TRYING-OUT // 3 // Sounds Like Ready-made
And here comes the mess … In my time, in the productions and of course in my head.
Due to a loss of phone, and nothing else to take pictures, this part of the process suffers of a lack of documentation.
–
–
"Marguerite you're really a magpie"
(It's this bird who gathers all the shiny objects)
Short travel to Frankfurt, lucky to go to Ambiente.
This fair is what I would describe as the supermarket of the supermarkets, all kind of product design for your house, your kitchen, your garden … professionals come there from all around the world to select what they will sell in the shops of their various brands, in one, two or three years.
I'm really happy to see that it's the first edition of the Jewellery section in there, and I go to look for some inspiration…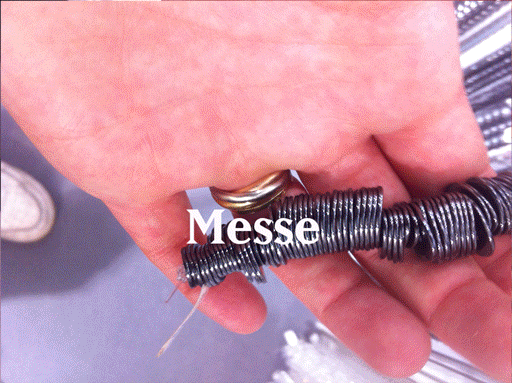 "As your work is more intuitive I would advice you to make a model you can work on."
Let's make a model in clay, try too put all my precious objects all around this head. Begun to make some pearls …
"Marguerite, I would love you, not to use pre-made pearls or elements, but to make your own materials."
Here are some really bad pictures of some (really good ?) try-outs.
Enjoy the quality of the details !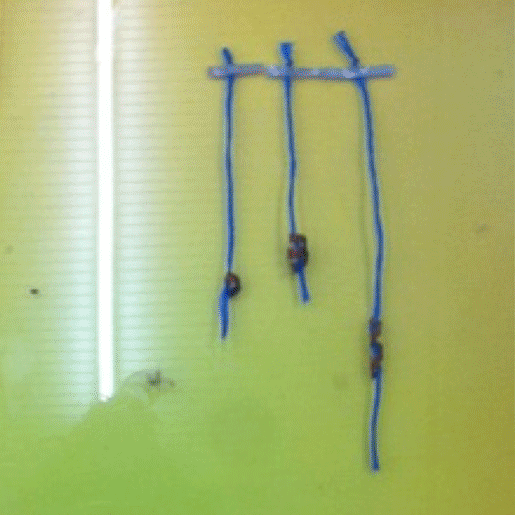 Use materials / create your materials.
What is trying out ? When are you done ? When is it enough ?
How does your material constraints and lost your abilities ?
"Oh now I know what I wanna do ! I want to write a play !
So I need to find my comedians and then I'll be able to make it on their heads, Georgy will be my roommate, The Creepy Guy will be a friend. And who will be Kristy ? I think I can be Kristy … "
"Hey come here I need your head"
"Here I am, what is your problem ?"
"No… I don't have any problem. Just need your head, sit here, please."
"Ah… I thought I was smart…"
"I don't want be the creepy guy, I wanna be the sexy one"
"Me, actress ?!? Your model ?" (biggest smile ever)
So. My process is in a mess.
I don't know yet which try-out is for who, even it's more or less define from the color… I begin to write some part of my play which doesn't go anywhere, I prevent myself to tell my teacher about it. I want to work with materials I don't have, and I don't want to work with material I have. As usual, I'm more speaking about what "I'm busy with" than really being busy with it.
SHOWING CODES//4// how to make a choice ?
In this way I decide to make decision !
I decide to make first a "structure", a fabric structure, and then the other elements will find their place, naturally (I hope).
FIRST STRUCTURE, GEORGY.
As Georgy is the main character, and that she has two mind steps, it's the first headpiece I will focus on.
Young and then (a little bit) older, she shifts from clear pink, to strong blue (indigo or Klein), between this two colors is the violet.
The two structures will be violet. The two structures will be the same.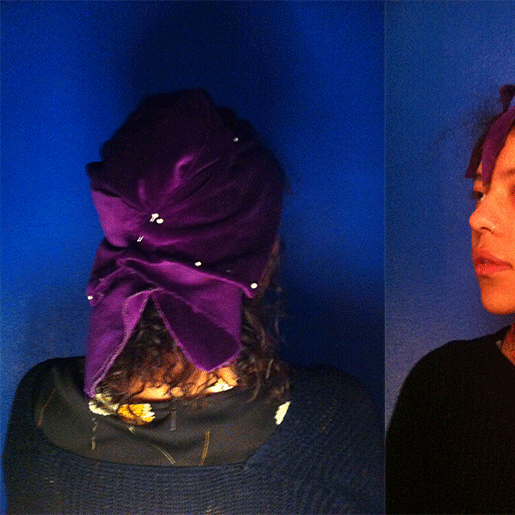 SECOND "STRUCTURE", KRISTY.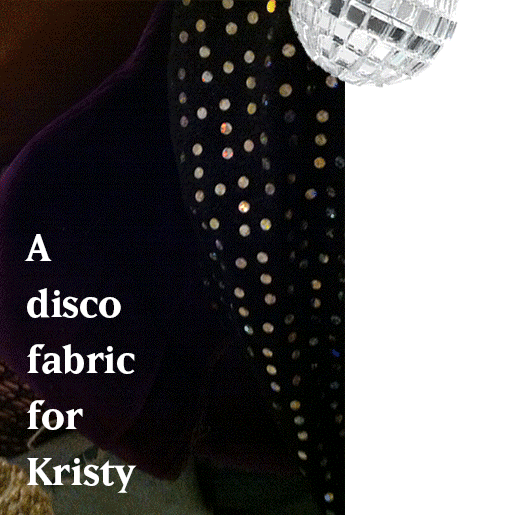 SEWING PROCESS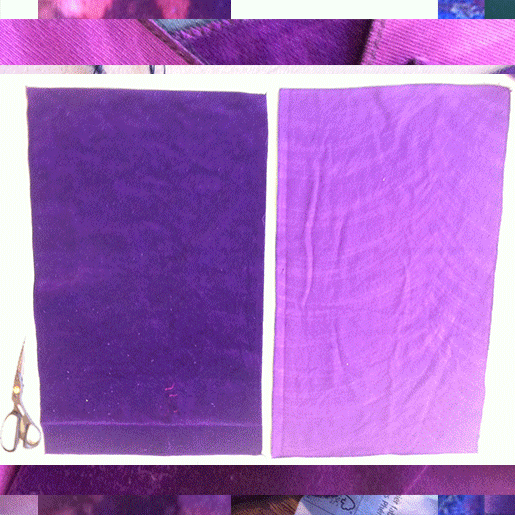 Between Proud and Ambitious //last// Holidays, Prada and All-nighter.
When does your life melt with Georgy's ?
Do you remember being the shy young Georgy ?
Are you now the seductive shiny ass Georgy ?
Have you ever been ?
Will you ever be ?
How did our filmsy rose Georgy lost herself ?
What really happened during this Bacon night,
How did Kristy disappear ?
Did she loose herself in some hairy arms ?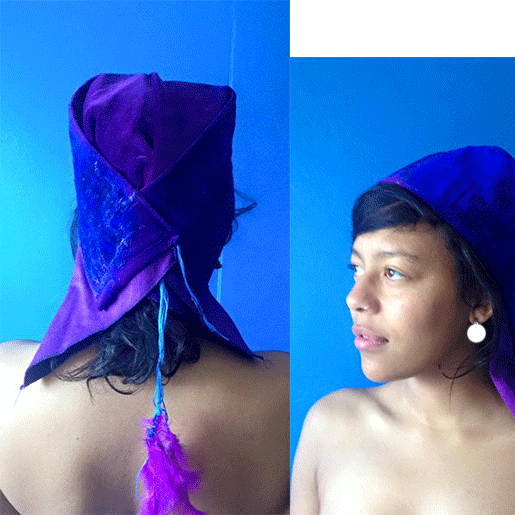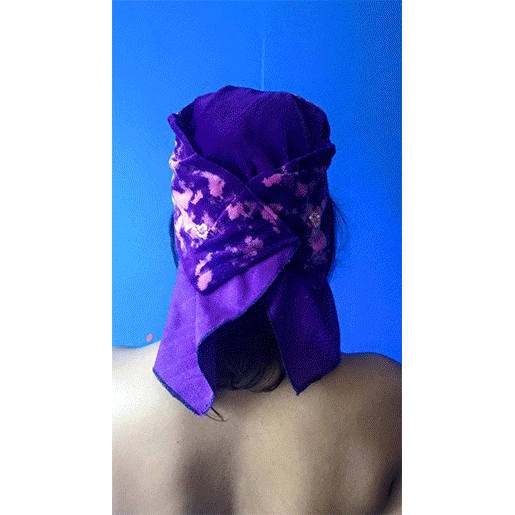 And here is our Creepy Guy.
THIRD STRUCTURE, THE CREEPY GUY.
"