I really wish that I had a very intelligent reason to chose this book but it is a very banal one I'm afraid.
I found this book in the graphic design section, what felt very familiar because I went to a graphic school before the Rietveld. Seeing those graphic books felt like meeting an old lover.
I picked this book because it had the word "gold" in the title and there was a golden image on the back. I cannot help it, but I am sort of addicted to the color gold. I even named myself Goldish. I feel attracted to gold like mosquitoes to a mosquito lamp.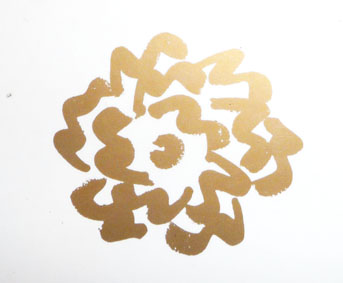 At the left you can see my own logo. At the right is the image on the cover of the book. There are some agreements between them like the dot. I think that the recognition also made me feel attracted to it.
Rietveld Academie Library No: 754.5 cat 32