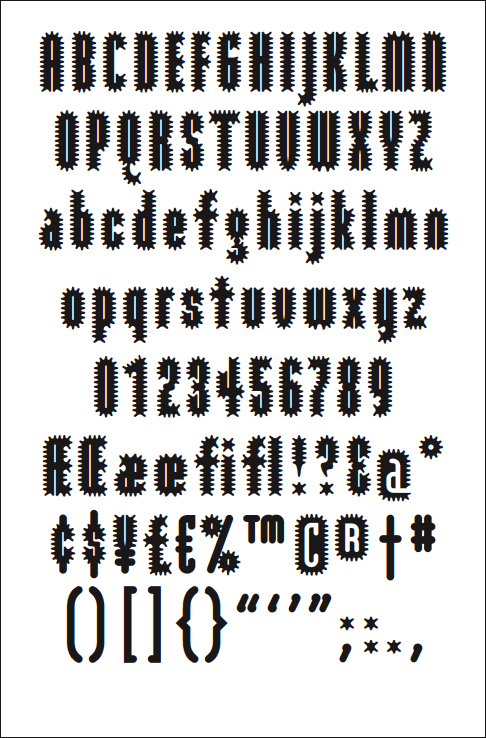 Modula Ribbed by Zuzana Linko ©95
Above picture with the font Modula Ribbed by Zuzana Licko caught my interest because of the shapes with spikes and the black color. To me they seem very rough and science fiction-like in their aesthetics and simplicity.

. . . can Zuzana Licko´s font Modula Ribbed be transformed into a 3D art object and how?
First I want to know a little bit about Zuzana Licko, the font Modula Ribbed, J. Abbott Miller, the history of 3D Printing and what is 3D art before answering my question in a conclusion.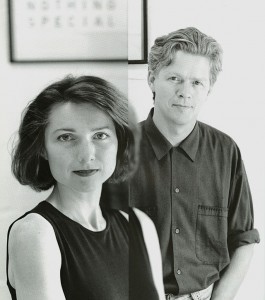 Zuzana Licko and her husband Rudy VanderLans
The designer of Modula Ribbed Zuzana Licko is the co-founder of Emigre, together with her husband Rudy VanderLans. She was born in 1961 in Bratislava, Czechoslovakia and emigrated to the U.S. in 1968. She graduated with a degree in Graphic Communications from the University of California at Berkeley in 1984.
Emigre, Inc. is a digital type foundry, publisher and distributor of graphic design related software and printed materials based in Northern California. Emigre Magazine was published between 1984 and 2005 and was one of the first independent type foundries to establish itself centered on personal computer technology. It holds exclusive license to over 300 original typeface designs created by a list of contemporary designers ( x ).

– – – – –
The designer J. Abbott Miller was born in Indiana in 1962 and studied at the Cooper Union School of Art. Before joining Pentagram (a design studio) as partner in 1999, he was director of design, writing, and research at a multidisciplinary studio founded in 1989 his interest in "the public life of the written word" took shape through magazines, exhibitions, symposia and books. He is also the designer and editor of 2wice magazine.
In an interview with Eye magazine Abbott describes himself, "I am sometimes a very formalist designer, looking for metaphor and concept at every turn… I am a great admirer of typeface design, of the skill it requires, and of the subtlety it brings to the apprehension of content…" .
Dimensional Typography by J. Abbott Miller
In his book "Dimensional Typography" he explore the spacial potential of typography in virtual environments. He showed examples of how the normally flat and static realm of the letter was subjected to spatial and temporal extrapolation.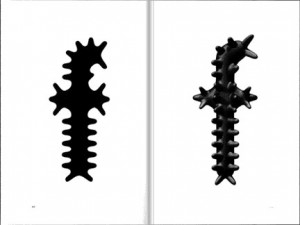 Polymorphous (right) designed by J. Abbott Miller and Zuzana Licko´s Modula Ribbed (left).
J. Abbott Miller designed Polymorphous based on Zuzana Licko´s font Modula Ribbed. It is a design seemingly inspired by textured prophylactics; he developed the "f" into a rubbery, three-dimensional avatar, bristling with nipple-like protuberances, designed for heightened reading pleasure in intimate settings.

– – – – –
Through my research I learned 3D printing refers to various processes used to synthesize a three-dimensional object. In 3D printing successive layers of material are formed under computer control to create an object. In 1981, Hideo Kodama invented two early Additive Manufacturing (AM) fabricating methods of a three-dimensional plastic model with photo-hardening polymer. AM uses an UV exposure area that is controlled by a mask pattern or the scanning fiber transmitter. Then in 1984, Chuck Hull developed a prototype system based on a process known as stereolithography, in which layers are added by curing photopolymers with ultraviolet light lasers.
Futurologist and author Jeremy Rifkin believes that 3D printing signals the beginning of a third industrial revolution. Using the power of the Internet, it may eventually be possible to send a blueprint of any product to any place in the world to be replicated by a 3D printer with "elemental inks" capable of being combined into any material substance of any desired form.
Abbott designed Polymorphous in 1996 12 years after the invention of 3D printing. Authors Jason Edward Lewis and Bruno Nadeau said about Abbott´s Polymorphous "… is type built for 3D virtual environments. Although it is possible to integrate standard outline fonts into the third dimension..".

– – – – –

A 3D art is a three-dimensional work of art such as sculptures, sound art, installations and ceramics. Everything we can touch can be perceived as a three-dimensional object. For example, a 3D digital object is no longer confined to a virtual space since the technological development of 3D printers and this technique is used in many areas. Artists such as painters and sculptors illustrate their work through 3D technology. By creating a 3D model the artist is able to print the object and reproduce their design as a tangible object.
My 3D object
After reading and learning about 3D printing, I tried to make my own 3D object from Zuzana Licko's Modula Ribbed letter f.
First the f character was created in the 3D drawing software Maya, to successively be printed in two parts (it was too big to be printed in one piece in the machine in CadCam) in a dark gray plastic. After 2 x approximately five hours the two parts were printed, and I sanded their bottoms with thin sandpaper to get the surfaces perfectly straight, so they were easy to glue together. After gluing I sanded off the excess glue with a kitchen scourer until I was finished and extremely pleased with the object.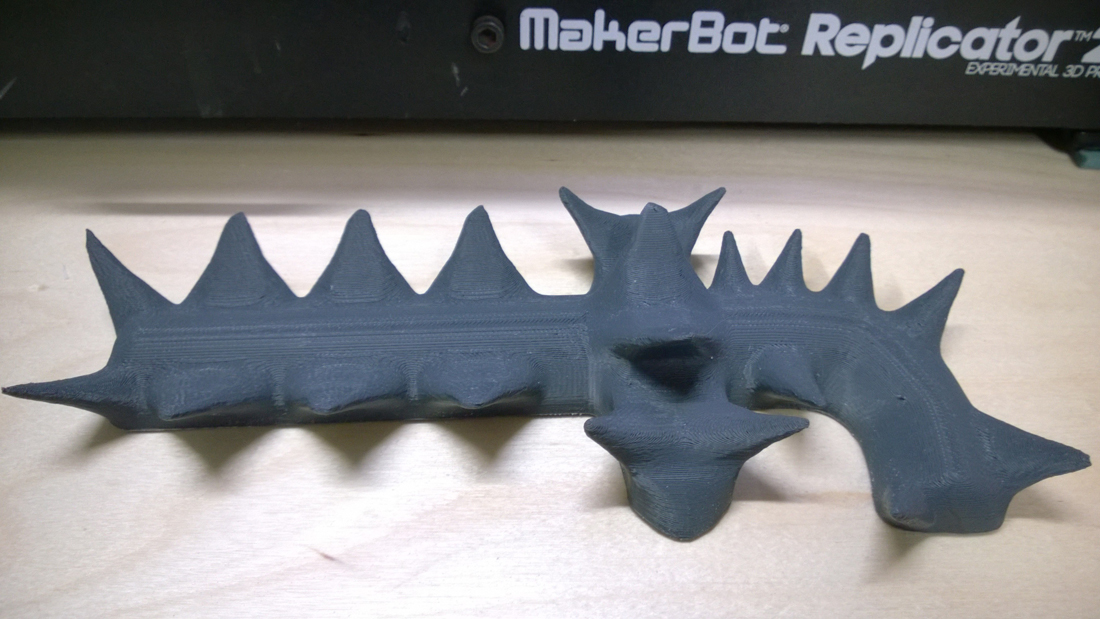 I conclude that it is possible to transform Zuzana Licko's font Modula Ribbed into a 3D art object as designer J. Abbott Miller proved in 1996 and I did myself just now. We turned Modula Ribbed letter f into a rubbery, three-dimensional avatar, bristling with nipple-like protuberances.