Als ik de El Lissitzky tentoonstelling in één woord moet omschrijven.
Geometrisch.
Zijn werkis  architectonisch opgebouwd uit verschillende vormen, massa en kleuren.
Alles klopt.
Toch knaagt er iets.
Het begint bij de vergelijking van Malevich en Lissitzky. Waar je bij Malevich nog duidelijk de menselijke vorm kan herkennen, is het bij Lissitsky totaal geëvolueerd in iets anders. Vormen zijn meetkundig opgebouwd, tot iets nieuws, een mechanisch object.
Ik kom aan bij de driedimensionale uitwerking van Proun. Vormen, diagonalen en rechthoekige vlakken. In de kleine ruimte begin ik een zoektocht naar enige zachtheid of compassie. Maar helaas, die blijft uit.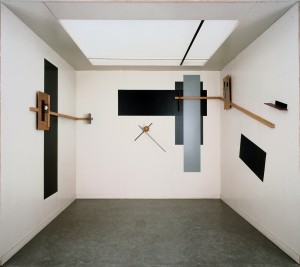 In de volgende ruimte krijg ik een korte flashback naar mijn wiskundelessen op de middelbare school. Opdrachten waarin je moet bewijzen dat iets een vierkant is, de grote van hoeken moet bereken. Ellipsen, parabolen, ingeschreven cirkels, het komt allemaal weer terug. Hoe goed ik ook in wiskunde was, meetkunde bleef iets vaags. Misschien is het dan wel mede door deze herinnering dat alles voor mij vrij abstract blijft.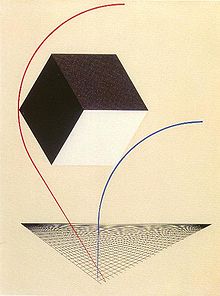 Natuurlijk begrijp ik hoe belangrijk en opwindend deze ontwikkeling in de beeldende kunst was, dat abstracte vormen gebruikt konden worden om iets uit te beelden, na eeuwen van portretten, landschappen en andere figuratieve werken. Ik denk dat ik ook niet zo zeer het figuratieve mis, maar iets organisch. Een organische vorm of structuur, iets grilligs en niet perfect uitgelijnd en afgemeten.
Maar dat doet niet onder aan mijn gevoel en ondanks dat ik weet dat het een geweldige ontwikkeling was, komt het niet binnen. De hele expositie lang heb ik moeite me te verliezen in het werk. Ik zie de kwaliteit, maar kan niet me er niet overheen zetten dat er een gevoel menselijkheid mist. De geometrie staat voor mij lijnrecht tegen over de mens. In zijn strakke, abstracte vormen kan ik mij niets voorstellen wat nog verder van ons af staat. Het voelt te opgebouwd en ondanks de dynamiek en de visuele taal die zo krachtig is, is relateren dan erg moeilijk.