De mens speelt zijn hele leven, elke dag, misschien wel elke minuut, een andere rol. Tegenover elk persoon verhoud je je anders. We leven met masker, kostuum en aangeleerde manieren. Zonder valt niet of nauwelijks te leven.
De ene dag ben je slecht, vijandig, dan weer lief en onschuldig of je voelt je als een zak aardappels.
Als ik me voel als een aardappelzak, zorg ik er voor dat de aardappelzak omhult is door een zwierige jurk en felle lippenstick. Uiterlijk is misleidend. De meeste zullen pas denken dat je een aardappelzak bent als je een jute doek omslaat en muf ruikt.
Mensen reageren op wat ze kennen.
Heb je een goude oorbel in dan ben je crimineel, homo of gabber. Cliche's zijn makkelijk.
Bij een slecht iemand denk ik meteen aan een kauwgom kauwende man met een leren jas en een snor. Dit plaatje zit vastgeroest in mijn hoofd.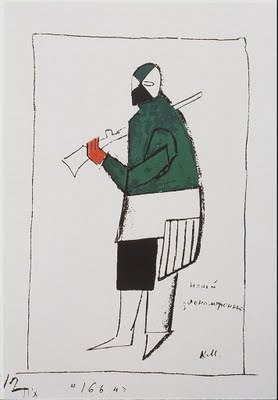 [costume for Man with Bad Intentions]
Toen ik het operastuk: De overwinning over de zon, met decors van Kasimir Malevich zag, was ik gegrepen door de vervreemdende taal en beeldtaal. Abstract. Weinig aanknopingspunten, waarin je vastgeroeste denkbeelden zou kunnen terugvinden. Ander taalgebruik, andere tonatie van de stem, abstracte kostuums.
Het karakter, de slechte man, kreeg in dit stuk een hoekig pak aan. Zonder dat het aansloot op zijn lichaam. De vorm van het pak werd eerst gemaakt. Daarna kon de slechte man zich hiertoe verhouden en aanpassen. Zijn bewegingsvrijheid hing af van het pak. In het kostuum zijn geen cliché's gebruikt. Ook niet in het pak van de vijand, de nieuwe mens , de dikke man enz.
Dit vind ik een welkome verrassing en zelfs een opluchting. Doordat bewegingen, taalgebruik en kleding onherkenbaar blijven, dwingt het je anders te kijken, te denken en te luisteren. Niet te snel te oordelen. Het stuk is een zoektocht naar herkenningspunten in een wereld die je vreemd is. In dit stuk maak je je eigen waarheid zonder het zien van cliche's of rookwolken.