We went with school to the Graphic Design museum in Breda to the exposition 'Who sets the standard?'. There were lots of nice things to see, and i found a book as well that was made by the Dutch designer Irma Boom that made me curious. It was laying on a table in a glass box, opened on one of the pages. Next to it you could find information on a computer touch screen about the maker and the book. This was also a very nice design, cause it worked very well and interesting to look into, very professional.
I want to know more about book design in general and i understand that this peticular book is a very remarkeble example. The ultimate book. So i'm going to investigate more about the maker Irma Boom and her designs.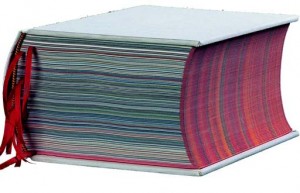 The book is made for the SHV Holdings, from origin a cole trading company, but now a days it trades in food and other fuels and chemicals.
The design and the content are about the history of thi company itself but also about the family that owned it for all these years and reflects upon generations of living and working. There are just a few of them made, as the book was meant as a jubilee gift to high executives only. There is even a limited amount made specially in Chinees as it turned out after printing many of them were in china. It has never been forsales so it is quite rare to see one. I got the opportunity to see and look into the SHV Think Book myself at a private home of a lucky owner, and I found out how amazing a book design can be.
It was a great experience to go trough this book. It is a monument for the SHV, a travel trough the time, and it is far from a dry documentation. Irma Boom got into the content of her subject and you feel this. She tells the stories of the company in a playful and inventive way, it is filled with ingenious visual and linguistic jokes, poems, repetitions and personal stories, but because Irma Boom really knows what she is doing and directs it tightly, it never gets to much or chaotic.
THE SHV THINK BOOK
Fentener van Vlissingen is a philanthropist that supports several humanistic projects. When he searched for someone to design a jubilee book, he asked Irma Boom to do it. It was a work of five years and it is a good representation of all the work and effort and love that has been putted in the company itself. Read more as the story unfolds in this linked pdf……….