Na mijn eerste kennismaking met het werk van Hella Jongerius had ik direct een hele sterke mening gevormd.
Gaandeweg ik aan het schrijven was hoe ongelofelijk simpel ik haar werk vond zoals bijvoorbeeld een door haar ontworpen print voor een sneaker moest ik toch telkens mijn mening bijstellen.
Zodoende ben ik zeven keer overnieuw begonnen. Telkens uit een verschillend standpunt. Ik moest en zou duidelijk maken hoe ongelofelijk slecht ik haar werk vond. Maar telkens naarmate ik me meer en meer verdiepte bleek ik ongelijk te hebben.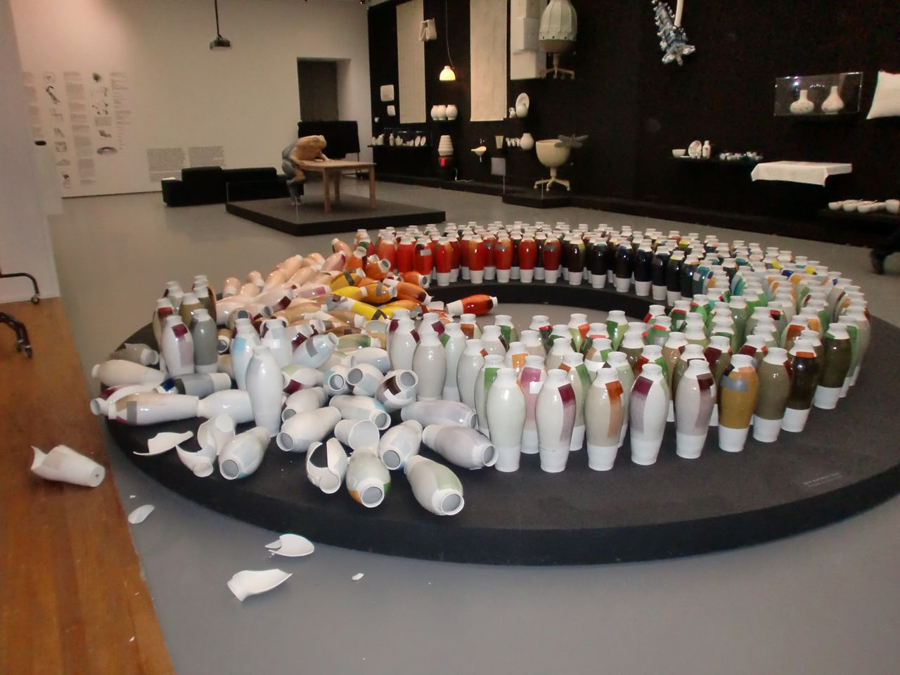 Ik vond bijvoorbeeld uit dat wanneer ik in google: "Hella Jongerius kunst" intikte 32.400 resultaten kreeg. En wanneer ik: "Hella Jongerius design" intikte 163.000 resultaten kreeg. Ook op Facebook wordt zij twee keer onder design genoemd en niet onder kunst. Ook verschillende zoektermen in google geven duidelijk meer resultaten wanneer Hella Jongerius met zoekterm "design" word gebruikt.
Zo besloot ik: "Hella Jongerius moest uit het (kunst)museum." Na verder research over design in kunst musea bleek het Boijmans van Beuningen zelfs vrij bekend is om de manier waarmee zij design een plek in het museum geven. Een designer (Wim Crouwel) was zelf in de jaren 90tig diresteur ervan. Daarbij bleek ook dat Jongerius zichzelf niet zo zeer een kunstenaar of designer noemt maar verschillende dingen op verschillende manieren benaderd. Het kwam er dus op neer dat Jongerius werk doordacht is. Iets meer probeert dan alleen maar design te zijn.
Zo kwam ik telkens mezelf weer tegen. En moest ik toch weer nuanceren. Door telkens opnieuw te beginnen en zoveel verschillende standpunten te hebben ingenomen ben ik heel veel te weten gekomen over Jongerius.
Nog steeds staat een groot deel van Jongerius werk me tegen. Maar wat ik wel ben gaan zien is dat ze niet alleen commercieel werk maakt of veel geld probeert te verdienen met reproducties. Wat ze doet komt wel degelijk ergens vandaan. Jongerius gaat te werk als een kunstenares en vormt vanuit daar vaak toch functionele objecten of gebruiksvoorwerpen. Dit begint al in het ontwerp proces. Ze stelt zo nog meer eisen als iemand die enkel vanuit kunst of enkel vanuit design beoordeeld. Designers die zich begeven in de kunstwereld worden geacht autonoom te kunnen werken met een eigen handschrift en/of thematiek. Maar tegelijk moeten ze aanvoelen wat de markt wil. Toch lukt Jongerius dit erg goed. En voert ze daarnaast een interessant onderzoek uit naar de cross-over tussen deze twee werelden die steeds vaker hand in hand gaan.
In mijn research naar Hella Jongerius en design in de kunstwereld kwam ik op een blog geschreven door "deDeurs" Naar aanleiding hiervan ontstond een discussie…