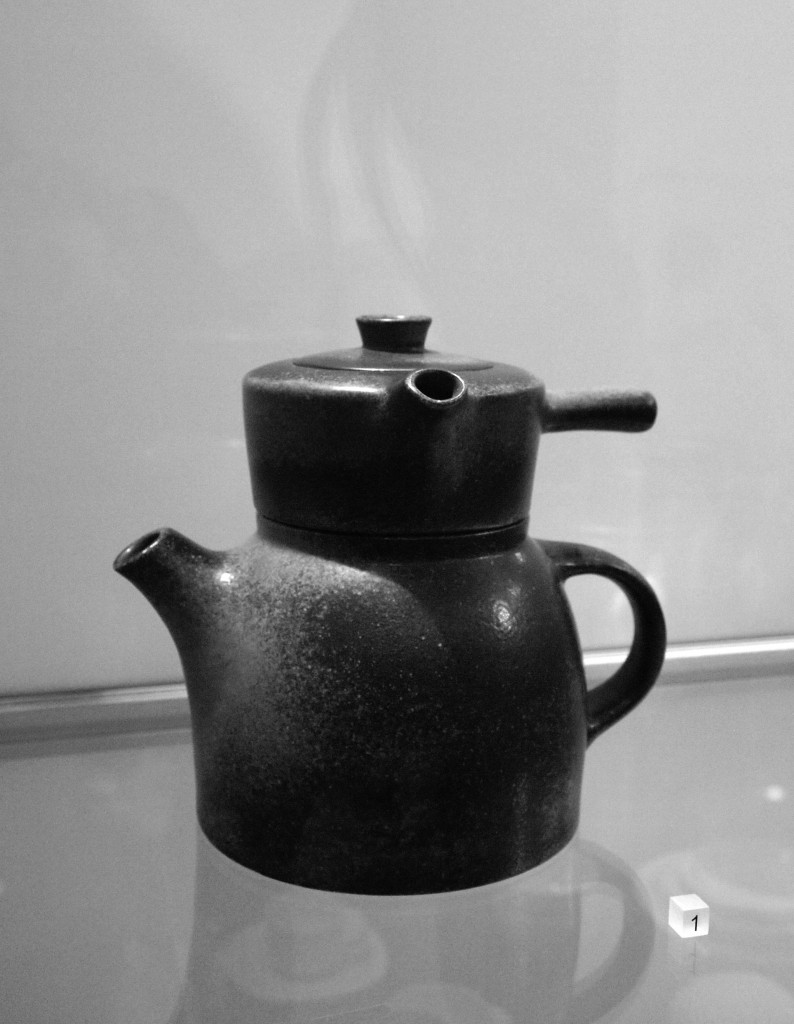 This double teapot in ceramic was designed by Francesca Mascitti-Lindh and Richard Lindh in 1956 in Abruzzes (center of Italia). The Abruzzes is a region in the center of Italy surrounded by mountains.The people there developed a famous art of ceramics, and majolica, which is nowadays exhibited in important museums as the British Museum at Hermitage. Because of the context of isolation created by the mountains during the last centuries, the Abruzzese developed an original and expressive works on metal, ceramics, stone, wood, leather using antic or ethnically patterns. One of the best Italian craftsmen in those materials are still settled there, and many designers from abroad come to work with them.
Francesca Mascitti-Lindh and Richard Lindh, respectively born in 1931 and 1929 in Helsinki, designed this piece in 1956, and made it in Abruzzes, in the Italian cradle of ceramic.
This double teapot has two handles, two different ways to serve tea. One parallel to the body, the other one perpendicular to the body. It is an useful object, adaptable and involving many possibilities. More than a double object, i call it a couple object. To my mind, Francesca Mascitti-Lindh and Richard Lindh choose to put the most important point of the design on the handles, which relate to the hand, the work of hand, related to craftsmen as a tribute to those who made design. From this design emanates nobility and humility. This double teapot calls for a wood table, and not a glass support as used in the Stedelijk exhibition. Its made to honor man's ability, and what i admire is that the design concept is not taking anything away from its nature and singular shape.
About some days, in America
winter 1967 Los Angeles
R. Brautigan drags feet alone in Los Angeles, sees ugly pot on a window sill, lonely and ugly, takes it back to flat, under coat. the smell of cats pee in the pot. cats living with dying dirty woman. he puts double tea pot on his wood floor, floor spotted with alcohol rounds.  he wrote on it at 3 a.m :
i go to bed in Los Angeles thinking
about you.
pissing a few moments ago
i looked down at penis affectionately.
knowing it has been inside
you twice today make me feel beautiful.
after sleep, he send it in Japanese paper gift to a woman in New York.
1981 – 15 January, West 53rd Street, New York morning.
boiling water thrown on the ice scratching the red Ferrari windshield.
Since 1987 – 8p.m, until now.
Finding any serious information about this work has been as a joke, even in Stedelijk museum, this piece is even not registered in the catalog of the museum's collection, although it is actually exhibited.
for its inadequate character it deserved to tell about some
family troubles.