Pattern, cell of design
Living creatures have evolved as a result of adaptation to daily environment surrounding them. Creators are often inspired by those forms of nature, which is not only aesthetic but also functionally appropriate. So some design objects get to resemble living things. Looking into them deep, we can perhaps find that they both have a powerful element which does not appear on the outside at first glance but still has its influence on the overall appearances.
It is the cell that constitutes the whole body, which also can be called the pattern in design. The knotted chair of Marcel Wanders, made in 1995, shows good example of 3D pattern design. One unit that makes up the chair could have been no more than a twisted line, but it acquired more durability when several units are gathered and patterned under the certain and repetitive rule. (Of course, there was a process of hardening with thermosetting resin.)
It is also noteworthy that a cord, which is not very expected material for furniture, was used to make a chair which can withstand loads over 100 kg. Could this be possible if there wasn't composed unit with consistent rule? Apart from this, how Teo Jansen could achieve to make kinetic sculpture that shows flexible movement with hard wood? I think a patterned design allow creator to be able to explore the materials and thereby can have its own texture. I would like to mention 'knotted chair' as one of the designs that can provide us with vision and tactile sense simultaneously on the basis of its pattern.
To continue with the research on connection between 'design' and 'pattern', I come to ask first,
"What is pattern?"
Then, look up the dictionary definition of the word-
Pattern is a particular way in which something is done, is organized, or happens; is any regularly repeated arrangement, especially a design made from repeated lines, shapes, or colors on a surface;
The word 'pattern' can be regarded as the particular way something is generated or as the regular arrangement that include continuous rules inside. What I can find from those selected meaning of the word is that; whatever we call as pattern has to have regular and repetitive factors, which makes it predictable, organized, and look stable.
So, what does pattern mean to art and design?
It could be one of the foundations that construct the way we see the image as well as deliver it. To explain this, let's look at a few principles of design. The formative elements such as dot, line, surface, shape, matter can be said to be materials that is used to create image or object. Here, the ways we arranged those material- principles of design- are involving. Some of them are unity, repetition, harmony, rhythm, symmetry, balance, proportion and so on. Each of them, at some point, is related to allowing materials to look similar and coherent. We intentionally or intuitively use those principles for organizing a clear image to deliver our message efficiently. At the same time, our eyes receive those similarity, without even noticing it, and store it as groups in our mind. Therefore, we can realize that discovering the coherent image and patterning it is the basic method how we perceive visual information.
Pattern on 3-dimension
My research have had more focused on pattern in 3D design object than any other kinds of art pattern. It is not only because that the starting point was the knotted chair by Marcel Wanders, but also dealing the pattern in terms of its relation with object's shape and texture are worth to watch. With the development of technology, more than any other times before, designer can now easily explore the new materials and create their very own way to use it.
Marcel Wander's various way of using pattern are illustrated well with Knotted chair, Crochet chair, Flower chair, Cybrog chair and Cinderella broke A Leg bed.
Earlier, Alessandro Mendini used his fabric pattern on the baroque style chair, Magis Proust. By seeing the pattern as ornament, he was marked as the one of those leading the postmodernism. In this case, 'pattern' became the mean to deliver the designer's concept.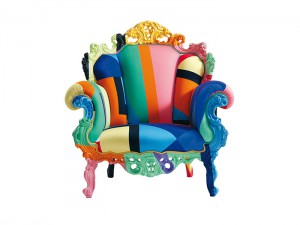 Then, Zaha Hadid presented her colorful patterned furniture, Tide, at 2011 Milan Design Week. This work obviously shows the great promise of using pattern in design. The symmetric shelving module that one can create different compositions through rotations on itself allows individuals to build and rebuild the module to fit the space around them.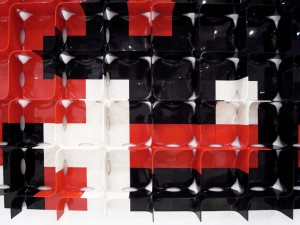 Last but not least, I would like to refer that 3D pattern is also opening the door from craft to industrial design. 2D pattern design can be easily processed and completed on the screen while 3D pattern still needs to be experimented by hands at the first stage, especially if it is for the furniture or architecture that should ensure the stability. For example, the Knotted chair of Marcel Wanders is actually known as a result of handwork knot. Creator, as a human, they also make mistakes, sometimes do fail but later approach the point where they can create the most safety and aesthetic cells. This process is happening with hands. So I can see that link between handwork and industrial design is generated if the design happens under the conditions that need to be experimented and proved before it is systematized to be a mass production.
So far I looked through the definition of pattern and the how important it is on the art and design field, especially with the context of design objects. Also I found that how differently each designer handle the concept of pattern. Some of them would use it as their identity, other see it as a way to express their design philosophy, and another can develop it to interact with users.
At the beginning of the post, I made a connection between 'cell' and 'pattern'. Just as the cell breath, nourish and endure the living body, pattern also function as indispensable part of whole (design object). It can be always developing and has endless possibilities, because there are still numerous ways to make a new rules and compositions out of it.