200.000 Jaar geleden ontstond 'de moderne mens' (Homo Sapien). In de voorbije jaren zijn we geëvolueerd tot een rechtoplopend, rationeel, gemoderniseerd wezen. Goed? Slecht? Voor allebei valt iets te zeggen. Maar een feit is dat we, met name de laatste paar eeuwen, een extreme focus hebben op 'groei', 'verder gaan', 'slimmer worden' en veelal 'rijker worden'. Allen op zich niet per definitie 'slecht', echter wel wanneer je dit bekijkt vanuit het oogpunt van het heden en de omgang met en staat van de aarde en het milieu. En daarbij zit de mens en zijn welzijn automatisch inbegrepen.
Duurzaamheid, circulariteit, systeemverandering, het is nodig dat we daar bewust van worden en meer nog dat we er ook gehoor aan geven; het systeem drastisch veranderen.
Hoe? Ja, een vraag waar nog geen eenduidig antwoord op is, en waarschijnlijk ook niet op komen gaat. Wel is het mogelijk dat we het systeem als geheel in onze manier van denken veranderen, waarbij vooruitgang en groei automatisch geassocieerd wordt met duurzaamheid, circulariteit en 'onderdeel zijn van de natuur, de aarde en het universum'.
Deze volledige omwenteling van patronen in het denken en doen ontstaat enkel door simpelweg 'te beginnen'. En wel bij jezelf. Zodat van hieruit langzaam maar zeker door de tijd heen deze olievlek uitvloeit en uiteindelijk 'de totale mensheid' heeft overgenomen.
Nu is deze olievlek de laatste jaren al langzaam iet wat aan het uitvloeien, wat een onwijs goed begin is; het bewustzijn wordt groter, meer mensen starten hun projecten, acties en groeperingen om dit bewustzijn om te zetten in handelen en inmiddels komen meer en meer ideeën en kennis de wereld in om het systeem te veranderen.
Tjeerd Veenhoven, is zo'n olie druppel die gelooft in dit uitvloeien en is begonnen met projecten waarin circulariteit van natuur-materiaal, behoud van natuur, duurzaamheid, tegengaan van verspilling, het welzijn van de mens en het terugdringen van milieuvervuiling en de opwarming van de aarde centraal staan. Middels kunst, design en mode brengt hij zijn gedachtegoed én toepassing de wereld in, wat een directe verbinding legt tussen de mensen en deze 'systeemverandering'. Ik geloof erin dat dit de beste manier is om bewustzijn over deze onderwerpen (en daarbinnen te laten zien dat deze idealen en dromen omgezet kunnen worden in realiteit) te creëren en op die manier de snelste weg zullen zijn naar het ook daadwerkelijk handelen en toepassen van deze idealen en dus naar totale systeemverandering.
Met name het 'algenproject' van Tjeerd verwonderde mij ontzettend (gezien in Boijmans van Beuningen museum, tentoonstelling Change The System). Dit project was voor mij de aanleiding tot het schrijven van dit stuk. Met dit algenproject maakt hij een fantastische link tussen klimaat- en duurzaamheidsproblematiek, de samenleving en het creëren van bewustzijn.  Op een zeer toegankelijke wijze kaart hij tegelijkertijd twee problemen aan: duurzaamheid binnen de mode-industrie, een industrie waar iedereen gebruik van maakt, en de exorbitante groei van algen, een natuurlijk product dat veel mogelijkheden en voordelen in zich draagt, maar nu als probleem gezien wordt. Met zijn project, waarbij hij textieldraad maakt uit algen, maakt hij, door een koppeling te leggen tussen twee problemen, een oplossing voor beide issues -geeft hij hier zelfs een meerwaarde aan; geeft hij de problemen een verrijking- én biedt hij mogelijkheden en inzichten tot systeemverandering, oa omdat dit project een metafoor zou kunnen zijn voor veel grotere onderwerpen en oplossingsgericht en idealistisch denken. Want dit project is in uitkomst wellicht vrij gericht; in manier van denken en het aanpakken van deze in het fundament grootse problemen is dit een onwijs sterk, breed en essentieel project.
Al lang droom ik over mijn eigen oliedruppel die de olievlek verder zal doen vloeien. Net als Tjeerd Veenhoven wil ik dit gedachtegoed de wereld in krijgen en laten zien dat mijn dromen wezenlijk kunnen worden en daarmee dus ook bij anderen systeemverandering mogelijk is.
Een grote inspiratiebron voor mij en mijn droom was Claudy Jongstra, een Nederlandse (vilt)kunstenares-textielontwerper. Zij gaat nog een stap verder dan Tjeerd. Zij (en haar 'team') probeert het bewustzijn te vergroten en haar idealen om te zetten door de levenswijze ook daadwerkelijk anders in te richten. Ik heb met haar contact gezocht om mij op deze wijze meer in haar werk en ideeën te verdiepen. Een aangenaam mailcontact en mooie ideeën als gevolg. Wegens tijdoverwegingen en drukte was het niet mogelijk haar 'commune' te bezoeken of een samenwerking aan te gaan, echter heb ik mij wel meer verdiept in wat zij doen en hoe, ook op die manier geïnspireerd te raken en mijn eigen plannen en ideeën concreter te maken. Claudy en haar team combineren namelijk kunst en natuur op een behoorlijk ver doorgevoerde wijze; ze hebben een 'boerderij' opgezet waar creativiteit, duurzaamheid, natuur, ambachten, lokaliteit en circulariteit centraal staan en worden samengevoegd. Zo verbouwen ze onder anderen hun eigen planten voor het verven van de wol (van eigen schaapskudde) voor Claudy's viltkunstwerken, gebruiken ze de klei uit de grond voor keramiekprojecten, begeleiden ze jongeren (met een achterstand) en kunst- en designstudenten van over de hele wereld en verbouwen ze op biodynamische wijze hun eigen voedsel. Op deze manier is er op micro- en macroniveau een circulaire beweging gaande binnen deze commune. Erg interessant hierin is de koppeling van deze eigen idealen en projecten met 'de buitenwereld'; het is niet enkel voor henzelf; er zit een 'olievlek-streven' in.
Er is namelijk duidelijk gestreefd naar een hoger doel: het bewustzijn vergroten over 'hoe het ook kan'; over idealisme vs realisme. Hier een link naar hun projectplan, waarin heel duidelijk en goed omschreven is (voor diegenen die zich hierin zover interesseren) hoe zij dit alles samenbrengen en welke projecten ze op korte termijn organiseren om de samenleving hierin te betrekken. Interessant is dat er even sprake was een samenwerking met haar voor het Waste no Waste project in Groningen (mei/juni 2018), echter heb ik dit helaas moeten afwijzen ivm tijdkwesties.
Dit alles, het inspireert mij zo; laat mij dromen, borrelt de kriebels op om nóg een stap verder te gaan:
Het totaal incorporeren van circulariteit. Ik ben er mee bezig en het vormt een leidraad in mijn leven. Ik zoek naar het omzetten in realiteit. Een plek waar alles en iedereen een cirkel is. Het betreft een dorp, waar natuur met mens en leven samengaan; waar kunst met mens en leven samengaan. Hier volgt mijn vooruitzicht. Mijn pad, mijn droom, mijn geloof, mijn verleden dat het heden naar de toekomst brengt. Hier volgt mijn aller eerste in-een-notendop-conceptplan.
Ooit
Ben ik ik
Sta ik in een kring
Kringen om mij heen
Ben ik een kring

Zelfvoorzienend Ecodorp, tuinarchitectuur gewassen verbouwen
stap 1. ik zoek de wereld rond. naar een landje om te starten. aarde en water, bomen en lucht. hoor je de stilte? fluisterend naar de overkant. en dan weer terug. natuurlijk. een ronde cirkel.
stap 2. ik pak mijn houten bordje. plaats 'm in het midden. 'ik nodig alle ronde mensen uit. en iedereen die rond wil worden.' dan draai ik om en neem mijn weg terug. natuurlijk. een circulaire weg.
stap 3. ik lach naar alle mensen. vraag ze met mij te komen. ben jij rond? of wil je dat worden? kom je dan met mij mee? zie je dat, eigenlijk willen we het allemaal. we klimmen op de benenwagen. langzaam maar gestaag. we reizen terug naar waar we van verlangen. natuurlijk. een verlangen is een cirkel.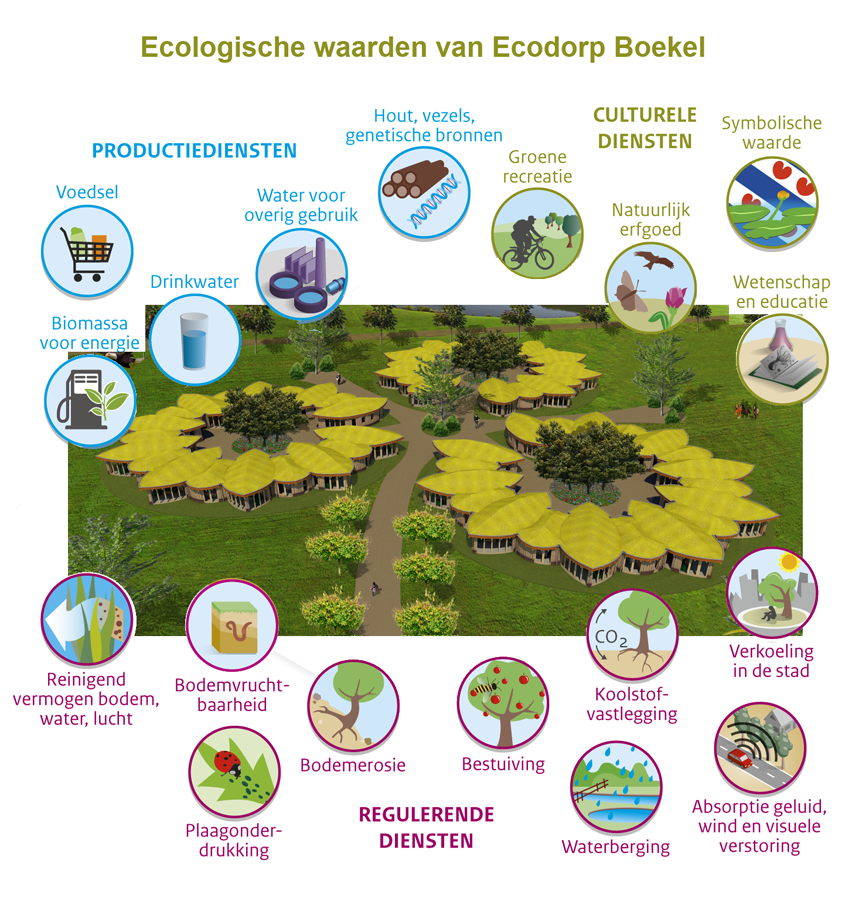 Circulariteit binnen het reilen en zeilen van een ecodorp, verdeeld in drie diensten
stap 4. we laden onze benenwagen uit. potten pannen lepels en kannen. messen broeken jurken en doeken. naalden schroeven hamers en alles dat we nodig hebben om ons nog in het leven te vertoeven. natuurlijk. we hebben een cirkel.
stap 5. we stapelen het hout. mengen zand met paardenpoep. slaan een spijkertje waar nodig. verstevigen met steen. het stro dat wordt het dak. panelen van de zon  zoeken een weg de warmte door te geven. natuurlijk. een kringloop.
stap 6. ik scheer mijn schaapjes. heb ze oh zo lief. was de wol. roer het in de warme baden van de berkenbast. of het kurkuma van het boompje verderop. kneed het fijn tot kleden aan de muur. de schaapjes doen hun best en maken nieuwe haren aan. natuurlijk. een cirkel houdt nooit op.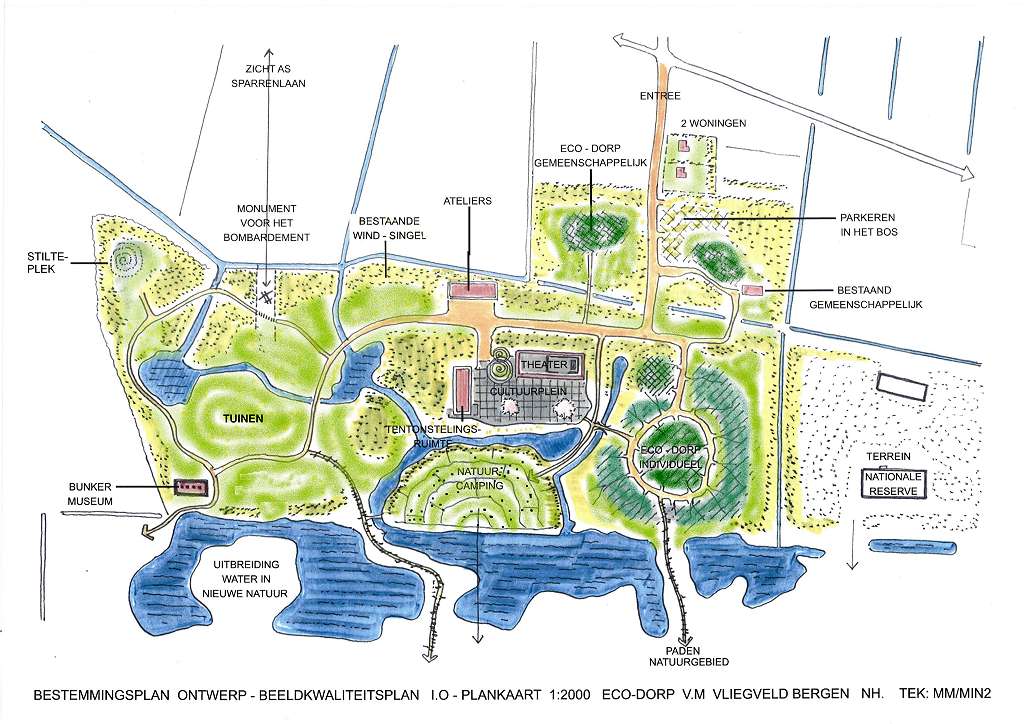 Bestemmingsplan Ecodorp Bergen - Expliciet de verbinding en combinatie met kunst, cultuur, educatie en verbinding met de 'buitenwereld'.
stap 7. mijn buurman oogst zijn graan. bakt broden op het vuur. zijn buurvrouw droogt de thee, schildert met de kleuren van de tuin en hoort daarnaast ook nog de harten van de ouderen. kloppen ze nog wel? haar dochter bouwt de meubels. van eiken en mahonie. geeft les in ademhalen. en zo doet elk ronde wezen wat. natuurlijk. geven en nemen is een cirkel.
stap 8. de cirkel is open. lange mensen lopen langs en worden rond. er komt een huisje bij. en handen. een ziel een hoofd een hart. we worden wijzer en stiller. zoals dat gaat. alle handen maken samen.  natuurlijk. de cirkel wordt groter.
stap 9. ik zoek de wereld rond. nu in mijn ronde cirkeltje. verwelkom alle nieuwe ronde mensen. ik zie de cirkels en de kringen. hoor je de stilte? hij fluistert 'ik ben zo blij, ik kan hier zijn!'. natuurlijk. we zijn een cirkel.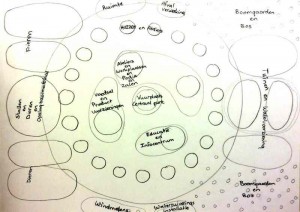 Mijn eerste conceptplan betreffende de inrichting van 'het dorp'.