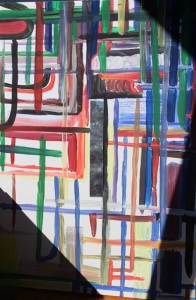 At first I thought of two spheres, one based on pigment, and one based on light. The spheres would hold all colours, but on the outside, the pigment-based sphere would be black and the light-based sphere would be white. It was kind of an immediate response to the three-dimensional colours system shapes I saw during our presentation on already existing colour systems. A lot of artists and taxonomists from this presentation had decided on a certain shape either two or three dimensional, which would hold all, or at least all (for them) relevant colours. These two spheres I had in mind were maybe an ode to the two things I believe decide colour; the pigment an object contains from itself, and the light that makes it possible to receive the colour by the eye. The pigment-sphere is black, with a white center (all other colours exist somewhere in between the white and the black), because this creates a bigger arera of black in opposition to white, just like the more pigment something contains, the darker the colour gets. The same goes for the white sphere, as more light will eventually create white, and no light at all will create complete darkness (black).
But far before I started working with this idea, even before I completely thought it through, I started to doubt. Because, if light and pigment completely depend on each other, than what reason is there to "pin down" colours, in a system? Of course I could create a scale model, animated version or a couple of drawings of these spheres to show what the colours inside are like and how they work, but what would be the use of that if anyone seeing it in a different room, with different light would receive it completely different?
I wasn't sure how to continue now, as the word "system" felt like I had to make something clear, or at least something that can make sense and be repeated in multiple situations, which I thought wasn't really possible with something and changeble as colour. It took me a while to realize that I should just start working with colour, and not worry too much about it making perfect sense. But as soon as I realized, I got sick and didn't do much more than lay in bed. This, in combination with the feeling that colours mostly depend on how our eyes perceive them, made me want to approach the assignment in an unconcious way. A couple of nights I slept with a different colour light in my room. Afterwards I tried to capture what my dream was that night, and if there was any noticeable difference from the night before. Though I remembered the dreams well, it was surprisingly difficult to pin them down. I wanted to show the general feeling of the dream, and no specific details or story lines. I wanted to capture them in a simple way, in which the sense and atmosphere of the dream is immediately there and clear to anyone.
I noticed that sleeping a shorter amount of time had a different influence on the dream than sleeping the entire night. If i only slept an hour or two with the coloured light on, I could clearly remember the first random associations mix up with the usual memories and thoughts I have when I'm awake. To put it differently: I felt myself fall asleep, and I felt myself sleep, and then I felt myself dream and then I felt how an alarm clock woke me up and brought me back to the logical world. Within those few hours, there was not enough time to form coherent, "full" dreams. I dreamed in feelings and associations, not about stories or places or people. I think the lights had some effect, in the short term.
  Yellow light, 8 hours, no clear difference from my usual dreams, except that everything was darker, This corresponds to an old dream I have each time the morning sun shines into my eyes: That my eyes don't work and there is a black spot in the middle of my eyesight.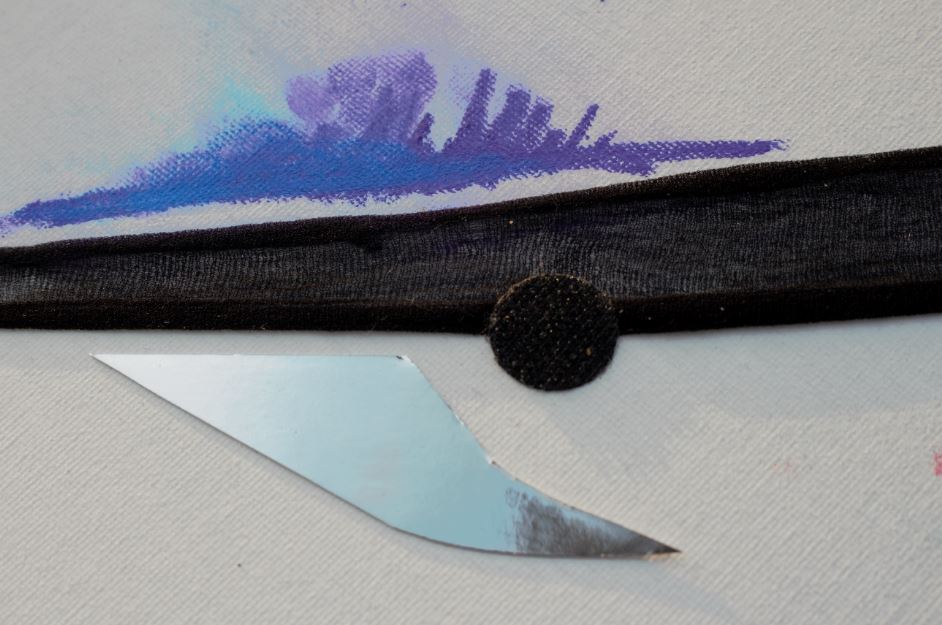 Green light, three hours. Some images I had with this one were of dark wood furniture and music instruments.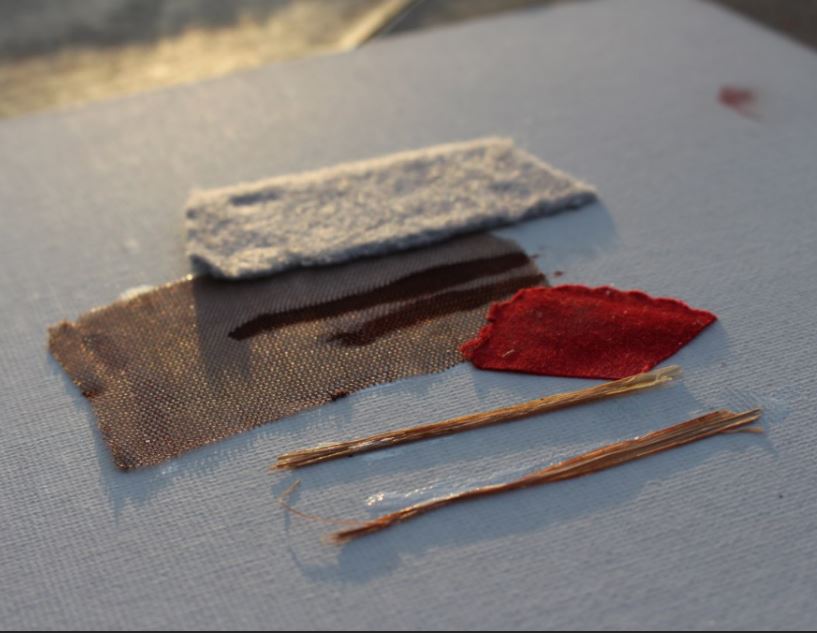 Light blue light, 1 hour (maybe shorter). This one had very clear images, as I was still half-awake. I woke up pretty soon too, so that I remembered them very well.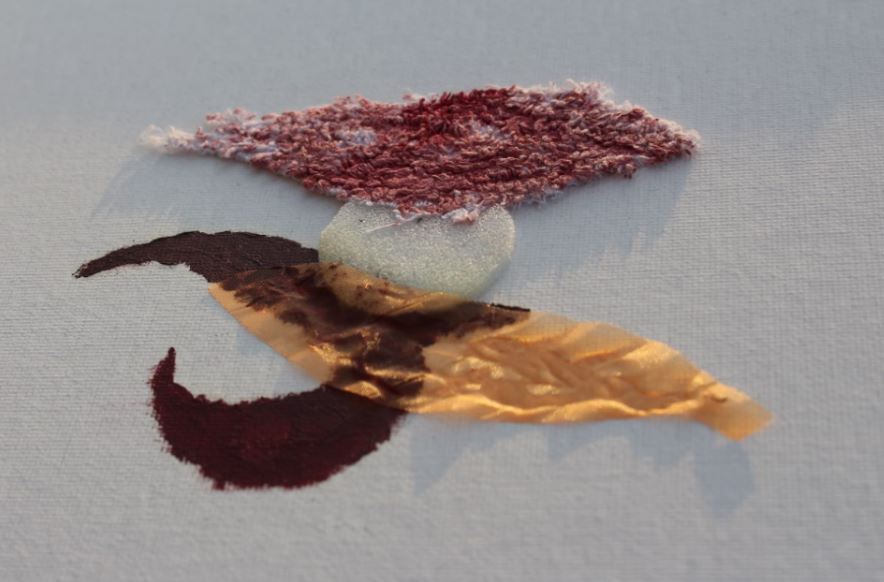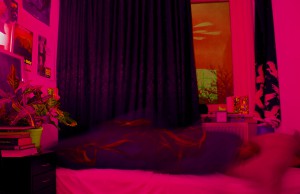 Red light, 8 hours.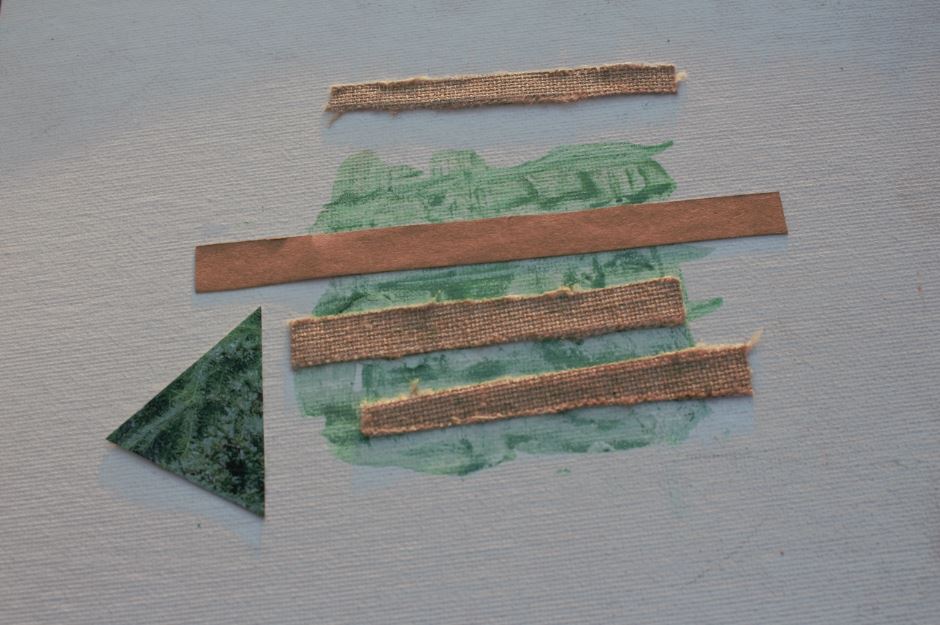 Pink/purple light. 2 hours. I dreamed about textures and places, no clear story lines involved.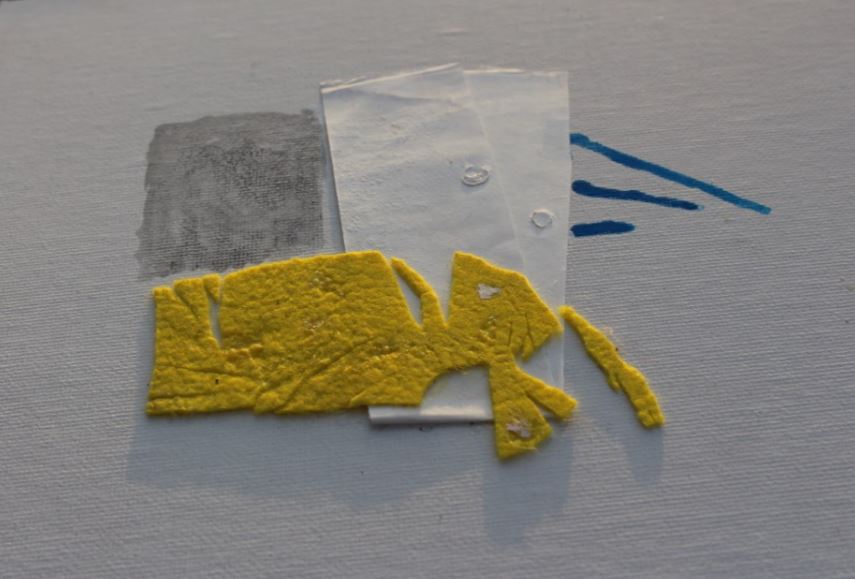 Dark blue. I don't remember how long I slept. I dreamed about people crossing a busy highway in the dark, so there were a lot of orange headlights.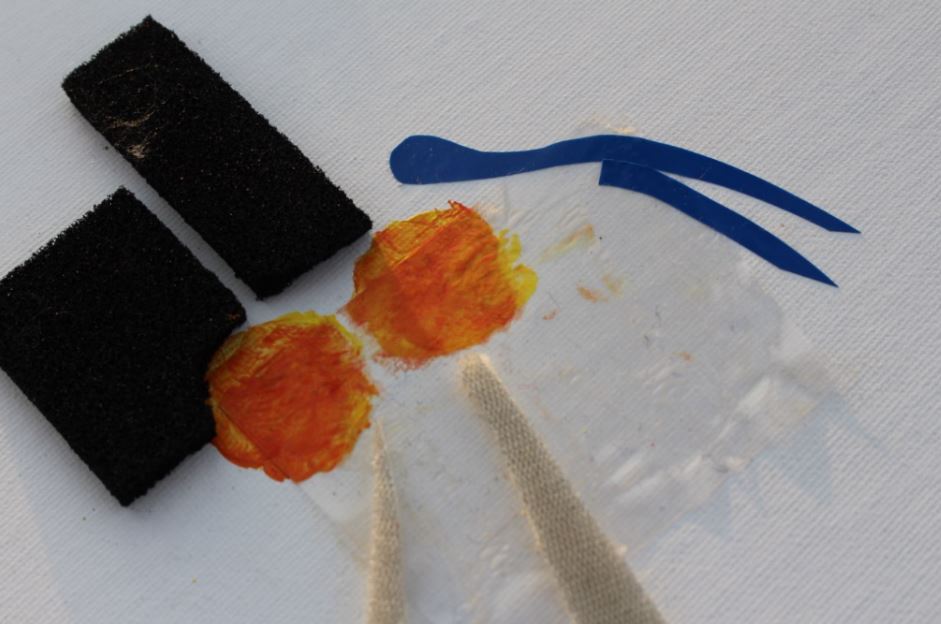 I really liked the coloured light and the many effects it had on the colours I was used to, so I wanted to do a little more on it and show what a power the light has. I had two coloured lamps change constantly while painting, so that the way I choose the colours wasn't like usual. Thinking about it, maybe it were better if I had painted something realistic, so that the choices I made had more of a purpose. The painting then would also "make sense" in one light, but not in the other.
In the end, I still feel quite confused about what I did in this assignment.
By focusing on the things that go around unconsciously in my head, I can never be sure if I have "catched" what I was chasing after.