The size of the indexed World Wide Web is 15.66 billion pages (http://www.worldwidewebsize.com)

.
The year is 1924. That's a long time ago. That's why this book smells of old grandpa.

The title is intriguing. "Woodcuts, and some words". An honest title. Plain simple. As if the phrase "what you see is what you get" was authored for this book only. It doesn't have a fancy wordplay. Someone once upon a time spilled coffee on it. Maybe also dropped a cigarette on it. Drank coffee and smoked cigarettes, while glancing to it's precious content. This book I'm holding in my hand is some book. Extraordinary. Classic. Both fragile and pretentious at the same time. The thick papers, the fine composition on each page. So elegant and authentic. So anti-industrial, so handmade. This book can teach you how to make woodcuts…
– It's like an old school version of one of the many 'how-to' videos on YouTube. I'm actually holding an offline version of a 'how-to' video. It makes me think of information, and how we approach and handle the nonstop floating information on the WWW.
What is the actual difference between information in a book and information on the internet, besides the limited/unlimited amount? I recall my teacher saying something like: "I will recommend you all to buy the book and not make scans and read them on your computer… because… it's nicer, you know". What makes us grab a book instead of browsing the web?
What is the fuss about a book in general? Is it because it's capable of generating a certain feeling or a certain "vibe" which will never be generated from the most awesome and well-made webpage? Is it the typography on the paper, the quality of the paper, the fact that you can touch it and that it isn't ongoing?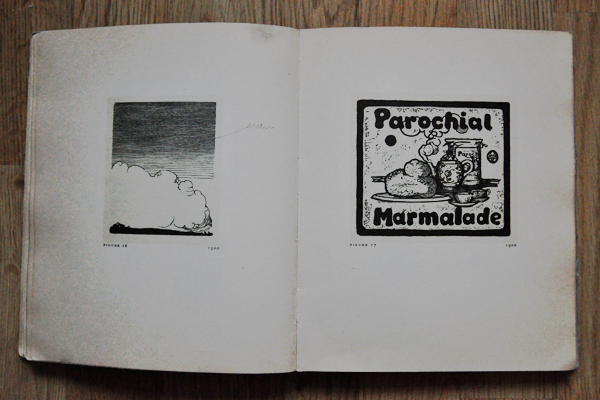 There's an enormous difference between getting information from a book and getting information from the internet. I, myself, is having a hard time keeping track on the endless amount of available information on the internet. It's interesting that the information about any subject on the internet is unlimited. It's like having unlimited access to 'knowledge'. There's always more. You're never finished. It's ongoing. It will always follow time, never become obsolete.
The information in a book is not developing. There's a last page. A period. It's printed and can't be changed in a sec. No further links. No sudden brand new pages. No updates. No hidden information. What you see is what you get. And *that* somehow puts the whole 'info on the internet' in perspective. You never see what you get, until it's there. Always floating, constantly changing. Eternal information.

Rietveld > lib. cat. no: 755.1