Teamwork – ideas – opinions – help – building up something together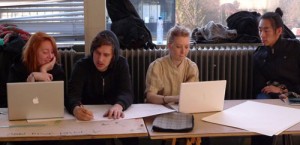 It's like standing in a big valley and shouting out your thoughts into the void. Some sounds will bounce back at you, some will disappear in mid-air. This is the big plus about teamwork; that ideas are constantly being bounced off each other to see which ones have potential, and which ones will just dissolve on the way.
This month our team spirit kept up pretty well, but I also noticed that in a good working situation there's always a kind of teamwork going on, even if everybody is working on their own individual project. One should always ask for opinions, and always be ready to help someone by thinking seriousely about their ideas.