Constant Nieuwenhuijs. Een verbinder van autonome kunst en moderne architectuur. Wij gebruiken Constant als vertrekpunt en zoeken naar de relatie tussen zijn werk en dat van de Cobra kunstbeweging en Rem Koolhaas, een moderne architect. Hoe het werk van Constant door de cobra beweging is beïnvloed, en de ontwerpen/ideeën van Koolhaas weer door Constant, als in een kettingreactie.

Overeenkomsten tussen de Cobra beweging en Constant's ideeën over New Babylon en architectuur in het algemeen.
De utopische denker Constant Nieuwenhuijs heeft zijn roots in de schilderkunst. Tussen 1948 en 1951 was Constant zeer actief binnen de Cobra kunststroming. hij was er mede oprichter van.
Cobra kwam op na de tweede wereld oorlog. Na deze heftige en gruwelijke tijd doorleeft te hebben waren kunstenaars opzoek naar een wedergeboorte. Iets om steun uit te halen of iets om te kunnen relativeren. Cobra kunstenaars vonden onder andere hun inspiratie in kinderlijke en primitieve kunst. Hiermee konden ze hun zorgen over de toekomst van kunst en menselijkheid uiten, die beschadigd waren voor de traumatische ervaringen uit de oorlog.
De kunstenaars streefden naar een utopische wereld, waarin vrijheid centraal zou staan. Dit vonden ze door te breken met het artistieke verleden en esthetica en een nieuwe kunststroming te creëren waarbij spontane activiteit en expressie het belangrijkst was.
Vanaf de jaren '50 wordt het werk van Constant werk abstracter en ontwikkelt het zich uiteindelijk meer in de richting van ruimtelijke experimenten en architectuur. Hij bouwt een stad van de toekomst; New Babylon, vormgegeven in schaalmodellen, collages, tekeningen, landkaarten en meer. Hij wordt zich steeds meer bewust van hoe gebouwen om ons heen mensen beïnvloeden. Het valt Constant op dat de meeste moderne constructies vooral praktisch zijn en saai en dat ze nauwelijks ruimte bieden voor een speelse en creatieve manier van leven.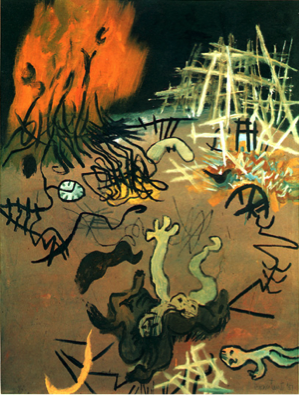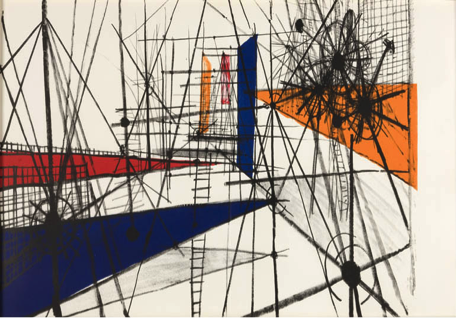 'Burning Earth', uit 1951 (boven), een schilderij door Constant aan het einde van zijn Cobra periode. Je ziet al meer interesse voor ruimtelijkheid in zijn werk. Waar het voorheen altijd plat is geweest. Ook lijkt de constructie rechts achterin het schilderij bijna op een van de latere werken van Constant. Een New Babylon compositie, (onder).

New Babylon is een radicale, doch logische opvolging van de Cobra periode in Constants carrière als kunstenaar. In beide is een diepe drang te zien, een zoektocht naar vrijheid en verandering. In het New Babylon project van Constant gaat hij uit van een alternatieve, volledig geautomatiseerde maatschappij, waarin arbeid overbodig is. In zijn ideeën over deze moderne en vooruitstrevende samenleving is de mens vrij om zich volledig te richten op het ontwikkelen van creatieve ideeën. De spelende mens bepaald zelf het uiterlijk van zijn leefomgeving. In beide levensfases zoekt constant naar zo'n alternatieve levenswijze. Zowel in de cobra beweging als in de New Babylon tijd was Constant opzoek bezig naar een ideologie van ultieme vrijheid en spel.
In beide delen van Constants leven drukt hij een utopie uit, geïnspireerd op wat er op dat moment in de wereld aanwezig was en wat hij daar graag anders aan zou zien.

Relatie Constant Nieuwenhuijs en Rem Koolhaas
Zowel Koolhaas als Constant gaat uit van de sociale functie die architectuur te bieden heeft. Het heeft de kracht mensen met elkaar te verbinden doordat ze in een bepaalde ruimte zijn met een bepaalde ambitie, een functie.
Bij Rem Koolhaas zie je duidelijk dat de persoon die zich in zijn architectuur bevindt, een gebouw van hem betreedt, onderdanig is aan zijn ontwerp. Een voorbeeld hiervan is de Nederlandse ambassade in Berlijn.
In dit gebouw is er een deel met een glazen vloer waardoor je bij mensen met een rok of jurk inkijk hebt in het kruis.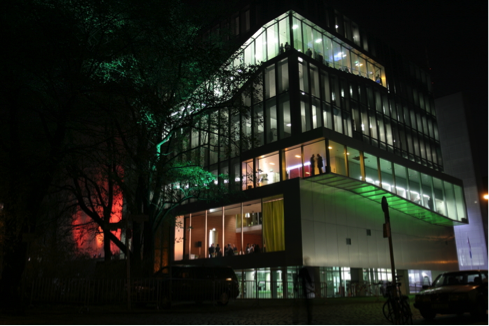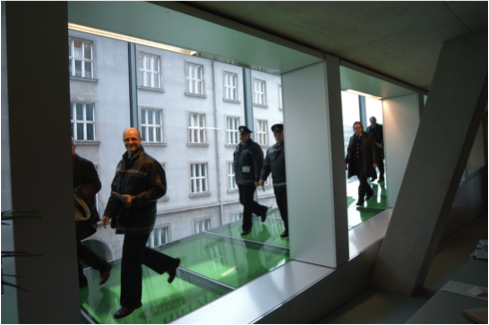 Dit veroorzaakte bijvoorbeeld al een probleem bij de opening van het gebouw. Bij deze opening zou de toenmalige koningin Beatrix aanwezig zijn. Zij draagt altijd een jurk of een mantelpakje.
Het idee dat je onder de rok van de koningin kon kijken als men zich op de etage eronder zou bevinden, zorgde voor een schandaal. Maar dit werd uiteindelijk simpel opgelost door er een loper te leggen voor de opening van de ambassade. Het gebouw heeft ook richtlijnen die je naar bepaalde hoeken en punten dwingen te kijken.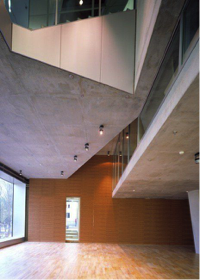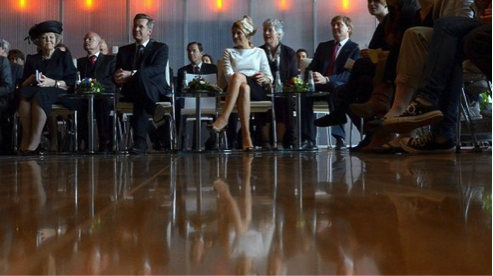 Rem Koolhaas straalt met deze keuzes een bepaalde brutaliteit uit. Het gebouw wordt een ervaring voor diegene die er binnentreedt en gedwongen is zich aan deze ervaring over te geven. En dat zie ik in ieder ontwerp van Koolhaas. In ieder van zijn gebouwen voel je zijn aanwezigheid sterk. Hij laat het gebouw als een gids aanvoelen die je er heel natuurlijk en toch gedreven doorheen leidt.
Tijdens het onderzoek kwamen we terecht bij een filmpje over het theater wat Rem Koolhaas heeft ontworpen voor Taipei. Het is interessant om te zien hoe hij naar theaters kijkt.



We zien een duidelijke connectie tussen het Theater in Taipei van Koolhaas en de stedenbouwkundige plannen van Constant. Rem Koolhaas bouwt hier een nieuw gebouw over een reeds bestaand gebouw heen. Het theater wordt over de nachtmarkt heen gebouwd. Hiermee wil Koolhaas twee werelden combineren die beiden 's avonds floreren. Hij vertelt in het interview dat in Taipei de mensen laat naar bed gaan. En is het nachtleven dus heel belangrijk. Hij gaat in op hoe mensen zich gedragen, waar ze zijn en waarom. Hij analyseert en onderzoekt ieder detail voor dat zijn ontwerp tot stand komt.
Het idee van een nieuw gebouw over een bestaand gebouw heen bouwen, in plaats van de nachtmarkt te verplaatsen, zoeken zij naar een manier om het oude en nieuwe samen te laten komen, is door Constant geïnspireerd.
Koolhaas slaagt er in allebei om ruimte zo efficiënt mogelijk te gebruiken.
Zo worden verschillende werelden gecombineerd. De code van het combineren houdt Koolhaas ook binnenin het gebouw aan. Hij plaatst de drie ruimtes naar elkaar toe met het podium als centrum. Als publiek zit je om de drie podia heen alsof je in een arena naar sport zit te kijken. Alleen heb je dat als publiek niet door. Iedere tribune wordt als aparte zaal gezien. Per tribune kijk je naar een andere voorstelling, zoals je dat in de klassieke theaters ook hebt. In iedere zaal wordt een andere voorstelling gespeeld. In deze constructie kun je de schotten tussen de drie podia weghalen. Hierdoor creëer je een nieuwe ruimte. Dit geeft een breder perspectief voor het gebruik van deze ruimte. Voor theatermakers is dit een interessant gegeven. Ze hebben nu meer inspraak en keuze in het gebruik van ruimte. Voor andere doeleinden wordt de ruimte nu ook interessant. Koolhaas slaagt er hier in om zoveel mogelijk uit een ruimte te putten. Zodat deze nog functioneler gebruikt wordt.
We hebben het idee dat je in de gebouwen van Koolhaas nooit alleen bent. Hij maakt scheidingen maar toch weet hij de ruimtes niet zo te isoleren dat het afgesloten en op zichzelf bestaat.
Constant en Koolhaas zijn eigenlijk de hele tijd op zoek naar hoe ze mensen met elkaar kunnen verbinden door de functies die architectuur als doel heeft.
text by Eefje Stenfert en Renée Zadelhoff