Clay furniture is a set of eight pieces of furniture presented at the Stedelijk museum : chairs, a bookshelf and a table by dutch designer Maarten Baas.  He describes his pieces as "part of a set design, a decor " and how he "always go from a story that (he) wants to tell instead of starting with materials.
This aspect of the work, its appearance of a movie prop probably is why I was drawn to it.
The pieces are functional but they also have a pleasing aspect and unconventional colours, crafted in steel and clay – by hand, without using a mold. I enjoy the fact that they are not shy about showing how they were made.
While I went to the museum I had the lecture given by Fiona Candling in the context of the Stadium Generale at Rietveld about how people touch art in museums in mind.
When I stood before this piece I couldn't resist the urge to feel it. I looked around if anyone was watching and touched the baby highchair. It felt great. If felt like the object wanted it and asked to be touched.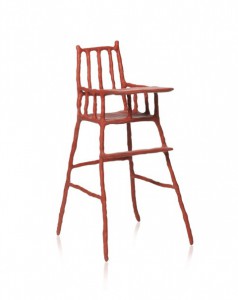 Touching it confirmed and completed the visual aspect of the piece, the human of it that I sometimes miss in design object. It reminded me of the sensual experience of working with clay, somewhere between the realms of childhood and adulthood and between spontaneous and control.
The different pieces were arranged on platforms, seemed to be floating and occupied a whole wall. Somehow, the objects themselves clashed with the the seriousness of their own arrangement. It's always bizarre to look at furniture in the context of a museum where they're dissociated from their primary function.
You look at the chair. The chair teases you. You wish you could sit on it. But you're not allowed. It's not a piece of furniture anymore, it's the manifestation of your unmet desire to sit.
My friend Dasha coincidentally also chose to write on this clay furniture. We looked for a place where we could touch it with no shame, as long as we wanted. On Valentine's day, we were on our way to the Mendini Restaurant in Groningen. Decorated in 2014 by Marteen Baas, containing some of his chairs, lamps & a mirror. But before our lunch date, we visit the Groningen museum attached to the restaurant.
Outside, the textures, colours & shapes of the building clashed. The whole building seems to have been built by artists who didn't consult each other before merging all the (unmatching) pieces together.
It was in fact designed and completed in 1994 by three different architects, Philippe Starck, Alessandro Mendini, Coop Himmelb(l)au. American artist Frank Stella was also approached for this project but he wanted his structure completely out of Teflon, which was too expensive and he was replaced.
Inside, after the multicolored mosaic covered stairs is the entry to the main show. The bright couches and walls clash with the solemnity of the paintings from the "Romanticism in the North" exhibition.
Dasha doesn't like old paintings. I do. Romantic painters have a dramatic way of depicting the gravity of ultraviolent emotions that I strongly relate to.
I find my date bored, sitting on a bench and recognize Baas's sketch-like, improvised signature look. The object is long and its legs merge with the visitor's legs resembling a clay centipede. Remembering how the furniture pieces seemed out of context at the Stedelijk, I'm relieved to see the bench so comfortable and fitting in this mismatching room where, in all its playfulness, it truly belongs.
A little later, in another room we walk past the the Pleyel Smoke piano, one of the artist's earlier works which is part of his series Smoke Furniture. The instrument was charcoaled with a blow torch, preserved in a clear epoxy resin, which makes it usable again. In contrary to the clay pieces, this one doesn't fell like it's inviting you to touch it, it has already been touched- by fire.
Visually, it's very cinematographic and a little alarming, bringing you somewhere uncanny between the ruins of a abandoned manor and a piano playing a gloomy melody by itself. (for more info read Maud Paul's research on his smoke furniture )
It's 4 o'clock, the untranslatable french heure du goûter or time to sit in a room containing 165k worth of chairs made out of clay. I don't know how often visitors travel specifically in order to touch the furniture of the restaurant but for me, putting all this effort into that built up a lot of suspense and anticipation.
Maybe I expected too much, but I somehow wanted the whole room to be out of clay.
Clay floors, clay walls, clay-clad waiters, clay-like cakes, clay everything.
More than seeing the pieces in flesh and touching them, what was very pleasurable was to sit on them. I had previously only seen them displayed in galleries, elevated to the status of the out of reach art/ design object. Now, returning to their true function the chairs were what they were. They seemed more approachable, straightforward and practical – maybe we could even be friends.
Fitting for the occasion, I ordered a romantic pastry. 
On the way back, on the top floor of a bus driving into the night, I kept thinking about all the chairs I've ever sat on without considering them. I don't mean to break anyone's hearts. I just didn't know.
Maybe I should call back and apologize.