Maarten Baas
Geboren op 19 februari 1978 in Arentberg, Duitsland. Kort daarna verhuisde de familie Baas naar Nederland waar hij in Haamstede, Zeeland  opgroeide.  Het werk waar hij het meest bekend door werd en er ook in 2002 op afstudeerde aan de DAE was de 'Smoke' series. Deze serie stoelen, die met een brander werden verbrand en vervolgens met een epoxy behandeld, vloog meteen de wijde wereld in. De Smoke stoelen werden opgenomen in de collectie van Moooi, van Marcel Wanders.

Een ander werk van Baas dat al snel werd opgepikt was de 'Clay' series. Deze "kinderachtig" gekleide stoeltjes waren onder andere te zien in het programma Zomergasten maar natuurlijk ook op de grote designbeurzen overal in de wereld zoals de Salone del Mobile in Milaan. De combinatie van een stalen frame en industriele klei zorgen ervoor dat elke stoel, tafel, kast of ventilator een unieke vorm krijgen die geen twee keer voor komt. Dit speelse behoud Baas in zo'n beetje al zijn werken.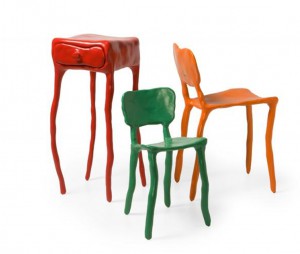 In 2009 stal Maarten Baas weer de show op de Salone del Mobile met zijn klokkenserie 'Real Time'. Klokken gemaakt door middel van een video. Hij gaf de tijd weer door een 12-uur durende video die "real time" de tijd weergaf. Met acteurs heeft hij 12 uur lang de minuten die zij moesten vullen gewerkt om zo een correcte tijd te laten weergeven. Zijn bekendste is de 'Grandfather Clock'. Dit is een klok met de afmetingen van ongeveer een volwassen persoon, waar ook een persoon in lijkt te staan die de tijd minuut na minuut op het melkglas tekent. De Grandfather clock komt pas echt tot zijn recht zodra je hem in het echt ziet. je krijgt meteen het gevoel dat er echt iemand in zit die de tijd bijhoud.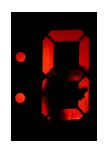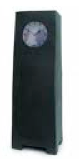 Andere zijn 'Analog Digital Clock' waar ook iemand achter staat die steeds de vlakken opvult en schoonmaakt alwaar een digitale klok 'slaat'. Ook is er een variant, 'Sweepers', waar je van boven 2 mannen een berg zand en vuilnis in de vorm van wijzers rond ziet vegen. De vierde klok in zijn serie is 'Counting Hours' (in deze link zie je ook alle klokken in een overview). Hier zie je een man in een klein kantoortje zijn werk doen en tegelijkertijd twee pennen als wijzers rond laat gaan om zodoende de tijd weer te geven.
Ook werd hij in 2009 Designer of the year genoemd in Miami op de Design fair in Miami. Hier liet liet hij een one-of-a-kind werk zien, in opdracht voor de design fair in Miami, genaamd The Shell.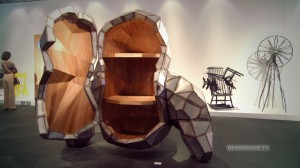 Maarten benadert het ontwerpen zonder voorkennis van, of interesse in vooraf opgelegde beperkingen en vindt zijn drijfveer in het aangaan van nieuwe experimenten. Deze benaderingsmethode werd verder uitgediept voor zijn presentatie tijdens de Salone del Mobile 2005, waar hij zijn 'Treasure Furniture', 'Hey, chair, be a Bookshelf!', en 'Flatpack Furniture' presenteerde, welke  vol verwachting en met luid gejuich werden ontvangen.
In 2009 ontwierp Baas, voor het eerst sinds zijn samenwerking met Moooi in 2003, ongelimiteerde producten voor andere labels. Voor het nieuwe, Italiaanse label Skitsch, ontwikkelde hij het cartoonesk vormgegeven, porseleinen servies 'The Haphazard Harmony'. En voor het Britse Established & Sons de eetkamerstoel 'Standard Unique', een stoel die zodanig is geconstrueerd dat elk geproduceerd stuk een unieke stoel oplevert.
Wat is het geheim van Baas? Voor een groot deel ligt de aantrekkelijkheid van zijn objecten in het feit dat hij het kind in de volwassene weet aan te spreken. Lekker kneden en kleien, af fikken en smelten, frutselen en stapelen. Zijn werk is echter veel meer dan de puberale grap om een designicoon af te branden. Nu het hier allemaal bij elkaar staat, ondanks alle onderlinge verschillen in de series, valt er wel degelijk een lijn in te ontdekken. Het plezier in het maken en knutselen straalt ervan af, evenals de humor. De meubels met hun spichtige pootjes of juist bolle, ronde lichamen, hebben een hoog cartoongehalte. Zo lijkt de serie 'Sculpt' gemaakt voor de familie Flintstone en zijn de kasten voor 'Established' verwant aan robotjes, die als kleine huisdiertjes de woonkamer bevolken. Het is gek en grappig, maar ook sympathiek en interessant.
Kortom het werk van Maarten Baas bevat een speels gehalte wat ik over het algemeen kan waarderen. Door zijn kijk op de wereld worden interieuren weer wat kindvriendelijker en luchtiger in hun omgang.
Maarten woont en werkt tegenwoordig in de buurt van 's-Hertogenbosch.