Tokujin Yoshioka was geboren in Japan in 1967, na uitvoerige samenwerking met Shiro Kuramata en Issey Miyake en deze bestudeerd te hebben, kwam in de opstelling van 2000 zijn studio, Tokujin Yoshioka Design, in Tokyo. Zijn vennootschap met Issey Miyake heeft meer dan 20 jaar bestaan. Tokujin Yoshioka heeft deelgenomen aan een aantal projecten met mode ontwerpers en designers. Maar hij brak pas echt door na zijn succes in 'Issey Miyake Making Things for the Cartier foundation in Paris'. Ondanks zijn leeftijd is Tokujin Yoshioka een van de meest belangrijke en invloedrijke japanese designers of eerder gezegd "vormgevers".
De reden waarom ik vormgever zeg, is omdat ik hem niet in een hokje weet te plaatsen. Hij bevindt zich in het speelveld in de vormgeving. Als je zijn werk observeert denk je al snel aan motie, transparantie en de omgang en kennis van materiaal.
Het spelen en gebruik maken van het materiaal is steeds verschillend. Zo gebruikt hij papier om een stoel mee te bouwen, het papier is nooit stevig genoeg om op te kunnen zitten, maar het door het papier in een vorm te kneden en het van zijn blanke gladde oppervlakte te ontdoen en het grootschalig als een compacte eenheid neer te zetten maakt het geheel totaal anders.
Oké, je kan er niet op zitten want alles zakt in, maar het schept iets nieuws voor het oog en het lijkt te werken. Het is rustgevend en strak ondanks de slordige vouwen die toch ritmisch worden door het grote geheel.
Alles voelt heel clean aan, en alles is dan ook strak en voor mijn doen totaal emotieloos. De emotie kwam niet bij me op, tot ik na een tijd onderzoek zijn proces en manier van werken begon te begrijpen.
Zo werkt hij nogmaals erg veel met transparante objecten en mogelijkheden, hierbij denk je ook aan weerkaatsing en schemering en spiegeling. Lichtinvallen die je raken in het werk en het zijn kracht geven en soms ook ontdoen. Doordat het vaak te strak is verga ik mezelf nogal snel in de spiegeling en in de lichtinstallaties. Het is natuurlijk wel goed doordacht en in de puntjes uitgezocht en er zit detail daar waar het nodig is, maar het is voor mij zo achterhaald en gedaan. Zeker als je kijkt naar Japanse collega's en mensen in zijn werkveld is het voor de hand liggend vindt ik.
Maar toch blijft het je raken, dit heb ik heel erg bij het werk genaamd 'snow'.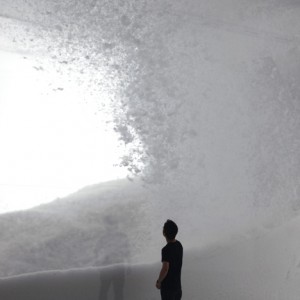 Het is zo simpel en heeft een eenvoud in zijn bedoeling maar het raakt je, je herkent de sneeuw die als poeder met de wind meegaat en het geeft kalmte en emotie. Zo ben ik toch anders gaan kijken naar zijn werk en naar zijn manier van werken, dat het geen wonder is hij zoveel samenwerkend werk heeft verricht.
Wat mooi is te zien in interviews is dat hij zelf aangeeft zijn voorkeur ligt bij simpelheid. Zo kleedt hij zich simpel en strak. Zwarte shirts en polos en geen opvallend kleurige schreeuwende kleren. Ditzelfde zie je in zijn werk terug en kan je zien dat hij weet wie hij is en waar hij staat. Zijn werk is een weerspiegeling van hemzelf.
Simpelheid en strak afgewerkte concepten zijn een kenmerk van Tokujin Yoshioka, in zijn werk 'Venus Natural Crystal Chair', zie je in het proces Tokujin Yoshioka kleine kristallen laten groeien in een aquarium om zo deze natuurlijke kristallen tot een stoel te doen creëren. Hij noemde de stoel naar Venus, omdat het groeiproces doet denken aan de godin die wordt gevoedt door delen in het water en zo uit het water tot leven komt. Het is zeker niet een stoel om in te te zitten, maar het is geweldig om naar te kijken. Dit merk ik vaker bij het werk van Tokujin Yoshioka dat het niet praktisch of bruikbaar hoeft of moet zijn, maar het meer het verhaal verteld achter het idee of de manier waarop het idee tot leven is gekomen, en maakt het voor mij ook totaal niks uit of het nu ook echt design is met een functie. Hij gaat heel verfijnd en precies te werk en het lijkt naar mijn mening dat hij zeer gefascineerd is naar het ontdekken van de groei en ontwikkeling van deeltjes in stoffen en materialen. Wat een connectie legt met meubels, kleding, design enz. Dus om terug te komen op het emotionele gebied.. ja, dit zit er zeker in. Misschien niet meteen herkenbaar in het werk maar wel in het proces. Hij is naar mijn mening ook zeer gedetailleerd en dat zie je niet alleen terug in zijn eind producten of werken maar ook in zijn experimentele fases. Echter vindt ik dit vaak "te" gelikt ogen, en vergaat het echte verhaal of de boodschap erachter.
Hoewel hij het goed compenseert en je verbluft met minimalisme en design. Mocht je nu meer werk van Tokujin Yoshioka willen zien en zijn processen en in welk veld hij nu precies zit binnen design, dan is het zeker waard even zijn site http://www.tokujin.com/ te bezoeken, namelijk: