Strolling around a library without having an idea what you're looking for, felt just as difficult as drifting around a supermarket without knowing what to eat… I found myself a bit lost in feeling what I wanted. Hoping that all of a sudden I'd instinctively grab a book and have an inner feeling telling me it was right. Which didn't happen the way I expected, but did eventually happen.
The first thing I noticed as I picked up the book I chose, was the complete contradictory which was visible by the title and the cover. A book about textiles, with a textile cover, covered with a plastic layer. 
Is this done on purpose? What does it serve for? For the sake of protection? The sake of deifying? 
On the first sight they immediately play with layers, plastic, prints, the textile cover.
The black big square where the title is shown on, feels badly placed. A bombastic frame which gives a feeling of 'harshness', creates an opposite atmosphere of the rest of a book. 
All seems to be a courageous game. Super well designed, but risky. 
Colours jumping from soft green and blue, to bright orange. Straight, direct lines, covered by seemingly hand drawn, disorganised patterns. As an organised mess. And to think this was just the cover. 
Thick, narrow (29 cm), not quite even pages, which show bright, colourful, and diverse displays. From documentation, to installations, finished works, sketches . This resulted in a feeling of  'travelling'. By the diversity of the pages, there was a curious feeling arising, not knowing what to stumble on on the next page. As writing about it now, I realise I find it a playful, coordinated book.
The few lines that are written are carefully placed. Usually in the upper right corner. On the background, leaving all the space for the work, which tell  and show you most. 
But the real decisive moment was when I looked down. I was wearing the book.
Yes this is the right book to take.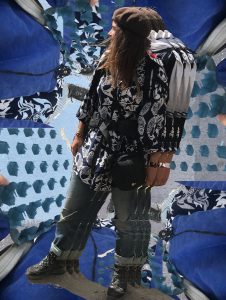 779.7-stro-1