Some find comfort in mess and even manage to bring a certain order and coherence in it. As for me satisfaction comes in organization. By organization I imply functionality as well as visual clarity. When I found myself in front of a very extensive pile of book clarity was what I needed. My own bookshelf is sorted out by size, my clothes rack by color, stretching from black to blue through different shades of green, grey and pink. It brings order in the room. I know where things go and where exactly I can find them. I decided to experiment with my own bookshelf.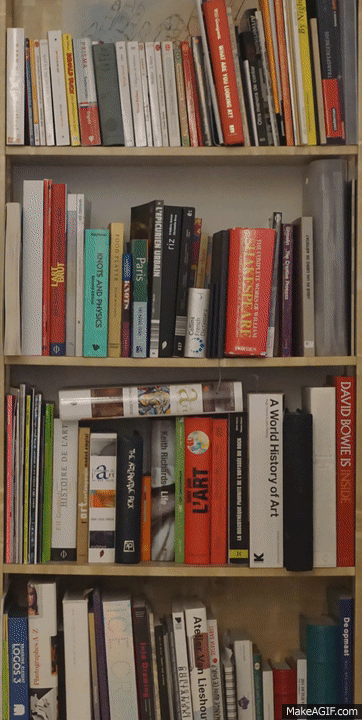 From grey to black. One entire shelf for the white ones. Brown, then yellow, red then come all the different colors from the visual spectrum. Although not all the book edges come with a singular color, the writing on it need to taken in account. The typography, its size and its color can completely change the order from one book to another. Organizing a library in such a way is a never-ending game. Taking one book out means it needs to go back in the exact same spot. At any moment the order can be ruined but finding the right former location is the same feeling as fitting the last piece of the puzzle in the whole picture.
A bookshelf organized by color is not only a piece of furniture filled with books, it becomes an architectural piece. The color coordination makes it a whole with a strong visual character. As the color together convened makes it look pleasing, it forms a new building, a construction in the space. Using books to build up the space is the main material of Fernanda Fragateiro. This Portuguese artist transforms books in "material prima", which she uses to make her sculptures. What was supposed to be read before now is to be seen. By using books in her works Fernanda Fragateiro creates series of abstract sculptures in which the holder of the content turns into the actual content of the piece. However this content is closed and sealed and so forth silent. She picks the books for their visual property not for the content of it. Sometimes she even makes the books herself in order to get the right colors. This way the book is reduced to its only material quality and its symbolic value.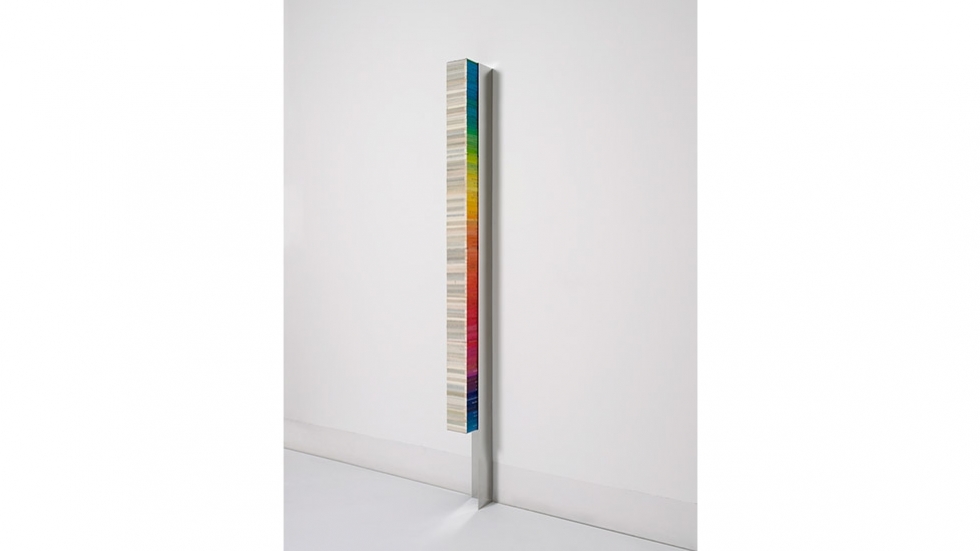 Another example of someone sorting books by color is Willy Fleckhaus who designed the edition Suhrkamp from Suhrkamp Verlag. He created a very specific though simple visual identity consisting in the rainbow colors. He developed a highly ordered layout of evenly spaced rules with a single weight of Garamond for all the text but then gave each of the original 48 covers in the series a separate color, so that when lined up in order their spines formed a perfect graduated rainbow. The result was to make the series instantly collectable.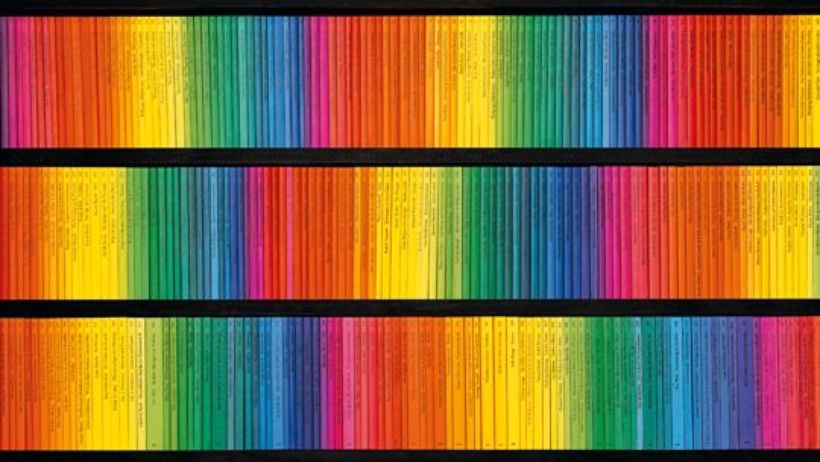 This visual identity is very specific to that edition and is still going on right now. In general a series represents a group of books which visually and thematically accompany one another and that are designated as series titles by the publisher. In a successful series the individual titles interact with one another, frequently presenting different perspectives on similar themes. By recreating a similar color ordered system as Willy Fleckhaus I was aiming towards a unity of the library. Books now relate to each other not through theme or author. They all have the same thing in common that makes them a whole rather than individuals. They stay distinctive in a sense because their content has nothing to do with the order they are placed in.
Some accidental situation can yet be fortuitous. Combinations happen while not expected. I find it most beautiful to randomly pick a book in a library. This organizing system creates the randomness for you and allows you to discover other books and not only the one you were expecting. A library needs to be able to surprise you and give you more than the Internet. Internet cannot give you random. You type in a request knowing already what you want. It then makes connections for you based on words, topics, or dates. That is also something I noticed while reorganizing my bookshelf; I have not be noticing a lot of books before because they were drowning in the whole mess. I put them together and discovered a bunch of them looking for their color. In the end I must have spent a few hours doing that getting caught by some unknown books on my way. I realized I have two volumes of New Perspectives in Drawing from PHAIDON editions: Vitamin D in english and Vitamine D2 in french. I opened both of them and definitely got new perspectives on drawing because doubled.
In this randomness I still find some order. Publishers working together with authors design, decide on how a cover should look like, what the colour should be according to its content. The example that comes almost immediately is the black cover and yellow typeface of most detective novels. Moreover how a book is physically designed, advertised, distributed, not only determines whether it is part of a series, but also who will purchase or read it.