After visiting the treasure room of the NAi I was very inspired by a non-existing student houses from Jan Verhoeven [x]. A very strong image of a wooden model caught my attention.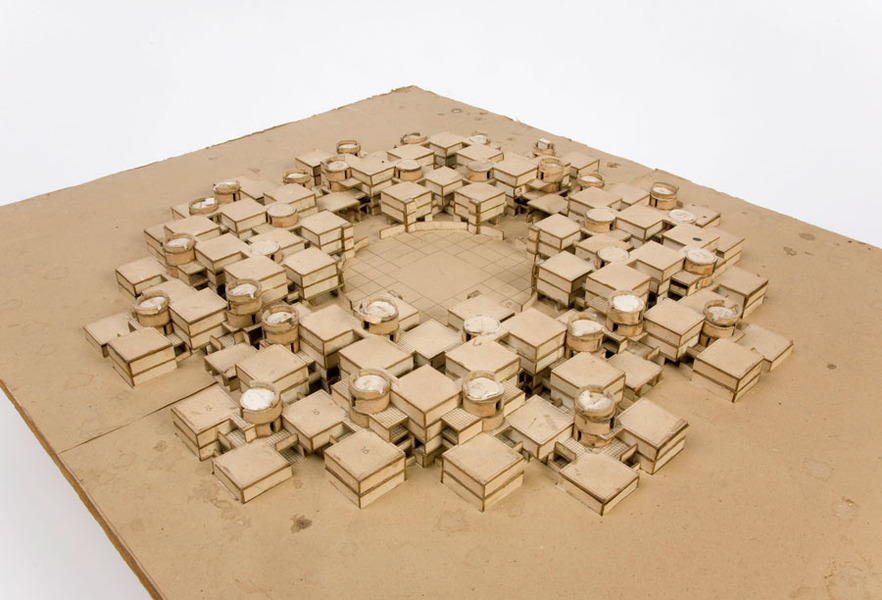 For the student residence in the campus Drienerlo the architect Jan Verhoeven devised a smart structure. He designed an easy structure that gets stronger when you build more houses. This sketches of the plan from 1965 are very colorful, colored squares represent the layered houses. Mathematical drawings with different structures, some a-symmetric some not. The sketches give me the feeling of mandalas, the spiritual drawings that suppose to give you rest and peace. It reminded me also of the patterns my great-grandmother used for making embroiderys.
This all sounds very warm and cozy, but when you look at the drawings it's still a bit cold because of the straight and perfect lines and squares.
What i wanted to do was to make a booklet, make this drawings into embroidery and give this the warm feeling it reminded me of. The process of making the embroiderys give you the same peaceful feeling as making and looking at mandalas. Also the fabric is getting stronger When you stitch more layers, the same as the original idea from the student residence. In the booklet I also tried to preserve the atmosphere of the model with using the wood board and keeping the clean image. The text in the booklet are keywords that represent the essence of the project from Jan Verhoeven, but also three separate titles of the embroiderys.