'Traité des fougères de l'Amérique', Charles plumier (1705), Imprimerie Royale, Paris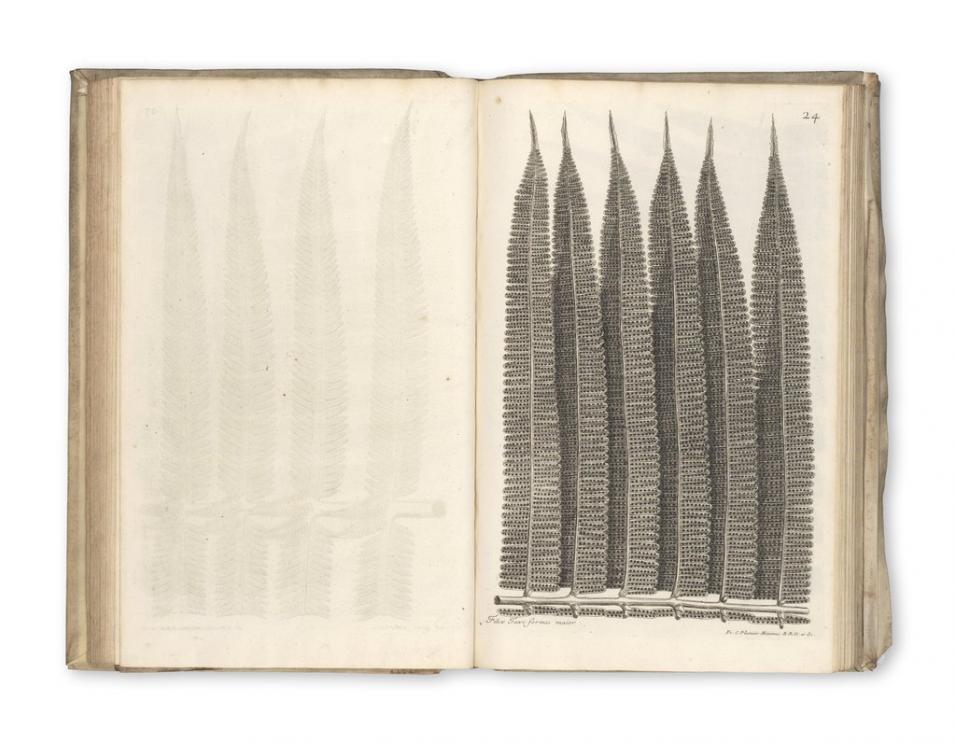 This book is a collection of ferns found on the American continent. It was printed one year after the death of the author. Through the thin paper we see that every fern has it's own leaf (Ironically). What I like about the book is that the Ferns seem to have adapted to the form of a book. They seem to have sprouted somewhere outside the confines, out of the eye and "grown" precisely inside the printing ratio and reached a perfect 1/?2 scaled size. I like how the fern leafs function as separate columns on the sheet. And the little leafs on it function as lines, and the dots on these leafs as unreadable letters.
Traité des fougères de l'Amérique is printed on lain paper, a paper that was very often used in the 19th century. This paper has a watermark, thin lines of a thicker paper as nerves over the sheet. The lines are formed by a dandy roll. The lines on the paper suggest that the paper also has nerves, the same as the leaves lying on the paper. Next to that the book has a limp binding, animal skin that is prepared to print and write on functions as the cover of the book. Where the animal skin again has a pattern that can be seen as patterns of plants.
The arte povera artist Guiseppe Penone compared the skin, mostly very enlarged, to the bark of a tree, and his fingerprint to leafs. His drawings, partly printed as this book is, are the best example where all these aspects come together. The printed leaves with their, in Penone's work, very outstanding nerves on a soft sheet of heavy paper and rough fibered paper. They are directly connected to the mouth as forming one plant.
In this book where leaves are growing in the books shape, but also the other way around the book, looking like a plant too, aspects are mixing up creating a bit of an unlikely but beautiful image.
post by Naomi van Dijck