Warning: Do not scratch the surface.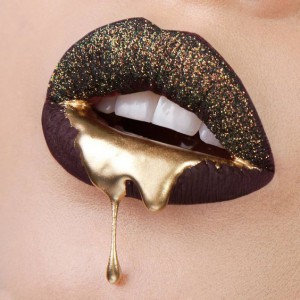 The nail polish stand is linked to the Lustre section of the exhibition for the visually obvious reasons such as its shininess and sheen, but also for its historic link to car paint (also highly featured in the Lustre section) as an inspiration for the first nail polishes.
The exhibition designed to feel like a fun fair, is divided into pavilions. The Nail Salon becoming an attraction for visitors. Drawn to it like magpies, visitors are able to get one nail painted and glittered. Somehow promoting the addition of Lustre to ones body, to have one nail become like a car door, while you watch two screens flash lips dripping with gold and gloops of glossy colour, nails painted and paint peeled from pristinely polished cars. Somewhat hidden is a third screen. I must admit I did not catch it at first. Too distracted by the glitter goodies, to notice the children labouring in mines. Since I did not pay full attention to this third video, I am not sure what they are rummaging in the dirt for? How is it linked to getting your nails painted? To the lips pouting at you from the first screen and to the expensive cars in the second. How are these poor children linked to these items of luxury?
Perhaps they are mining for titanium dioxide or ground mica, which can be found in some glittery nail polishes? Why then was this screen placed out of view from the person sitting getting shiny minerals added to their fingers?
I wonder if the artist Jonathan Auch was offering a critique to lengths we go to to increase our lustre? These videos differ from the artists' usual street photography style. Black and white photographs of real people in real settings. Rough, gritty, textured faces of everyday faces. Seems odd then, this choice of work for this exhibition. Accentuating the fake-ness of the surfaces we crave to have not only on our cars but also on our very bodies, and who in another part of the world this may affect.
Jonathan Auch for Koehorst in 't Veld, Nailsalon screens Mother/Father/Child 2017. exh.cat.no.24A/24B/24C