Donald Judd, Chair
By Mara-Luna & Sharan
While walking around De Stedelijk Museum in Amsterdam we got the assignment to select one design object out of the Base Collection of the Stedelijk Museum. This object would become our subject for a research about the different approach on information of different media such as the Internet, magazines, books and others.
The selection procedure was not an easy assignment. In some occasions we misinterpreted an artwork for a design work and visa versa. After a search of a few hours we both selected, by coincident, the same object, which was the "Chairs/Ameublement" by Donald Judd. The simple square shapes and the miner variations of the three chairs exhibited caught our attention.
Donald Judd is an American artist and designer most famously known for his minimalist works. Judd is, from origin, an artist and started designing furniture after he moved from Soho, New York to Marfa in 1973, Judd was unsatisfied with the furniture available at the local stores and so he started to build his own furniture such as the beds for his children and tables and chairs for his new home.
His beautifully and most off all simplistic designed chairs, mostly made out of wood, are easily recognizable due to their primary colours and simple 'practical' squared shapes just as other works/furniture he made.
At the very beginning of our research, we started comparing articles of the internet.The first thing we noticed was the difference in the writing style.
In the articles we found on the internet most of the writers played around loosely with their chosen words and used a somewhat simple vocabulary in talking about the work. In the books there was a 'deeper' approach to the work of Donald Judd. The books, such as A good chair is a good chair give different insights to his works. There are more comparisons made and different people like curators review his work. This could in the end be seen as a broader perspective on his work.
During our research we stumbled across a great blog at the Rietveld Design Blog.  In this blog the writer explains how to make one of Judd's chairs from scratch and shows the process step by step. It was interesting to have this absolutely different approach in the research. It gave us an opportunity to dive into Judd's practicality in the making process of the chairs.
Donald Judd himself mostly describes his furniture in his essays just simply in how they were made and why; the why as in choice of material, shape and space. Not much words are spend on the 'idea behind' the chair.
While on the internet – and also in books written about him- his chairs are way more described following the concept of his work and the philosophy of Judd in general.
I think Donald Judd very much wanted to make clear in his specific objects/furniture and in his choice of 'explaining' them that the chairs exist as themselves and nothing more than that.
In that sense it was interesting to find this different attitudes in the media we encountered during the research. We found that in everything there is written about, or by Judd himself, there is a certain tension of 'what can be said and what not' considering his chairs are, as he says 'just chairs'.
This also brings us to an interesting other subject within Judd's approach to his work; the fact that Judd used all his furniture in his own home. He uses his chairs (could we call it his art?) as the chairs that we also use in our home. Just like all the other furniture.
Before we started this research I (Sharan) had planned a trip to New York for during our autumn brake. I did not want to let this great chance go by to also pay a visit the Donald Judd foundation in SoHo New York. Luckily enough there was still one spot available to visit this beautiful and interesting building.
The building that Judd and his family called home for many years used to be on old sewing factory. Its huge open plan floors, massive windows and high ceiling's are heaven for any artist to think, create, live and of course host friends and fellow artists.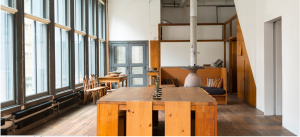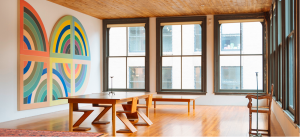 Up on arrival a friendly lady who was our guide for today greeted me. At the ground floor a few paintings by Judd and Manifest Destiny by Carl Andre were exhibited.  We were kindly asked to take a seat on one of Judd's iconic chairs.
After a small introduction we were guided around the building. The foundation was a very interesting place to visit but I have to say it did really feel like a museum and didn't fulfill my curiosity. Overall the tour was very sterile and it seemed like the building had lost its living soul and had become purely an exhibition space.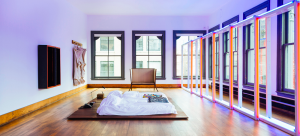 So we can see his work everywhere, even touch it in his own home.  We can all read and talk about it, and have an opinion. The internet gives you words and pictures, the books give you insight and a place in art / design history. We have seen it in the Stedelijk Museum for the first time; no words, no touching, no history.  Just three chairs, in a museum.
The chairs Judd designed are still for sale at the Donald Judd Foundation for the casual sum of almost $3000,-  https://judd.furniture/#chairs-stools