I                     A    M       W HI   M S I  C  A L
I      A              M          L  O  O S   E    
I      A M           G R AC   IO U  S
I     A M    I   N    LO V   E
A N  D    I     S   A Y    T HI  N  G S
I    S H  O   U    L  D      N O  T  S  A Y

Oh, it was such a glorious day. A new assignment, a new struggle. Exciting, i'd say.
I couldn't imagine who to pick.
See, we had to choose one very special person to use as a subject or better said, starting point, for this project.
"D    E S  I G    N     A      H   E A  D    D   R  E S  S",
A sentence said a bit  too much during the last few weeks. However i was motivated. So motivated that i started collecting materials, before even knowing who to pick as a subject. Who the hell would be good enough for me? What about some current and past obsessions? Radiohead's Thom Yorke? My favorite artist, Anish Kapoor? I could've taken quite a leap, by using a fictional character. Rocky Horror Picture Show had a lot of great characters to base something on. How about Frank-N-Furter?
Nothing was interesting enough for me and nothing really sticked to me.
After doubting for quite some time, i made my decision. Olof Dreijer!
For readers who don't know who that is; Olof Dreijer is one halve of the Knife. A Swedish electronic duo, consisting of siblings.
I've been listening to them for quite a while now and they became one of my most favorite musical acts and after seeing them live on the 6th of may, back in 2013, i became obsessed. I have all their mp3's, almost all of their records on vinyl and even listen to Karin Dreijer's (Olof Dreijer's sister) 90's band "Honey is Cool" .
I          A     M      G E  T   T    I     N      G      O F   F     T R  A   C    K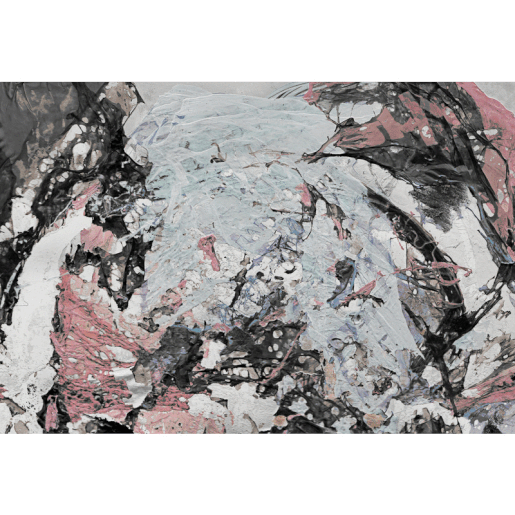 After deciding whom to pick, i did some spherical research. Collecting images of landscapes, materials and weird textures that i thought would be inspiring for and to me, regarding the project.
The collected images are based and connected to the different almost completely unnatural sounds, used in the Knife's and Olof Dreijer's other projects' songs.
What really sticked to me was the amount of metal and plastic imagery between the collected images. Noticing this, i disregarded my former material choices and decided to use something more rich. I ordered 5KG tin/lead and started playing around with it.
First i made molds of objects (toy-soldiers, plants, self-made statuettes) using polyurethane foam, floral foam, clay and plaster and of course dripping tin into the earlier said molds.  The results were surprising and inspiring, but didn't really fit to what i wanted to succeed.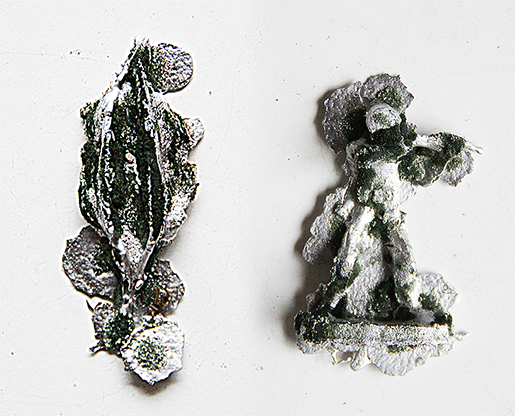 I      A    M       G   E  T    T      I    N  G         E  X     C  I  T     E  D
I know now and i knew back then, that i like(d) being unorthodox. Thus I wanted to make headdresses for the dead, AKA taxidermy'd animals. Still having most of the earlier made abstract tin shapes, i started putting them to use. Even though it looked quite good, I found out that this wasn't the way to go. In this case it was all about aesthetics and not so much about Olof Dreijer. This is something i could use in a future project, but it was very disconnected from the wanted atmosphere.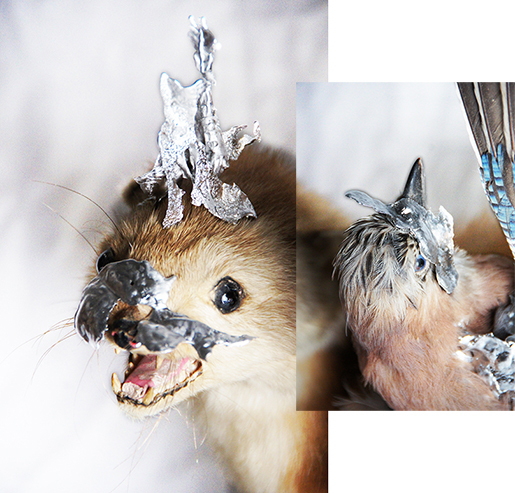 I        A    M      M O   V  I   N     G      O N
Most of my end-products came from improvisation and experimentation and even though i can be a wild card at times, I did know I wanted to base the mask on my own face. This was logical, to me, as i was the one who'd wear it to feel / be like Olof Dreijer.
 
I made a mold of my face and afterwards poured some porcelain plaster into the mold, with amazing help of a peer (I am in doubt if i should name her by her name or not). Having a lot of trouble with keeping the mold completely in shape, the plaster cast turned out a bit misshapen and crooked. However in the end i was satisfied with the result, as it was inspiring to see how it turned out and i am inspired to do more. I want to make plaster casts of everything.
I         A  M              H           A  P       P    Y
After making a plaster cast of my face, i wanted to go trough several other proci, before deciding that i was finished with the project. The first one being, making another mold of the cast, using silicon. When it was completely dry, i took it of the plaster and the result was as magnificent as I hoped for. Not having to0 much time to waste, I went on to the next step. Dripping tin into the latest silicon mold, resulting in several masks of my face.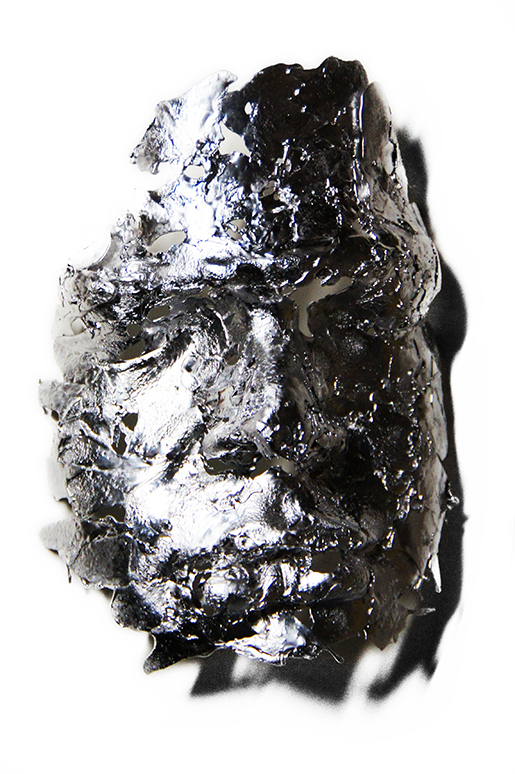 This being a step and not a result, i started playing around with plastic rope, whilst burning the skin off my fingers by attaching the pieces in this manner. I created a grid-mask, using my head as a base and painted it yellow (making a low-key reference to the Knife's first album's cover) and when it was dry, i attached two of the tin-faces to the grid using copper-tread.

I            B      E  C A   M E         D I     S S A    T I   S F   I E D
Soon after finishing the headdress, i wanted to make a sweater to go with it. Using the same grid in the same dimensions and painting it in the same color, it became a unity. It became a whole. The sweater is a bit of a hassle though. It's quite sharp and i had to accept it hurting me constantly, when wearing it. And thinking about pain and pain-relief, i knew this was still not enough.

I                 A    M             B      L   I     N  D

Using clay to make a mold of old sunglasses, i started experimenting with the same dripping techniques to make the wanted shape for my soon to be glasses. Also i decided to use glass that was in my own eye-strength, so i'd be the only one that'd be able to see through them.
I                AM                    S    A T ISF IED
This was it and it still is. I presented them, in a very non-humble way, as it is! A peer wearing the headdress and myself wearing the sweater and glasses.
I got good feedback and i am very grateful for this project and how it turned out
I AM DONE
I AM DONE
I AM DONE
I AM DONE