CMYk is color system used for printing. To print an mage, first you have to separate it into four colors: Cyan, Magenta, Yellow and Black.
Each of this colors consists from halftone dots, when dots of different colors overlap each other you can get all colors of rainbow. By using halftones of each colour, we are able to mix various percentages of all four process colours to print a huge spectrum of colours. If you take a magnifying glass to the full colour image, you will see that it is comprised of dots of various process colour. There is a measure of density of this color dots, it is called DPI, in particular the number of individual dots that can be placed in a line within the span of 1 inch (2.54 cm). If you are printing photo, dpi should be around 300. But if you are printing big board or posters, something that people will observe from the distance dpi can be less than that.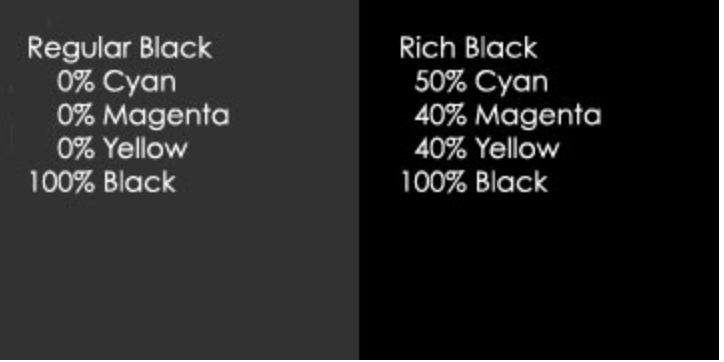 In theory, the mixing of C, M and Y should give a black color, but in practice gives a dirty brown. Therefore, the fourth paint is often added black. If we add one or more of the other CMY colours to Black in 4 colour process printing, we get a darker, truer Black than just using Black ink alone. It is called Rich Black. In theory, you can get the richest Black by using 100% of all four inks but in practice, you are limited by how much ink you can lay down on the paper (how wet the paper can get) and the technology used in the printing process. A typical Rich Black mixture would be 50% Cyan, 40% Magenta, 40% Yellow and 100% Black. This produces a darker Black that is neutral in colour. Some other combinations of process colours can produce other looks like "Cool Black" or "Warm Black". Rich Black should never be used for small type, especially fonts with fine serifs.