ARNE JACOBSEN (11 February 1902 – 24 march 1971) is a danish architect and designer. He was first able working as an architect, then mostly influenced by the modernist ideas. Typically, modernists reject decorative motifs, to emphasize more on materials, pure geometrical forms, function and adaptation to the industry.
Following the modernist philosophy, Jacobsen concieved buildings such as the Stelling House on Gammeltorv (left picture), or the SAS Royal Hotel (right picture), both in Copenhaguen.
He went to design products because of his interest for the Gesamtkunstwerk concept. It concerned the preoccupation of building a place as a whole, every objects matter, one place (architecture, furniture's, light…) is driven by one full concept, vision.
Jacobsen's design products are therefore influenced by modernist ideals, but are more precisely a part of the organic modernist movement. This movement gave to Denmark and Scandinavian countries a particular place in modern design. Jacobsen played an important contribution to that.
The philosophy of organic modernism's main concept is to emphasize on the harmony between human living and the world of nature, so that they are combined in an united, interrelated composition for a better living. Actually, it brings to modernism a humane element to its rationnalism. It's to create clean, pure lines based on an understanding of classical furniture craftsmanship coupled with careful research into materials, proportions and the requirements of the human body.
The Kokfelt House (1957) by Arne Jacobsen is a representation of what organic modernism can be in architecture.
Jacobsen uses craft and "natural" materials to build his design works. Jacobsen combines aesthetic for a better living and adaptation to industrial production (social matter); which made his works a critical and economic success in the 50's.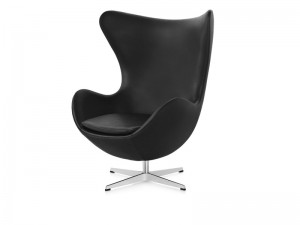 The Egg is a chair designed in 1958 for the Radisson SAS hotel in Copenhagen. It is manufactured by Republic of Fritz Hansen.
The chair answers to the project Jacobsen was commissioned for : designing the whole hotel. He could therefore fully following his interest on the Gesamtkunstwerk concept.
The Egg is considered as a triumph concerning Jacobsen's design : the organic form of the chair constrats with  the building's almost exclusively vertical and horizontal surfaces. Jacobsen searched for the perfect shape by first sculpting clay in his own garage. This shape offers to the user a bit of privacy in a public space such as the hall of the hotel. It also can be used in a private place such a home to lounge. The Egg is available in a wide variety of fabric upholstery as well as leather, always combined with a star shaped base in satin polished aluminium.
By combining pure organic form, industrial adaptation, craft (strong foam inner shell underneath the upholstery technique), and conception as a part for a whole; the Egg is an excellent representation of how was design conceived in Scandinavian countries in the 50's.
        This piece shows a particular vision on human living. A better living combining functionnalism (research of materials), human proportions (requirements of the body) and aesthetic (part of a whole, pure forms). It allows the user to take distance from the flows going through public spaces or even in a private one; to find again a bit of intimacy. In a world where we are constantly solicitated, this chair offers with a cleaned form the possibility to manage to deal with those requests. That doesn't mean to disconnect, but to get better relation to our environment.
         I wonder if the search for better living through the concept of Gesamtkunstwerk, which was the main preoccupation of Jacobsen, can be found in our daily lives. What happens to interior spaces when they are not conceived by professionals, but by individuals. Can we find the concept of Gesamtkunstwerk in vernacular spaces ? Do the objects, the planning of the space allow the user to enter one full vision of it ?