Alvor Aalto : Screen 100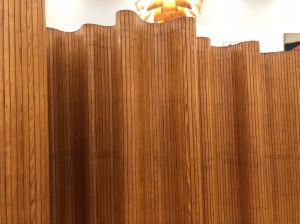 Alvor Aalto was born in 1898. Most of his childhood and youth he lived in Jyväskylä, a town in the center of Finland, surrounded by the big finish nature. Thousand of lakes and woods with millions of birch trees, must have influenced the young Aalto.
In his work nature is always present, either in the organic shape of the products or the choice of materials. And Finland is present, one can say that Finland is with Aalto and that Aalto is with Finland.
Aalto was both an architect and a designer. It is very obvious in one of his early works, the Paimio Sanatorium. In addition to the new and functional building he also designed all interior for the building. Today the Paimio Chair is probably the most well-known Aalto chair from that time. It was designed for the patients, functionality and mass production was important issues, together with the organic shape it all makes the chair an icon of good design.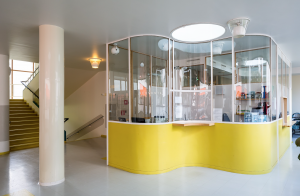 "Beauty is the harmony of purpose and form."  Alvor Aalto 1928.
Alvor Aalto has had an immense impact on our perception of Scandinavian design today.
In 1935 he founded the company Artek together with his wife Aino and Nils-Gustave Hahl and Maire Gullichsen. The company should handle the sale of Alto furniture, but they wanted to take it further. They saw themselves as promoters of "Rational living and interior Design" (as they write in 'the Artek Manifesto'). In other words they wanted to educate people and teach about the "good life".
All over Europe design changed or evolved in to something more functional, modern and lighter. There was a new way of thinking, new production possibilities and materials. Just think of the Bauhaus movement in Germany. In Aalto's design he combines that thinking with natural materials and organic shapes.
It is evident in the screen 100 from 1936. The construction is so simple. Wooden sticks assembled with a metal wire. When the screen is used as a room divider or a simple screen it forms different organic shapes.
The repetition of the vertical wooden sticks leads the minds to forests with beautiful slender birch trees. An effect Alvor Alto also used, when he worked with different expressions on the facade of his buildings. That can be seen on the picture of the finish pavilion which Aalto made for the world exhibition in New York in 1939.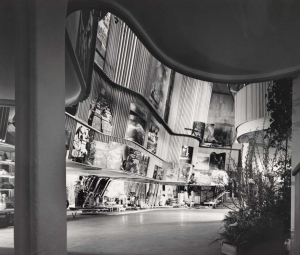 The screen has been sold since late 1930s. At the Stedelijk, I found it attractive and it caught my attention at first because of the simplicity and round shape.
On the attached picture it can be seen in the Artek Showroom in Helsinki in the late 1930s.  Today it is still for sale in the Artek Showroom together with the Paimio Chair and many other Aalto products.
Even though Alvor Aalto made fantastic design he still wanted the user to influence the design.
 " A standardized object should not be a finished product, but on the contrary be made so that man and all the individual laws controlling him supplement its form." Alvar Aalto 1935 
The Screen is a standardized object, but the user is the one who forms it.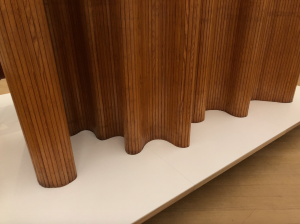 A small conclusion:
Why did I try to build the screen, how was it and what happened on the way?
At first when I saw this screen, my first thought was that I wanted it at home. It looked so simple and gentle in it's look. How it stood there and divided the exhibition with its calmness and simpleness. But still what I was fascinated by, was that it was also simple to make, it is basically just sticks put together and then the shape makes it stand.
But such an iconic and great design object needs time to make. And often with design and especially Scandinavian design, simple stuff takes the longest.
Therefore I decided to build a model myself, I wanted to try and put myself in the making and designing of this. It was fun, I made a small 1:10 scale model
The small model didn't give me any trouble that I didn't expect. It was simple and easy and a very honest object. I think If I scaled it up I would have had more trouble and I would have been confronted with some other problems.
But all in all it was clear for me after trying to make a model and looking into the design and production of this, that this object is very honest.
It is exactly what you see.