Adrian Frutiger, born in 1928 in Interlaken Switzerland, is the creator of the 'Univers' and 'Frutiger' typefaces. Besides typefaces he is also known for signets, logos, corporate typefaces and corporate identities for publishers and industrial enterprises. At a young age he experimented with invented scripts and stylized handwriting frustrated as he was with the formal, cursive penmanship being enforced at the Swiss school he was attending. At the age of sixteen, he was interested in sculpture and learned woodcutting, engraving and calligraphy. His father discouraged him to continu his studies in sculpture and encouraged him to go work in the printing business. Even though he was in the world of printing, he kept his love for sculpture which influenced a great part of his type forms.
But in this research I will only talk about his independent works, the symbols; the forms and counterforms.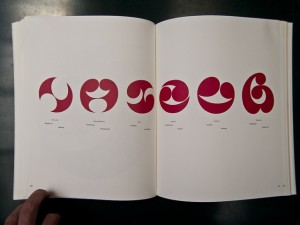 Generally speaking, form and counterforms, is the way in which the type and its background have an effect on each other. We can also say; letters or in this case, symbols are created by positive and negative shapes. The positive shape is referred to as the form, the negative shape is referred to as the counterform.
It is easy to make a negative or positive image and reverse it afterwards, but the meaning of the symbols will change completely. This is what Frutiger wanted. Nothing has one meaning, the imagination of our thoughts is so wide that you cannot give it a name. Even though Frutiger gave his symbols names, titles, or better said feelings, I for example do not feel the same way as he does about those symbols. Which is a nice thing, because we do not share the same past, we lived in different periods, so this influences the way of how I look at it. The forms are recognizable in my eyes, you can easily define the subject of it. In the counterforms though, it is a bit difficult because the symbols are not free in space anymore. They are encircled, outlined, which confuses the imagination to think 'out of the box'. Even though they are connected with each other, they obtain different atmospheres. 


This is an example of forms – positive

               This is an example of counterforms – negative
The symbols are 'Frutiger Symbols' and 'Frutiger Stone' was made to express Frutiger's thinking, feelings and opinion in signs. It is a symbol font of plants, animals and stars as well as religious and mythological symbols. This typeface builds a completely new design system, which offers endless possibilities, the "world language system" as Frutiger said. Better formulated, the entire spiritual world of his mind or even our minds becomes readable trough symbols. There's no need to use letters to express ourself, only symbols matter. The simplicity of letting go our feelings on paper, with a brush or in woodcutting. 

An example of Frutiger Stone
The idea of universal connections determines his thinking and marks all his creative work. No need for intellectual capacity for reading the signs, Frutiger wanted people to use their dreams to understand his work. Which is a beautiful idea, but almost impossible. Because our thinking does not always match the way Frutiger wanted. His symbols were in a way, a spontaneous interactions between his feeling at that time and what his hand was doing with those informations.
I truly like the fact that all the symbols are connected witch each other yet not completely. In his forms there is a representation of movement, there's always a beginning but never an ending. He thought that he could always find a way to make it "better", "uglier", more "aggressive" or put more "emotions" in it. Nothing was in his eyes finished. Like the human existence and thoughts, which were the main themes of the forms, he asked himself often the same questions about life, beauty and our thoughts. Those impressions of the feelings he had at that moment fit well in his forms.
While I am talking about a way to communicate with each other without using the alphabet, I can show you an example that is still in use: Charles de Gaulle Airport at Roissy, France.
He was asked to make a new directional sign system. The yellow background with the white letters in French and the black letters in English is an invention of Frutiger. I think this task which was given to him, completed his way of thinking. Frutiger wanted to make an universal language connected with symbols to make it understandable for everyone, young and old. It is remarkable how those symbols hit us in the eyes, and what it means to us. I can imagine that when you are in a hurry to catch your flight you would not have the time or the ability to read, only to see symbols. It makes live easier, understandable and there is no speaking or wrong communication. There's only one language that we all do speak Frutiger's language, and that is the symbol-language.
Frutiger is found in the work of the Romanian sculptor C. Brancusi, who made sculptures that represented what Frutiger wanted in his works. Leave the unnecessary for what it is and focus on what you want to see, to feel. Trying to reach the perfection. Frutiger took note for his forms and counterforms. He also developed some sculpture himself.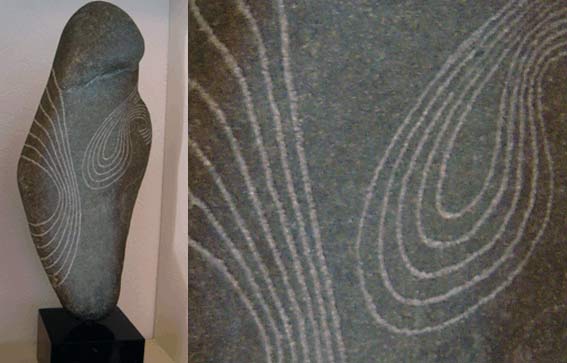 Frutiger opened a door to express ourself, our feelings and thoughts in symbols, an international language without knowledge, but only the use of our dreams and our unconscious. We share the same feelings, but we do not show them equally. And this is in my opinion the essence of what Frutiger wanted to show us. Nothing is the same, yet it is.
If you want to know more about Adrian Frutiger and all his typefaces, there's a documentary The man of Black and White – Adrian Frutiger by Christine Kopp and Christoph Frutiger. There's also a good paper about Frutiger's life and works; Travail de Maturité « A.Frutiger »; Frutiger .