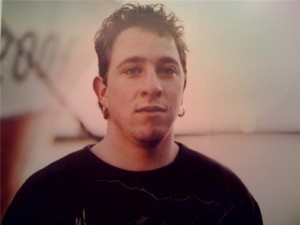 The noise from the boots that hit the cold wet floor, yelling men shouting and cursing, fork lift trucks and pallets that hit the floor with a loud bang. And the ice-cold air from the freezers. This all together make you realize your in the fishing harbors of IJmuiden. Typical for this environment.
From their sixteenth age the lads in IJmuiden are ready to work in these harbors or as fishermen on sea. They get the full gear. A blue overall, yellow boots, yellow gloves, a tattoo of an anchor, ship or mermaid. And of course the golden earrings.
Atelier Ted Noten made a collection of earrings called "New identifications". My personal connection with that work is simple. In the city IJmuiden where I was born all the men wear these earrings. These 18kt earrings will cover the costs for the funeral when fishermen die in a storm out in the open sea.
Ted Noten his series have new images/symbols from the 21st century as Ipod's, windmills, skateboards and so on.