Stefan Sagmeister is a graphic designer who lives and works in New York.You might know him from his CD cover designs for the Rolling Stones, Lou Reed and many more.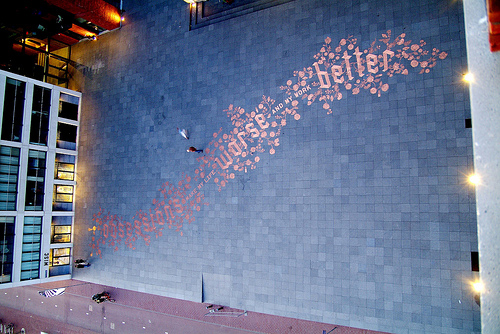 In Experimentadesign he showed us a quote from an old diary of his, saying; 'obsessions make my life worse and my work better'. Spelling out these words he used 250.000 Eurocent coins. He left it completely open for the public to do with the work whatever they wanted; take the coins and start using it as money; take some and create a new image, turn them around, destroy it or just look at it.
It's ironic to use money as a kind of ink for this line and put it on the street like that. He's playing with the value of the money. As soon as you realize that the work is made out of money, there is a desire to have it. But then, he's talking about obsessions. So it feels like a stupid act to take the money and start using it for your own pocket. Beside that, you really need to carry a lot of those heavy 1(!!) Eurocent coins to have a high number. It would be a real torture to take it. You must be really obsessed almost… This reminds me of the work of Damian Hirst (For the Love of God). Wich you can now be seen in the Amsterdam Rijksmuseum. He is playing with the value of art by making the money aspect in art so dominant, marketing. The big difference is though, that Hirst is putting it in a commercial context himself, provoking a discussion and then, he is the one who is leading it. And in Sagmeisters case, it just happened. He didn't had a hand in it, while Hirst is blowing everything up and it becomes a hype in a way.
The night after the opening of Experimentadesign two people started to put the coins in bags. The police were called and they decided that they had to secure the work so they took it to the police department. How Dutch is that? Due to a lack of interests by the authorities in events like this, you'll get this kind of results. They'll fund you to make things possible, and end up taking the artwork after a few hours to protect it. How much room is there left for interventions like these in our super save and over regulated society? Whose space is this anyway?
But still, it's an unexpected interaction, and that is what the artwork tried to provoke. Therefore, I must say, I love it.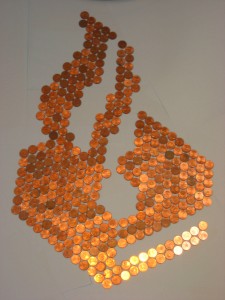 posting and police logo by Doris Boerman