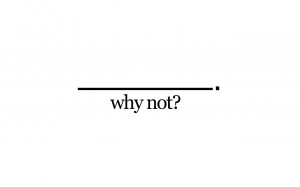 Choice, Cover, Sound. What can I find? Books, Visual, Design Why should I choose this one? Well. It wasn't easy at all. But it was at the same time. operating 6 different words, which are never combining on the same title but can be easily associated with one single cover.
That was the idea. That was the choice. That was the start and finish point at the same time.
"Why not?" – that is the title for the third book I took from the library. The name that matches all of three chosen tags. If you start to Google it with "why not.." you will immediately have few options
Why not design,
Why not associates?
Why not" and "why not both".
You will also find website called WhyNot which propose "How to Use Everyday Ingenuity to Solve Problems Big and Small" or
Why Not Eat Insects? Or
Why not build more Schools Without Walls?"
Why not take up knitting again?
Sex and intimacy after 60: Why not both?
Why not kill two birds with one stone and send IRS to Gitmo?
Dogs on trains? Well, why not?
Why not be a naive?
Why not to swipe your girlfriend's skincare?
SO when I was googling in the library by hand, touching, looking for something special, taking, putting back to the shelf, searching and exploring and when I saw the perfect book for that
I had no more doubts – that was the right one.
That is funny, you don't care actually what you will read about. Just simple choice of a book, as a subject, as a thing, as a piece.
Ask "Why?", think "Why Not"? And take it!
Rietveld Library cat.nr: ?