Als ik terug denk aan Vrijdag 11 mei, 13.20, UVA special collections, alleen en de laatste dag van de expositie "The Printed Book A Visual History" komt het werk van El Lissitzky als eerste op in mijn gedachten. Niet alleen vanwege mijn voorliefde voor het Russische alphabet, maar ook de simpele en moderne typografie en de duidelijkheid van het bericht dat wordt doorgegeven. Ik spreek geen woord Russisch maar toch is het boek zo begrijpelijk en universeel.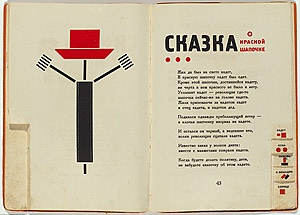 De karakters worden in sommige gevallen zo vergroot dat het abstracte vormen of illustraties worden. Evenals in de Thumb-index aan de rechterkant van de paginas worden de letters als symbolen gebruikt.  Een boek geschreven door de Poët Vladimir Mayakovsky met de titel "Dlya golosa" (For the Voice) uit het jaar 1923.
Mayakovski wordt gezien als een dichter die zijn tijd ver vooruit was, hoe El lissitzky daarop heeft gereageerd vind ik erg goed. Beide hadden ze een moderne abstracte visie op hun werk.
Dit werk heeft mij geholpen en geinspireerd om een opdracht voor school (Sculpture) te vervolgen waarin communicatie heel belangrijk was. Het versimpelen van bepaalde factoren was uiteindelijke het belangrijke aandachtspunt.
post by Jessy van Dinther