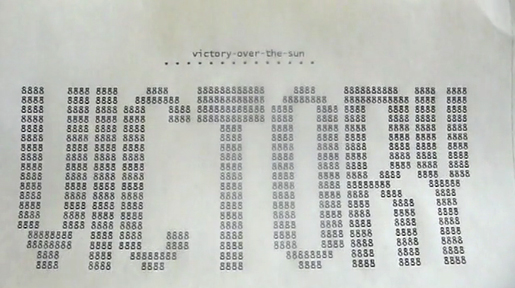 "Visual interpretation of Victory Over The Sun [click image for movie]
"Victory over the Sun" is a Russian Futurist opera premiered in 1913 at the Luna Park in Saint Petersburg.
The libretto written in zaum language was contributed by Aleksei Kruchonykh, the music was written by Mikhail Matyushin, the prologue was added by Velimir Khlebnikov, and the stage designer was Kasimir Malevich. The performance was organized by the artistic group Soyuz Molodyozhi.
The opera has become famous as the event where Malevich made his first "Black Square" painting.
The opera was intended to underline parallels between literary text, musical score, and the art of painting, and featured a cast of such extravagant characters as Nero and Caligula in the Same Person, Traveller through All the Ages, Telephone Talker, The New Ones, etc.
The audience reacted negatively and even violently to the performance, as have some subsequent critics and historians."