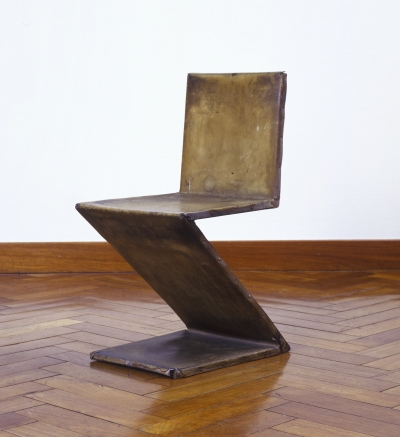 c/o Pictoright Amsterdam/Stedelijk Museum Amsterdam
Ik zig/zag
een zig zelf
zittende
zichzelf zaggende
zig
zag ik zigzaggen.
Ziedaar de zigzagstoel van Gerrit Rietveld. Zag jij hem ook?
Zo zonder leuning, zonder pretentie zeer zeker van zichzelf?
Zig Zag
Een Zizag, ziedaar het woordenboek, is een bewegende lijn die plotseling van koers verandert.
Zo Spannend, de Z, ik zou hem om willen draaien om zo de Z van alle kanten te bekijken.
Zo, van ziehiertje zie daartje en zo en zo.
Zalig zon zigzag!
Zo zonder aarzeling aanwezig, een bazige Zigzag- Z-stoel.
Zigge zagge
zage
zigge zagge zo
zigge zagge zage zonder
zigge zagge
zoooooooooooo
ziezo
zie zo
Zigzag,
ziedaar zo in de verte
zaagt de zigzag door de lucht
gelijk een bliksemflits
O zigzag, kartonnen design klassieker, zonder ondersteuning zeer zitbaar.
Test, Test, test, test,
Ziedaar iepenhout, bout en messing,
Zigzag in zicht.
Met Zwaluwstaartverbinding verbonden, zo zigzaggend aan elkaar.
Zonder benen, zig zagt zij als een zwevende zwaluw gier!
Zij is zeer zeker zwevend aanwezig maar ruimte neemt zij niet!
Zo is Z een stoel, of is Z een tafel,of is Z een Z
Zoals je wilt!
Zig-zag-zo-zoals-
je wilt!
Stijvolle Z,
Zakelijke Z,
Zinderende Z,
Zwaluwstaart, Deuvel, Lij, Schroeven,
niet piepend iepen hout:
Een Z, een Zwiepende Zig Zaggende Zag ik nooit eerder Zig Zag stoel
Ongetooid, Ongekleurd,
Z, Zomaar Zie ik Z Overal!
Zie hier, Zie daar,
z, Z, Z, Z
Het Zigzagje, zegt Rietveld,
Ik noemde het altijd het Zigzagje,
Zegt Rietveld zachtjes zigzagggend.
Zigzagje, schotje in de ruimte,
Zag jij haar ook, zo met je blote oog?
In Z, om Z, tussen Z,
Zigzaggend zag ik Z in
en om en tussen
Zigge zagge
zage
zigge zagge zo
zigge zagge zage zonder
zigge zagge
zoooooooooooo
ziezo
zie zo
Een ruimte om op te zitten,
te zagen,
te zwoegen,
te zo evenaren,
Zo nog eentje, Zo dezelfde Z
Ijzeren Z, Fiber Z, Bandijzer Z,
Z, Z, Z, Z, Z.
Oneindige ruimtelijke Z
Zigzagje,
Zag je Zigzagje?
Gebruik je zintuigen,
Zag je zigzag je echt
Zigzaggen?
Zag je hét
Zigzagje?
Zag je een zig zelf
zittende
zichzelf zaggende
zig
zigzaggen?
De Zigzagstoel heeft in de geschiedenis van de twintigste-eeuwse vormgeving niet voor eenzelfde doorbraak gezorgd als de rood-blauwe leunstoel1
. De Zigzagstoel wordt in de geschiedenis van de twintigste-eeuwse vormgeving veelvuldig genoemd als voorbeeld van de synthese tussen vorm, functie en constructie die door Gerrit Rietveld werd nagestreefd.
De zigzagstoel omsluit de ruimte niet, maar doorsnijdt haar met vier vlakken: rug, zitting, poot en grondvlak.2
Volgens Rietveld corresponderen de beeldende kunsten, schilderkunst, beeldhouwkunst en architectuur met de drie elementen van het zien: schilderen met kleur, beeldhouwkunst met vorm, architectuur met ruimte. De beeldhouwkunst moest zich concentreren op één zintuig: het oog. Via het oog kan de mens ruimte evenaren, aldus Gerrit Rietveld.
Rietveld citeert dichter Tagore:
"Door begrenzing, van het onbegrensde wordt de waarheid werkelijkheid".
De Zigzagstoel was voor Rietveld een oefenterrein, een middel om nieuwe ideeën, materialen en technieken uit te proberen. De Duitse meubelontwerpers en fabrikanten Heinz (1902) en Bodo Rasch (1903-1995) hadden al eerder een stoel gemaakt met een Z-vorm, de "Geiststuhl", maar daarin speelde de ruimtelijke werking geen rol, zoals bij Rietveld zijn Zigzagstoel.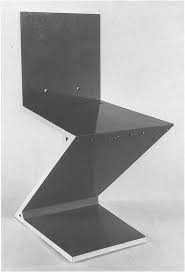 Ida van Zijl noemt in Gerrit Rietveld, de doelstelling van Rietveld consistent, "Hij wil een deel van de onbegrensde ruimte afzonderen en op menselijke schaal brengen om die ruimte als werkelijkheid te kunnen beleven. Dat is en blijft de essentie van zijn werk, los van alle experimenten met materialen en technieken en variatie in zijn stijl".3
Gerrit Rietveld speelde met de begrenzing tussen binnen en buiten. Kleur is voor Rietveld een middel om de begrenzing van ruimte te structureren. Vorm en kleur stimuleren een actieve waarneming die mensen uitnodigt om het werk te leren kennen.
Als literatuurwetenschapper denk ik bij het aanschouwen van de Zigzagstoel direct aan de letter Z, aan poëzie en vooral aan taal. Ik schreef een gedicht. Waarom heeft Gerrit Rietveld voor deze letter gekozen? Wat betekent Zigzag eigenlijk, waar lijkt zij op? Hoe klinkt de Z, de laatste letter van het alfabet als je de Z voortdurend gebruikt. Wat voor ruimte ontstaat er als er een stemhebbende letter Z in een ruimte wordt geplaatst? Is er zo weinig nieuws over de Zigzagstoel geschreven omdat zij niet te vangen is in beeld of taal? Omdat zij zig-zagt? Beweegt? De Z wordt een kunstwerk op zich, soms ontsnapt er kunst, in Rietveld's woorden. De Z wordt onderdeel van de ruimte, haar voeten raken de grond, maar zij blijft toch ook een object.
Peter Vöge noemt in The Complete Rietveld Furniture de Zigzagstoel conceptueel interessant en niet zozeer interessant als sculptuur. Vöge is van mening dat de Zigzag stoel zo interessant is omdat het een dynamische kwaliteit heeft door de diagonale vorm, "Like a crouching animal about to convert watchful suspense into vigorous action".
Voor mij is de Zigzagstoel een ruimtelijk beeld dat autonoom wordt als letter, als Z, als bewegende vorm, die je van alle kanten zou willen bekijken. De Zigzagstoel als oneindige letter, want het alfabet begint na de Z weer opnieuw bij de A tot de Z en weer opnieuw. Voor mij is de Zigzagstoel een bliksemflits en een gierzwaluw zonder poten die ongrijpbaar in de lucht blijft hangen, zonder vastigheid.
De Z- Zigzag als kunstwerk, als stoel, als experiment, als overdenking, als trillend geluid, als zin, als gedachtezigzag. Oneindig veel mogelijkheden zitten er in de Z, zie ik, want na het zien van de Zigzagstoel zie ik overal Z, Z,z, z Z.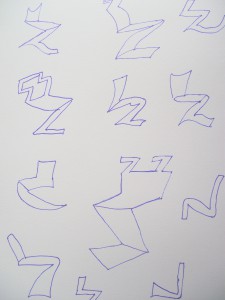 ZigZag- Salie's tekeningen
1,2,3 page 189, Gerrit Th. Rietveld by Ida van Zijl en Marijke Küper, librairy cat. no. rie 17