switching from one tv program to another, my forefinger suddenly stops. it does not press the "+" button of the old remote control anymore (i already forgot how to use this device in the 21st century) an unknown woman on the screen catches my attention. she has wavy, dark hair, a symmetrical face with a sharp nose, beautiful lips. the tv-host asks her questions about her preferences in men (it is a dating program for adults) she carefully listens to the questions and time-to-time gazes into the screen figuring out the answer. her gaze magnifies me.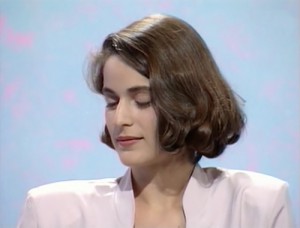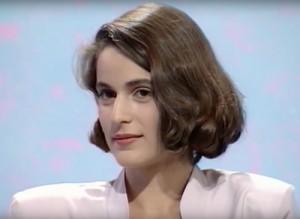 she lives in 1996 and her name is natella. her girlfriends trust in her and can feel safe leaving their boyfriends with natella for a while. they know that she is not going to "steal" them. natella believes that a man sometimes should sacrifice his life for a woman. if a guy lives in a messy apartment – she would help him clean. being a housewife for her is boring. at an earlier state her desire was to become a man, but later became proud of being a woman. when she came on this tv-show, she intuitively felt that she was going to find her real love there. and who knows, maybe she did.
this is all i know about her. this is everything i could get to know from her.
i was thinking a lot about her and her incredible beauty. what was there that caught my eyes and stopped from surfing further around dozens of other stupid tv-shows. i believed there was a story behind her. or i wanted to believe in her/my own story. i began to fantasize…
there is something flower'ish about her curly hair and her curly nose. she is intelligent and wealthy. good-mannered and cool. but being a "good" girl would be too boring for her. she has a very cold mind and a wrong taste in man. at least, i think so.
that makes her sad and melancholic every day. a man can never know when she leaves. or would she forever? her eyes are dark and they shine. she can have some fun with me today if i could only give a try.
she would rather prefer to sit in silence in her screaming room. or go for a long walk in the dark, lonely woods. she would never change herself because of a man. she would never try to change a man.
the more i look at the screenshots of her, the more i get into her hazel eyes. what are her fears? what was her childhood like? does she has a dark secret? what is she hiding? some old, dark secret which she keeps silent. she would never tell it to anyone, especially her man. it has an enormous power. a tremendous destruction. i am afraid of this secret and do not want to know it anymore.
she is a bird in a cage = a fish in an aquarium.
the trees are her only friends. nature is her shelter. she is a mysterious life observer and knows more about you than herself. her mind is chaotic and layered – ancient and shamanistic powers lead it. her name is natella. she comes from georgia.
there, where she comes from, the black sea meets the caucasus mountains.
there, the bright mountains and valleys are shared with god.
there, bloody red is a colour of a new beginning.
there, people are passionate types with strong feelings of devotion gained from the powerful sun.
there, people are vulnerable as pure blue shadow and they know how to control and hide it.
there, people are warriors of their solitude.
there, you can fly in the savory air or levitate in the wisdom of great waters.
there, you can be free and caught in the same time.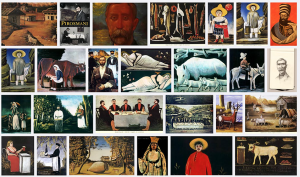 niko pirosmani. he has the most sensitive ways of describing georgians in his great paintings. religious pale faces, indigo skies, women in shawls, men in long dresses, tired and resting pets, cold gestures and poses, almost invisible yellow seeds of sun and red scars of routine.
that is were i took my colours for her.

complexity of circles and dots on the buds of the 'caucasian rhododendron'. its invisible pink. grotesque and strong lines of the 'iris iberica'. scaring wisdom of the 'haeckel chiroptera'. endless legends about the mountains growing out of the black sea. extravagancy and chic of the 'caucasian pheasant'. colourful elegancy of the 'rainbow trout'.
that is were i took my shapes and tactility of her.
i collected everything natural i could find around me and began to recreate her in the form of a headpiece. i wanted to get inside of her skin, inside of her world, inside of her story when i put it on me/someone.

i was looking for authenticity in the reconstructions of traditional georgian shawls. i was making garments and textiles out of horse hair, pine cones and branches. in parallel with material try-outs and sketches i was searching for the way of making a kind of an armor for my heroine. because she is an absolute warrior. but she also loves to hide – her feeling, emotions, thoughts. she needs to preserve and cultivate everything inside of her.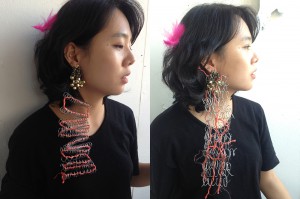 i learned how to make a textile piece out of dish washing metal sponges. i also combined synthetic threads with wire in my glasses and earrings. i started to construct my piece by adding more and more layers. all the time it was not enough and soon i understood that one piece gets too complex and that i should continue my project in creating two separate concepts/designs. so, my idea does not get too messy.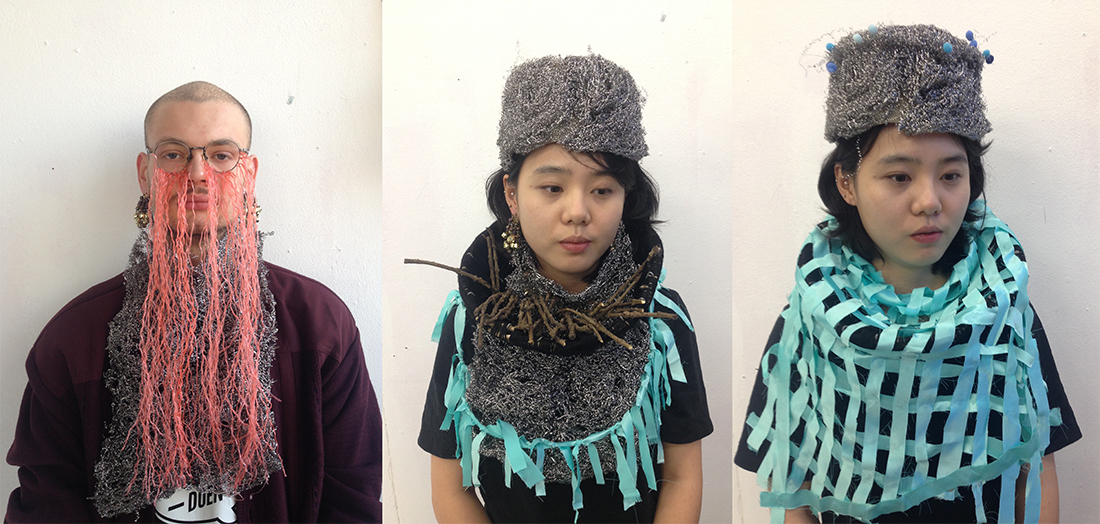 the black sea. how can i show her connection and devotion to the endlessness and power of the black sea? she is my aphrodite – feminine and warlike at the same time. she i free and bubbly as foam. she is fast and moving as the stream. she is dexterous as a fish. she sometimes gets caught in the fisherman nets. and than she becomes the most precious thing in their old grumpy hands.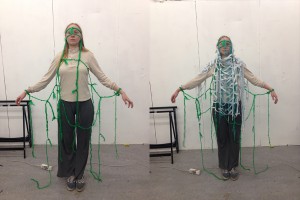 in total, the finished piece consists of four garments which get attached on the top of each other. the first layer is an entangled pattern which reminds of green sea weed usually thrown up on the coasts. it is always very tricky not to get in it while you swim. it is always cold and slimy. the second layer is more generous and floaty which refers to the sea waves – enormously strong and soft. the third layer which is attached on the ears symbolizes fishnets.  and the last top layer positions on the head and returns to the foam which always floats on the top of the water.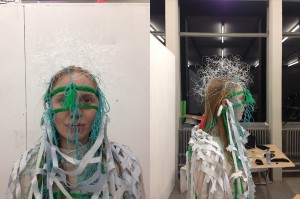 after finishing this piece i felt like i have something more to say and investigate in my heroines world and personality. somehow she was still unreachable. i could not forget her and not let her go.  i was still not satisfied with the result and wanted to dig more and deeper.
the caucasus. in the following step my passion for not organic materials was increasingly bigger and broader. i payed more attention to the choice of colours and creation of the facial-related garment. i went back to the transparent volumes and traditional georgian head-wear and masks. the new look was totally dedicated to earth, mountains and the caucasus.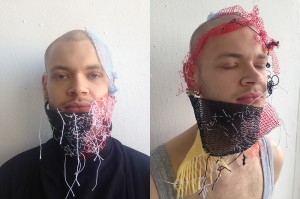 i combined the transparency of woods, plants and branches with solid shape and colour of the naked body. formless threads and tactility of checkered, dotted materials. my main focus was on lines, stripes and their intervention. i also went deeper into the possibilities of wearing/holding the piece on the body. some garments can be hold only between squeezed teeth – some are clamped between the body and the arm.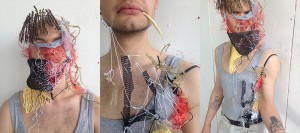 the new materials and concept finally gave my work the possibility of letting people experience my heroine. how it actually is to be in the skin of natella? what are her dreams and fears? how does it feel when she has to squeeze her teeth without letting her secret out? how can she live with that? or how does it feel to keep yourself focused on the others when you hardly perceive the image of the world around you, under the formless shades of narrow masks you invent. to hide, to be hidden, to be masked underwater, weaved in the landscape and faded away…