Since I moved to Amsterdam I regularly visit the Stedelijk museum. The last time I was here it was different. Normally I just wander around but this time I was looking for something. A surface that would be interesting for me.
The last Text I wrote on the design blog was about the Iridium coated Oakley glasses with a colorful reflective surface. The object I want to write about this time, Slaapkamer-ameublement, is very much related to the previous text. It is a bedroom mirror designed by Elmar Berkovich in 1930.
A mirror is a reflecting surface, historically made of obsidian , silver, bronze, or aluminum. Today, most mirrors are made of glass, with a silvery, metallic, or amalgam backing. They serve many purposes, ranging from personal grooming to exploring the universe and they are also a common theme in art and Philosophy.[x]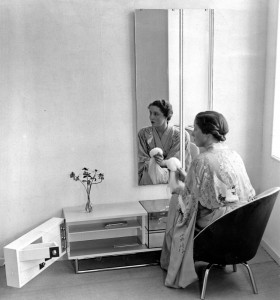 Elmar Berkovich: slaapkamerameublement, 1930 [x]

At its simplest, the mirror reflects what is positioned before it. In viewing ourselves in a mirror, we see what we recognize as self although this reflection is an image reversal of what others see in looking at us.
Sometimes I have some weird experiences when I look into a mirror. You know that you are looking at yourself but sometimes it feels like it is not you that is looking at yourself but rather yourself observing another person. We recognize ourself but actually, we do not know how we really look like. We only know how other people see us with the help of a mirror.
The philosopher  Jacques Lacan, based his ideas on the human infant's response to its image in the mirror.
Lacan's theory is not about the mirror as a reflection of self, but about the mirror as the constitutive element in the construction of the self and self-recognition. This theory is interesting in my opinion because it suggests that we define our selfs by what we see in the mirror and therefore what others see in us. We describe ourself for what we are, but we cannot describe ourselves from outside or in formal terms. It is not us, it is just a reflection.