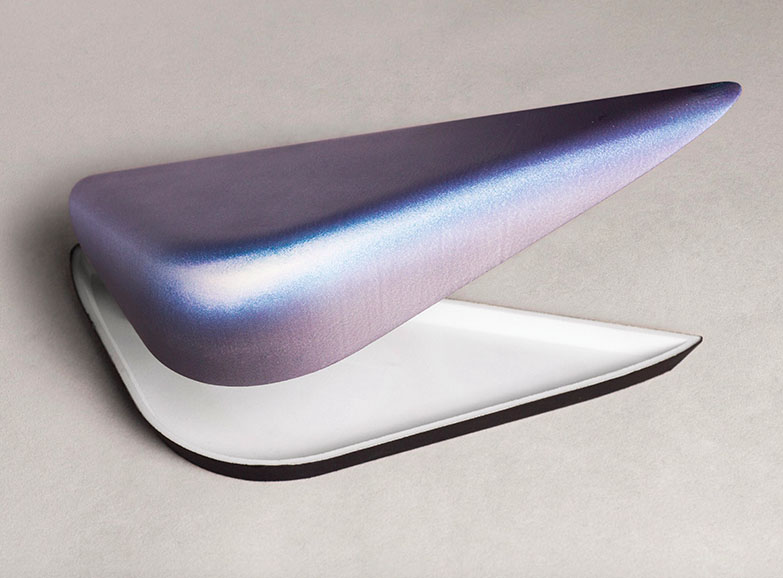 « The Faux Series » by Chris Kabel is a serie of small boxes with a very particular 3d-like texture. Through water-transfer printing, photos have been printed on the small boxes' surfaces. Shadows and bright spots are emphasizing the shape of these boxes. These prints match the objects and succeed at giving more depth to the visual aspect of the boxes.
I chose « The Faux Series » because I have been very interested by photography lately. The work made me think about several references, the first one is the book « The concept of Non-Photography » by François Laruelle. The author mentions the interesting relationship that is established between the image and the real object. The image is a way of perceiving the object almost like formulating a point of view on that object. Chris Kabel's work challenges Mr. Laruelle statement: « photography is a process that excludes the object-form » by using the technique of photographic prints directly on an originally neutral object.
Photography in my point of view is putting up a boundary between itself and the real object, as Martha Sandweiss said: « The capacity of photographs to evoke rather than tell, to suggest rather than explain ». Photography is i think the attempt to materialize each human beings' perception of things. It is as if Chris Kabel decided to glue the perception of an object on that object itself to create a new « alien-object ».
The Chris Kabel « Faux Series » relate to the Act III of the booklet. « Faux » in french means false. Act III is made of little humoristic and theatrical dialogues that mainly personify materials such as wood and marble. This short play also gives a voice to objects, an animal and a product (a dress). It displays the following ideas of looking like and ressemblance. It is also about pointing out the complexity of a visual system that deals with notions like authenticity vs camouflage, imitation vs sincerity and all the changes and transformations happening in between.
Chris Kabel is experimenting how two different medium could cooperate together, in that sense the work of Chris Label is interesting.
Faux Series 2017, 3D printed polyamide, water transfer printed. exh.cat.no36-faux