No time to wonder around
Only number this time
Tapping them down
Moving backward
I arrived to a section of graphic design. A few are matching the right number. Two are too small for contain all the letters. Two 75 where I was looking for some 758.3. They are small and easy to grab.
Seven hundres fifty eight point three
Seven
Five
Eight
Three
Two books in my hand
One efficient research
Go.
I barely open them. They are for sure about poetry. Which kind I don't know. But apparently they are in Dutch, but that something to fins out later. I have two book instead of one.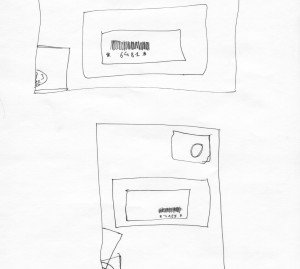 Now it could be simple. Red or black. Stick to the cover and avoid a contact to the content. Except I already encounter the book in the library. As I was taking them my eyes went inside, turn the pages. My look inside change the way I see them now so why not dig a bit more into them now.
Transparent paper
Poem in construction
White page
Simple drawings
The visual take over the text. I'm confronted to a lovely sensation in my hand. But even through the graphic construction of the lines I don't manage to read this text. It stays mute. Impossibility to relate to the language, the text loose his meaning. Beauty stay cold and lines unclear.
A world of lines
Symbole of black and white
Visual poetry of square
There is some words
Some birds
Animal by themselves
One dog fucked by a men
Juni 1991
Gerrit Rietveld Academy
The rest is up to you. A new journey is now open across the book. I meet see you along in between a deserted landscape and the sunset over my head as I swim in this ocean of poetry. See you later.
Rietveld Library cat.nr: 758.3 wee 1a