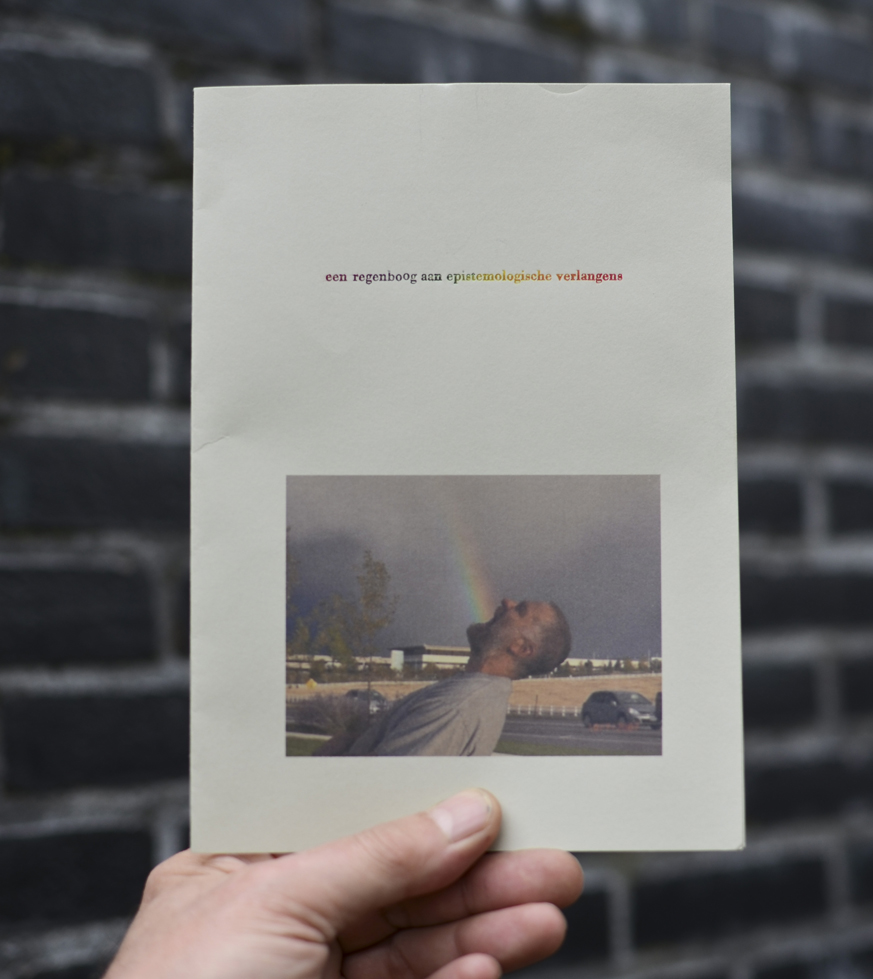 the edition Suhrkamp designed by Willy Fleckhaus, 1963
In de collectie viel me op hoe vroeg sommige visuele elementen en experimenten al voorkwamen, hoe secuur en grafisch de encyclopedische tekeningen uit de periode voor het gebruik van fotografie waren, hoe imposant tastbaar en onhandelbaar de grote boeken met hun uitpuilende handgelegde papieren waren. Maar ik heb iets heel simpels gekozen om de overgebleven 300+ woorden aan op te maken: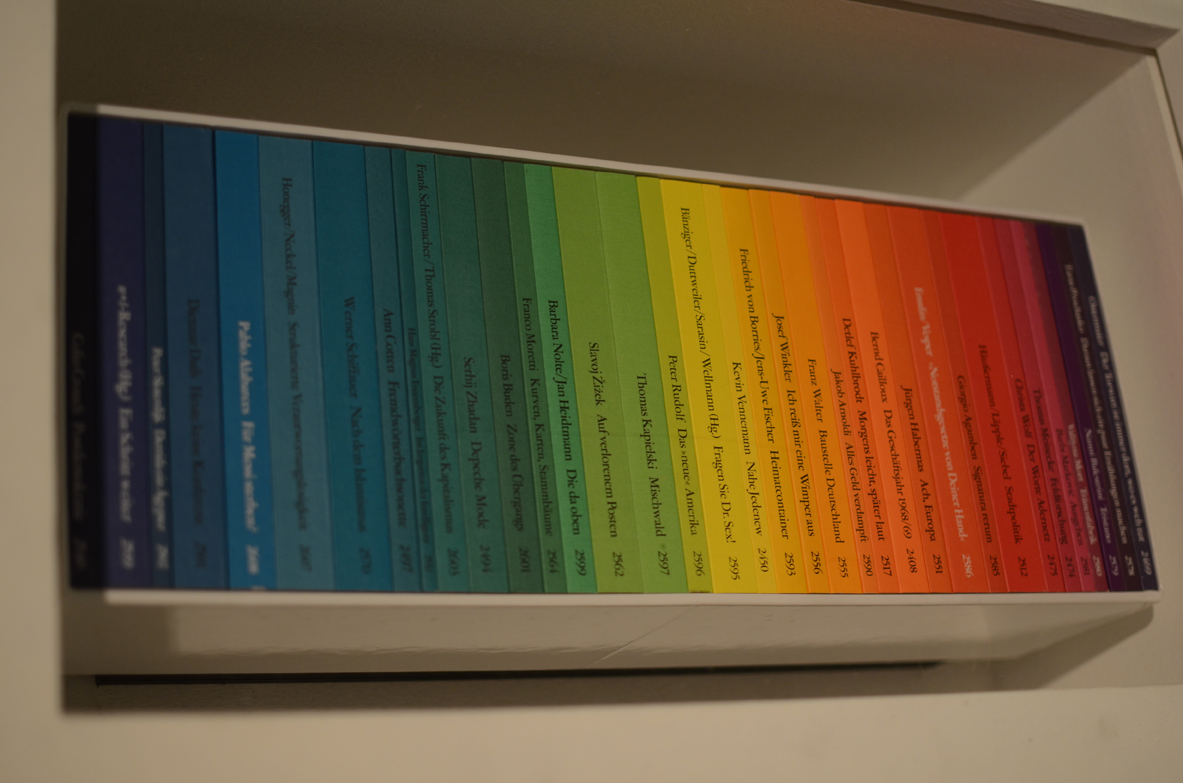 Een serie boeken die bestaat uit uitgaven in verschillende kleuren waardoor de boeken samen een regenboog vormen. De boeken spraken me ook inhoudelijk aan, bij elkaar vormen ze een collectie waar je behoorlijk cultuur kritisch en radicaal dan wel wijs van zou worden (de collectie bevat een aantal niet canonische filosofen en figuren en leek me daarom des te interessanter). De serie is een selectie die door zijn vormgeving compleet probeert te zijn maar duidelijk niet conventioneel is. Voor mij is deze regenboogcollectie een simpele maar daarom niet minder mooie manier om te appelleren aan het verlangen om een serie boeken te hebben gelezen en ze herkenbaar en toch gedifferentieerd in de kast te hebben staan. Bovendien vormen ze een geheel, zijn ze bij elkaar een 'compleetheid', een overzicht. Ze lossen het epistemologische verlangen in van ieder die een boek koopt en daarmee hoopt alles of tenminste alles van iets te weten te zijn gekomen.
Los van elkaar zouden de kaften zomaar een kleur zijn, of zou het je juist op kunnen vallen dat de kleur bijzonder is, een tussenin-kleur, de ene kleur noch de andere. Ook zullen een aantal boeken uit de collectie steeds een ander kleurenpalet vormen. Dat palet ontstaat ondermeer door de voorkeur van iemand voor bepaalde boeken uit de serie. Het heeft ook iets kinderachtigs of oppervlakkigs om boeken op kleur in te delen, op 'vorm', niet op 'inhoud'. Ik denk dat gezien de inhoudelijke zwaarte van de boeken juist de nuance van de verzameling als complete verzameling ?het hele scala wat je ermee te zien en te lezen krijgt? wordt benadrukt.
Wat de tentoonstelling me ondermeer duidelijk maakte is dat er bepaalde dingen bestaan die aantrekkelijk zijn en blijven, en dat het misschien die dingen zijn die grafisch kunnen worden genoemd als je er mee breekt of speelt. Sommige grafische clichés kregen in de tentoonstelling voor mij als het ware hun oprechte bron of context terug. De regenboogcollectie had een dergelijk cliché kunnen worden, maar misschien is het daar te aantrekkelijk en te uniek voor gebleven. Na wat onderzoek op internet kwam ik erachter dat op een paar andere regenboogboekuitgaven en een op kleur geordende boekenwinkel in New York na, vooral juist andere dingen op kleur gesorteerd worden. Vele collecties bestaan uit objecten uitgegeven in alle kleuren (vooral objecten waar je er meer van nodig hebt of kan hebben, zoals glazen, pennen, sokken, groente en fruit etc.) Rangschikking op kleur wordt veel gebruikt om wellicht functionele redenen. Maar ik vind het idee of vermoeden dat een regenboog collectie ook als een poging kan worden beschouwd om compleet te zijn interessanter. Dat idee laat zich ook illustreren door het werk Wonderkamer (2004) van Arnaud van den Heuvel. Vooral de ondertitel maakt de poging om een alomvattend overzicht te geven expliciet.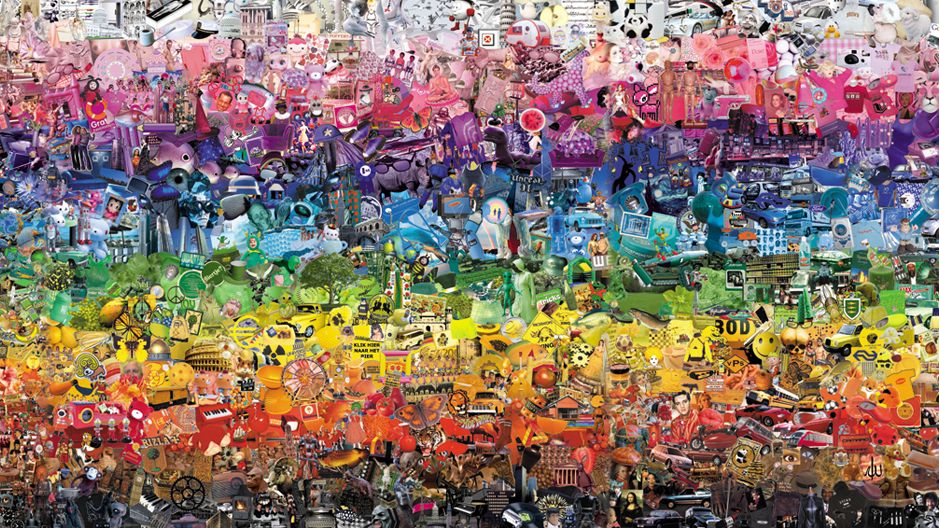 "An installation with all the images of the World in a room, sorted by color".
concept
Visitors of the Wonderkamer (Miracle Room) enter an image-flow: a collection of thousands of images taken from their original context on the internet and arranged in a coloring scale from black to white."
post by Victorine van Alphen