From Van Abbemuseums power point presentation I got attracted to a painting by El Lissitzky called "Proun P23, no 6", in this presentation it has number 51. I have never really been into constructivism, suprematism or any of these kind of movements but I will try to focus on the things I actually like in El Lissitzkys painting. In general, I like the way he is able to leave empty spaces without making it comfortable. I always have to be alert so I don't fall into the harsh abstractions of his work. The patina or aging paper makes it easier.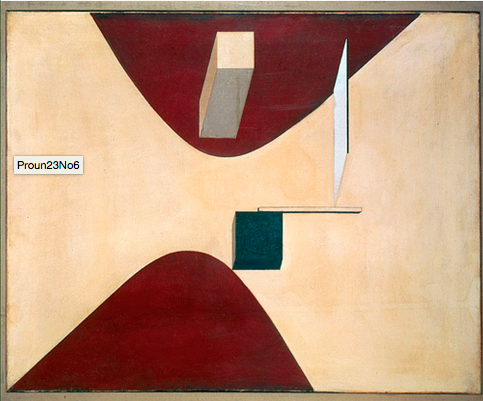 In this specific painting, "Proun P23 no 6", I get the false illusion that he has done the same thing and left an empty space. But in fact the painting is packed. Trying to describe the painting, one can say that it has a fleshy colour in bottom, there are two deep red triangular forms almost meeting in the middle. Preventing them from coming together is a rectangle, a cube and two things that appear more flat, a stick and a square. The cube has a deep green coulor, the other objects are more neutral to the paintings colours. I like the colour composition and that it feels light even though it's made in oil and on canvas. It's a nice mix of painting and drawing. I also like the spacial aspect and the loose objects. It's interesting the way he here presents the abstraction, I mean the space and volume is meeting some very basic shapes that seems easy to recognize and comprehend but makes an intriguing whole.
It's hard to say anything about the texture of the painting from this point of view, but with the zoom site I attached it's easier to get a feeling of it. From looking at other modernistic paintings, I really don't like that dry texture from when the paint is not enough in one stroke or when the canvas is shown too much. These things create a very uncomfortable and also very physical feeling, just like some people don't like and get chills when scratching your nails against a blackboard. This don't seem to be a problem here with Proun 23, and I can understand that Van Abbemuseum must be very proud to have this painted Proun in it's collection.