If I would come across El Lissitzky's street decorations today, without knowing what they were, or who they were made by, I'd be wary of calling them decorations.
They just look too much like big paintings.
And calling somebody's painting "decorative" is usually not good for your relationship with the person.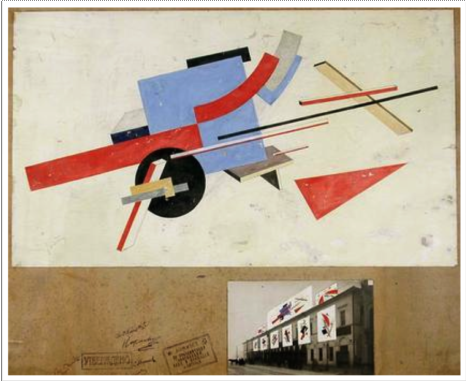 But that's what interests me so much about his design for street decorations from 1921: It doesn't look like any type I have seen before.
I'm actually not sure if the decorations would be terribly effective, the street in the photo does not look particularly festive. Lissitzky's position seems to be not so much about creating objects that fulfill a purpose in the best possible way, but more about having them embody certain (suprematist) ideals.
It seems to me, that in his street decorations, Lissitzky is not looking for the ideal street decoration, but instead applying his ideals to them.
The Suprematists of whom Lissitzky was part, strived for suprematism as "embracing all aspects of the human spirit"  and thought suprematist forms to be applicable to all aspects of daily life. And you can see this when you look at a sample of Lissitzky's work put together. It seems he really believed that this style, this way of working, could work for anything.
But there is more to these forms than meets the eye, they follow set standards and, if you know how to "read" them, communicate a clear story. A real form-language if you will. Unfortunately I do not speak this language, or know what the paintings mean, but in Lissitsky's vision it would be omnipresent, and understood by all.
This really interests me,
is the reason the decorations do not work for me that I do not speak Lissitzky's language?
Or would they, even if communism had worked out and everyone would understand, still miss something of the festiveness that we associate with street decorations?
I am inclined to think the latter