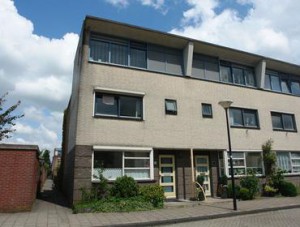 This building is one out of a million examples of problematic contemporary architecture. A grey building in a grey country, no exciting materials used, no decoration, not any different from the next building, no ambiance created, no emotion left behind, no warmth expressed, no nothing.
When I took a glance at the design books, my choice was clear rather soon; 'Contemporary Architecture'. Admittedly, the contemporary architecture shown in in this particular book, which has an incredibly creative title for a book about contemporary architecture, is much better than the regular architecture you can see around you. Yet it will never change my opinion that Bauhaus has stopped any evolution in the artistic field of architecture.
How is it possible that in all fields of art, the artistic styles change so rapidly, while architecture looks almost the same for several decades?
You can't compare films from the sixties with contemporary movies.
You can't compare early photography with contemporary photography.
You can easily compare architecture of the 1920s with contemporary architecture.
Why oh why with our modern tools do we still worship the rules of Bauhaus?
Why do we fear decoration? Why do we need to make our homes so practical that we forget its real use: to feel home. Let's face it; we are not living in a country where it's a luxury to have a home at all, the use of homes in 'our world' is to feel at home. But no, we have to keep it gray, un personal, zero decoration.
Do I have such an untrained eye or do all products of architects look the same indeed?
Is it just what I see or are architects really so conservative? I'd just love to see architecture that acknowledges that a home is more than a frame. Let's just make our homes our homes again, let's stop those grey 'machines for living', those brick houses with their built-in BBQs, those average-man gardens with one tree surrounded by high anti-neighbour fences.
Ah well, I could probably have approached this subject in a more sensible way, with better arguments and all that, but hey, I am here to write a subjective article about the book that caught my eye – I can't make it any more subjective than this.
It's time for a revolution though. Dear architects, grow some balls and be creative, not practical.
Rietveld Library cat.nr: 13053