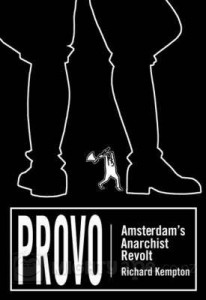 designer: Josh MacPhee
The title of the book strongly indicates that it is of political context. Being myself concerned with politics, especially in a period of great upheaval (globalization/economical crisis) like the one we are in now, and coming from a country where politics itself plays a significant role in its history ever since the ancient times, this book instantly attracted my attention.
It is recognized that art is part of a practical activity that can change the world. In many cases it comes into existence in response to certain definite problems. Leon Trotsky has written that art can play a dual role within society: That of the mirror and that of the hammer. In other words, what he means by that, is that art has the ability of reflecting the movement of society while also forging consciousnesses inside it. Provo is representative of such case.
Provo is based on a political struggle in the mid 60's, that focused on provoking violent responses from authorities using non-violent bait. It is an Amsterdam-based anarchist, political, social and art movement. Its interventions where staged into the symbolic and everyday spaces of Holland. What is interesting to look at, is that the activists involved with this movement, where really creating their own distinctive posters, graphics and other forms of art, such as political spectacles and street theater, illustrating their beliefs and intentions.
Walls and words, silk-screen posters and hand printed flyers where the revolutionary media passed out in public. The Provo radicals would carry out total black or even totally blank banners, purposely provoking the police in a 'ludic' attitude. They would relate themselves to Dada, constructivist movements, Bauhaus and other Russian ways.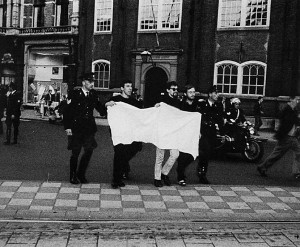 They took existing rules and decided to play within them, to see how far they could push the limits of those rules.
They were not allowed to use actual slogans, so they decided to use unwritten banners. They made use of the ambiguous nature of play: They were protesting, but at the same time not protesting. There were no forbidden slogans on their banners, but at the same time, the slogans were ever so present throughout their absence.
http://www.experimentaljetset.nl/provo/
http://www.experimentaljetset.nl/archive/interview-graphic-no-24
It is a simple, black & white book. Its design is intentionally simple, in this way successfully highlighting the content of the book, erasing any type of decorative matter. Looking at it's outline, it is clearly characterized within the Provo attitude. It is not modern or in any way trying to draw attention through some kind of unusual graphic design. The pages are matte and the text produced with a bold, black typeface. The only evident, decorative detail are some thick black lines and squares either on the sides and bottoms of each page or in the beginning of a new chapter. The ink on the paper seems quite thick, giving the impression that if you rub the pages in the book you are almost able to scent, as well as feel it.
Consequently, it successfully carries out a very strong depiction, that the book itself, could be an original Provo pamphlet or poster. The do-it-yourself feeling is well portrayed through its design. The cover of the book itself is also represented by a successfully eye-catching Provo poster, illustrating a pair of gigantic feet ready to be chopped off by a tiny white figure.
Photographic documentation from the book:
The designers background totally reflects upon the the books context and therefore explains his design. Josh MacPhee is a Brooklyn based artist, activist and archivist. He is also a print-maker and a self-taught historian of 21st century left politics. He established a distribution system called 'Justseeds', a decentralized, worker-owned cooperative of twenty-five other artists. Justseeds relates to social and environmental movements and issues in order to get more radical art projects out to the public. Their work illustrates an extraordinary aesthetic range of radical movements during the past 50 years and explores the rise of powerful countercultures that evolve beyond traditional politics, creating distinct forms of art, lifestyles and social organizations. MacPhee's simple aim is to use art, such as visual and graphic work, to inject protest politics into public discourse.
Besides Justseeds, MacPhee also organizes  the 'Celebrate Peoples History Poster Project', an ongoing poster series in which  different artists create posters to document and remember moments in radical history. He himself, has a big collection on political posters. For instance, he collects Cuban political posters as, while according to him, they are some of the "most aesthetically diverse, experimental and impactful in the history of political posters."
http://www.justseeds.org/subjects/anarchism/
We cannot delude ourselves. No art has ever only served itself. We ought to support and defend the art born within resistance, the art which fights and contributes to equality and fairness.
Josh MacPhee :
No Fence Uncut /offset printed postcard • Three Steps /3 color screenprint 
Rietveld library catalog no : 947.6 kem 1