Lopende door de expositie Dream out Loud , in het Stedelijk museum, voel ik mij aan getrokken tot de stokroostegel van Patrick Kruithof, waarna een zoektocht volgt waar deze intuitive verbondenheid vandaan komt.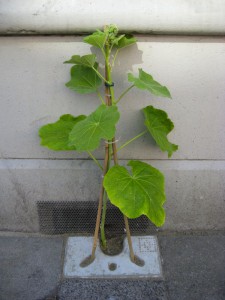 De eerste stappen in deze zoektocht leken mij duidelijk. Van wie is dit werk, wat en waarom, waren de eerste vragen die bij mij op kwamen. Deze werden al grotendeels beantwoord door de algemene informatie tekst naast het ontwerp. Patrick Kruithof is een ontwerper en kunstenaar gericht op het creëren van een duurzamen ervaring. Zijn projecten, ontwerpen en ideeën zijn makkelijk te realiseren in het dagelijks leven maar bieden op de lange termijn een plezierige exspansie op dit leven. Met zijn werken probeert hij dan ook een tegenhang te zijn voor de consumtiemaatschapij, waarbij juist de focus ligt op het korte gelukzaligheidsgevoel waarna weer een leegte ontstaat en men nieuwe impulsen opzoekt.
De stokroostegel is een ontwerp bedoeld voor de straten van voornamelijk Rotterdam. Deze stad staat bekend om zijn stenige uitstraling vanwege de vele nieuwbouw als gevolg van de bombardementen in de tweede wereld oorlog, het simpel aanbrengen van de stokroostegels zou de stad een groener en vrolijker aanzicht moeten geven. Daarnaast heeft de stokroos grote bladeren wat zeer  goed is voor het afvangen van CO2 en is het probleem van erosie bij het verwijderen van stoeptegels voor de groei van planten verholpen doordat er dankzij dit ontwerp zowel een tegel als plant aanwezig is. Hiermee is het ontwerp een groene en duurzamen innovatie. De tegel [x] is zo ontworpen dat de stokroos ondersteund word door twee toe te voegen (bamboe)stokken. Verder heeft de bloem niet veel nodig hij is namelijk zeer sterk en groeit zonder al te veel problemen, de stokroos is een mooi symbool voor de veerkracht van de Rotterdamse inwoners. Ook groeit de stokroos niet in de breedte maar in de hoogt dit is wederom een symbolische verwijzing, dit keer naar de skyline van Rotterdam.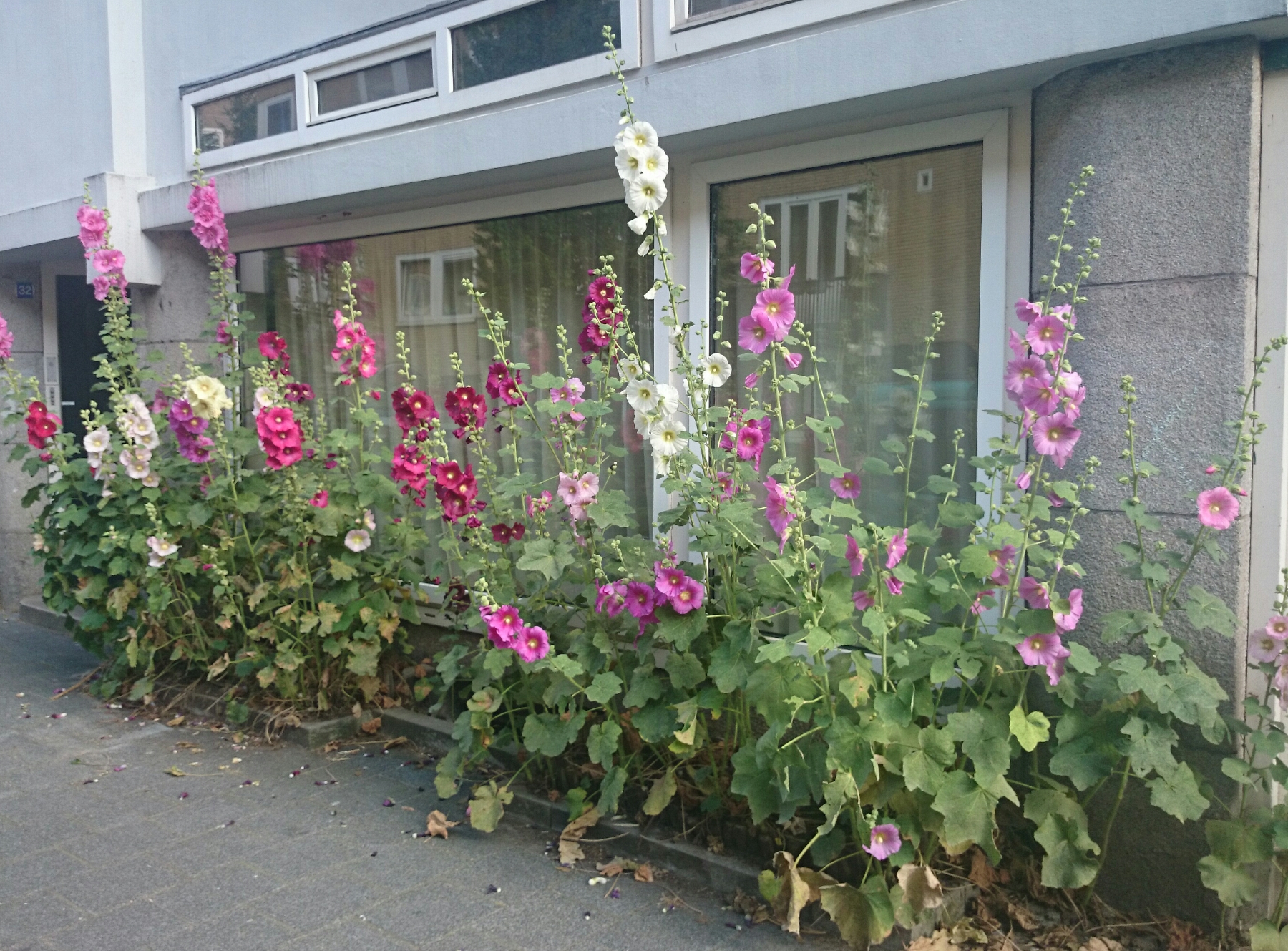 Dit beantwoord echter nog niet de vraag waarom ik mij persoonlijk aangetrokken voel tot dit ontwerp, dus dook ik dieper in de materie.
Eén van de eerste verbanden die ik legde was met het boek ' Een nieuwe aarde' van Eckhart Tolle. Tolle stelt namelijk dat de bloem, na miljoenen jaren van enkel groene begroeiing te hebben gekent, als verlichting van de plant zich aan de wereld toonde. Dit zou ook de reden zijn waarom de mens zich zo aangetrokken voelt tot deze schoonheid. De bloem is het venster op het vormloze, de voorbereiding voor een diepere verandering in het menselijk bewustzijn.
Vanuit dit startpunt ben ik verder gaan zoeken naar de betekenis van natuur voor de mens in de stad. Hierbij stuitte ik op verschillende onderzoeken die aantonen dat de aanwezigheid van natuur een grote invloed heeft op het brein.
Zo blijkt dat bepaalde centra in de hersenen die in verband staan met angstreacties en met het verwerken van emoties rondom beloning en straf bij stedelingen verhoogde activiteit vertonen wanneer zij worden blootgesteld aan kritiek. Dat het emotionele systeem van stedelingen anders werkt dan bij de mens op het plattenland is dus letterlijk zichtbaar in de hersenen. Wanneer deze sociale stress een chronisch karakter krijgt heeft dit invloed op zowel de psyche als lichamelijke gezondheid. Zo speelt stress een grote rol bij het ontstaan van burnout, depressie, angst en schizofrenie. Het lijkt dan ook logisch dat mensen  in een stedelijke omgeving meer last hebben van depressies en gevoeliger zijn voor stress en omgevingsprikkels.
Bomen en planten zorgen voor een verplaatsing van de aandacht in de hersenen van de stedeling. Waar waakzaamheid en gerichtheid op de visuele buitenwereld in de stad de boventoon voert zorgt natuur voor een focus op de binnenwereld meer reflectief en op jezelf georiënteerd zijn, ofwel het nu ervaren. Stad en natuur doen dus een verschillend beroep op deze twee vormen van aandacht. Gebleken is dat de mogelijkheid te reflecteren een sleutelrol heeft in het omgaan met stress. En dus heeft de aandacht die ontstaat in de natuur  een positief effect op de omgang met kenmerkende problemen van de stedeling.
Om hierop in te spelen zijn er al verschillende vormen van psychische hulp gebaseert op dit gegeven, zo bestaat er tuin- en natuurtherapy.
De drempel om positieve effecten van de natuur te ervaren is namelijk verassend laag. Zelfs een natuurfoto of -film vergemakkelijkt het al om met stresvolle ervaringen om te gaan. De aanwezigheid van een bloem in het straatbeeld heeft dus ook invloed op onze psychische welgesteldheid.
En daar ontstaat een interessant draagvlak in mijn zoektocht.
Om meer te weten te komen over hoe Patrick Kruithof dit soort diepere filosofie betrekt in zijn werk zoem ik in op een ander project van hem.
Lange tijd heeft hij zich bezig gehouden met het onderwerp 'het nu'. Dit project bestaat uit een onderzoek over het nu en visualiseert zich in een verzameling quots. Met het uitgangspunt dat 'het nu' veel te bieden heeft,  maar de mens hier vaak te weinig vanaf weet en voornamelijk in het verleden of de toekomst leeft. Het doel is dat deze studie Patrick zelf en de aanschouwd zal leren over het belang van leven in 'het nu'.
The Moment Quotes ?@themomentquotes · 2 mei 2011
"There is only one #moment for us to live, and that is the present #moment." (Thich Nhat Hanh)

En daar ligt het verband met mijn intuitive verbondenheid tot het ontwerp van Patrick Kruithof. Zijn werk, waaronder de stokroostegel, spreekt voor mij over een diepere filosofische beweging; het proces van bewustwording.
Het proces waar ik op dit moment sterk mee bezig ben.