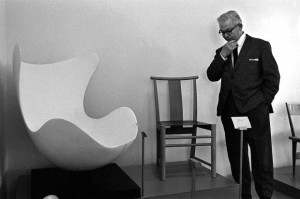 It's always hard describing a well known person, a song, movie image, object, etc. In my case it's a chair. Not only any chair, but Arne Jacobsen's famous, or should I say infamous Egg chair. So, to get the formalities over with, I will start with some less elaborate reading about Jacobsen's history.
Arne Jacobsen (1902-1971), was a Danish architect and designer. Jacobsen graduated from the Danish Royal Academy of Architecture in 1927, where he later became professor in 1956. After graduating, Jacobsen quickly became a worldly name. He is internationally best known for his iconic chair design; Seven, the Ant, the Swan, and the Egg.
Jacobsen is one of the few who have enrolled in both design and architectural history. His breakthrough as an architect came in 1929, with the winning proposal for a competition, House of the Future. The proposal, which was realized temporarily in connection with a large housing exhibition represented the then 27- year-old Arne Jacobsen along with fellow student Flemming Lassen. As an architect, Arne Jacobsen was truly an interpreter of functionalism, with its rigid geometric lines, and white surfaces. Even though the rigidness and sharp lines remain in Jacobsen's architecture, he breaks with it in his furniture design, especially with the Egg and the Swan. It is this integration of architecture and design, also known as Gesamtkunstwerk (total work of art, ideal work of art, universal artwork etc) that reveals Jacobsen's best abilities.[x]
How can design say something about you?

10 Crosby Fall 12 By Derek Lam
So what is it about that Egg, why has it won so many people over, what is so alluring, so irresistible that people are even willing to spend thousands of euros, or in other cases willing to buy fakes, just for the sake of owning a Jacobsen? Is there at all any difference between a fake and a real chair, does it even matter, and is it perhaps not about authenticity, but instead about the design, the look?
When someone says that the dog looks like its owner, is it because the owner chooses a dog that mirrors some of the owner's properties. Here I guess we can transfer the example on our personal choices of design, because we often choose designed products from our own personality. Thus the objects we buy, become a kind of extension or doubling of ourselves. Often it happens unconsciously, but we can also choose to "brand" ourselves, that is, create a specific idea about ourselves to others, by choosing a particular clothing style, listen to a certain type of music and buy products that support the impression we want to give of ourselves.
If you invest in expensive design, and designer "stuff", it's obvious you want to portray yourself in a certain way. But what about originality ? If someone chooses to invest in an original Egg chair, and bought it in good conscience, but it turns out it's a fake, without the buyer knowing it. Would the value still remain the same because the conviction of belief still is intact ? Here I would argue that it is.
I recently read an article in the danish news paper Politiken, about a man, Henrik Buus Nielsen, who purchased two copy's of Arne Jacobsen's the Swan chair through the English dealer Voga.com.
" I could well buy the classics in the 'real' issues, but 'why pay 30,000 Kr, when you can make do with 7,000', he asks. And since the money still does not go to the designer, but the producers, he can not see a problem in buying replica furniture.
 I think Henrik Buus Nielsen makes a good point in the sense that the money doesn't go to the designer, but to the producers. In this way he argues that the "original" Egg or Swan chairs being produced today, in a way also are "fake"!? So perhaps originality doesn't play as big a role any more, and if so what is it about?
The Design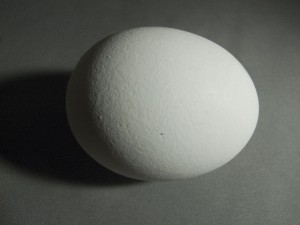 My first encounter with the Egg chair, was on an eighth grade school visit to the famous Royal SAS hotel [x] in Copenhagen. I remember starring at the chair, and feeling quite apprehensive about sitting in it, it was almost to "valuable" in a way. It reminding me of the first time a saw a baby chicken hatch. The Idea of protection, and openness at the same time, was quite intriguing. The Egg is crafted as one piece, and in doing so, it gives the impressions of shelter, it kind of holds you, almost like a hug.The form of the chair is recognizable, you have seen it before. But there is something about the shape, the eye never becomes sated by, and you constantly see new lines and new forms. I Recently went to visit the SAS hotel again [x], and it's quite remarkable that the Egg chairs in the lobby feel ever as contemporary as they did 10 years ago. Personally one could argue that the modernist building style and architecture, hugely inspired by the functionalists, in some cases doesn't always work in the interior design, but in this case it really does. The round curves of the chairs, oppose the straight and linear constraints of the building, which together dance quite elegantly. While I was in the lobby I began to think about Henrik Buus Nielsen, and his fake chairs, and what if these chairs in the lobby indeed also were fakes. Firstly I don't think anyone would noticed, or ever question their authenticity, after all they are in an original Arne Jacobsen building inside and out. And honestly I don't think it would bother me that much if they were. In this case the design overshadows the fake, or real of it all. Stores have copied quality design for ages, but I think it's first during the last couple of years, that it has become more accepted to own or buy fake designer goods. The tendency is all but increasing. People want good design, but for a cheaper price, and like Henrik Buus Nielsen said: 'why pay 30,000 Kr, when you can make do with 7,000.' Originality can always be discussed to a certain extent, and probably a question that is going to be asked more and more frequently, but good design can never be discarded. For me that is the main essence with the Egg, having a design that no matter how many years go by, and how many replicas there are produced, still prevails. And that is what Arne Jacobsen's Egg represents. It embodies all aspects and criteria of good design, a universal design, and like the hatching of an egg, Arne Jacobsen's chair will remain, it really is perfectly laid.