Before my sister and I left the house of my parents there used to be a clear structure in chair-composition during the breakfasts and dinners.
A rectangular formed table surrounded by 6 chairs at the 2 long sides of the table. My parents sat in front of each other, and my sister in front of me in the middle of the table.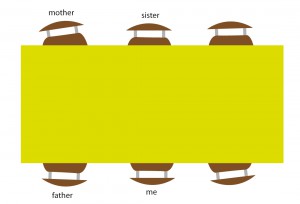 Everyday this composition was the same (although we tried a few times to change), except of 4 days a year, the birthdays.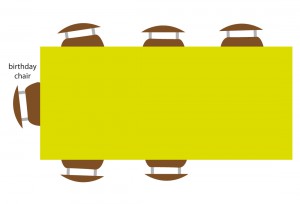 The ritual of a birthday was that the lucky birthday person stayed in bed while the rest was preparing breakfast and the living room with as finishing touch the 'birthday-chair'.
The 'birthday-chair' means that one of the chairs was covered in garlands and, very important, the chair was moved to the head of the table.
The chair, a simple and comfortable design by Gispen, inspired by the tube-construction of Marcel Breuer, used in a school, than sold to my parents for 5 guilders a piece, is quite hard to decorate because of the simplicity. 3 days a year it felt like my responsibility to decorate the chair in an artistic and surprising way.
The goal was of course to make the one who's birthday it was feel important. It was his/her special day. By placing the chair at the head of the table he or she was the boss of the day. By making the chair look special I tried to make the person feel happy and loved.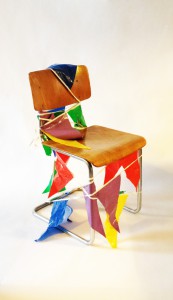 What I realise now is that chairs can say a lot about hierarchy (throne). What I also think is very interesting is the contradiction between the super functional chair and the colourful (ugly) decoration what change the feeling of sitting totally. Can we consider this as a new 'design' chair?