Some works initially aim to touch your feelings and to change your carefully complied seeing of life. They can cause a whole pattern of various emotions from the complete abhorrence to inexpressible delight. I walked through the halls of the "Dream out Load" exhibition and noticed a small group of people gathered around something that seemed to be very interesting. "That's gross!" – Somebody exclaimed but continued starring at the subject of interest. I love gross and in a second I found myself looking at the "Circumventive organs" by Agi Haines and a short footage about implanting the organs inside the artificial (I hope so?) human body. From that moment I would start calling her "a mad scientist" of the design. What she designs is not posters, not buildings and even not that fancy clothing you are wearing. The subject of her focus is mainly a human body and organs.


Electrostabilis Cardium by Agi Haines on vimeo
With the introduction of bioprinting the possibility of new organs is becoming a reality. The ability to replicate and print cells in complex structures could mean different cells with various functions could be put together in new ways to create new organs we would take millions of years to evolve naturally. Frankenstein-esque hybrid organs could then be put together using cells from different body parts or even different species.
This short film envisions the surgical procedure designed for the fitting of Electrostabilis Cardium, a defibrillating organ using parts from an electric eel that can discharge to release an electric current to the heart when it recognizes it going into fibrillation (heart attack).
Alongside the film are other 'Circumventive Organ' designs including Tremomucosa Expulsum an organ that uses rattlesnake muscles to release mucus from the respiratory system of a person who suffers from cystic fibrosis and dispel it through the stomach, as well as Cerebrothrombal Dilutus which contains cells from the salivary gland of a leech and releases an anticoagulant when it feels the pressure of a potential blood clot in the brain as a way of avoiding a stroke.
Agi Haines' mind-bending, hyper-real sculptures function in an epistemological limbo, existing somewhere between art & science, technology and ethics, and present and future. Haines creates pieces that are uncanny, transgressive, and sometimes conflicting, stunning in their insight and repulsive in their execution. Her near-future world is one in which rattlesnake muscles can be 3D-printed, inserted into the human body and used to combat cystic fibrosis.
I chose Agi's work as a main topic of my research because bioprinting and bioart is something that intrigues me a lot. Though I was never familiar with bioprinting, I was always interested in this incredible and magical world of the body and it's insides, how it lives, transformes, reacts and evolves.  I am fascinated by the possibilities of 3D bioprinting and how it can affect the evolution process. My belief is that the future of design lays in more extensive work with human body as a material and If I will be given a chance to take part in the process of organ designing, I would be glad to create something useless and provocative. In the interview Agi explains how the organ printing works: living cells mixed into cell-friendly material, such as collagen, that will make a scaffolding for cells to grow on. Then the organ is being printed layer by layer, just the same as an ordinary 3D printer works.
The ability to replicate and print cells in complex structures could mean different cells with various functions could be put together in new ways to create new organs we would take millions of years to evolve naturally. Haines envisions what it would be like to not only replicate existing human organs, but also produce newly designed, improved organs for implantation as (curative) therapy for chronic diseases and defects. In the same way, animal cells with useful properties might even be employed to create organs with entirely new properties. An organ that incorporates eel cells could conceivably function as a natural defibrillator, delivering a resuscitating electric shock in case of cardiac arrest.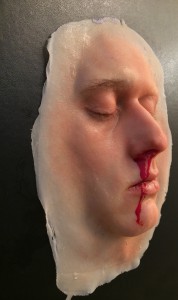 If you prick us do we not bleed" work by Agi Haines
… can we consider bioprinting as an art form?
I keep on asking myself this question, because the border between biology, genetic engineering and art rapidly disappears, or, more likely, has already disappeared. Tissues, organisms, organs and bacteria became a media to create works of art. They have been used in the same way as one artist would use the paintbrushes or the materials from the Rieveld's trashcans.
Even before the bioprinting, American artist Eduardo Kac established the name "Bioart" for his works. Kac considers himself a "transgenic artist," or "bio artist," using biotechnology and genetics to create provocative works that concomitantly explore scientific techniques and critique them. In 1998 he comes up with his work "Genesis" that explores the intricate relationship between biology, belief systems, information technology, dialogical interaction, ethics, and the Internet. The key element of the work is an "artist's gene", i.e., a synthetic gene that he invented and that does not exist in nature.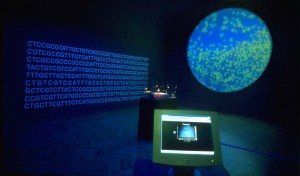 "Genesis" by Eduardo Kac
Another project of Eduardo Kac was famous glowing rabbit called Alba. By injection of green fluorescent protein (GFP) of a Pacific Northwest jellyfish into the fertilized egg of an albino rabbit he creates the bunny that can glow green when illuminated with the correct light.
"GFP Bunny" has raised many ethical questions and sparked an international controversy about whether Alba should be considered art at all. "Transgenic art brings out a debate on important social issues surrounding genetics that are affecting and will affect everyone's lives decades to come," Kac is quoted as saying.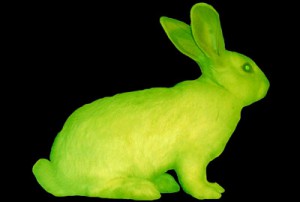 'Alba' glowing in the dark bunny, by Eduardo Kac

Faced with some operations our aesthetic but also ethics sense is often put in a critical position. We are forced to redefine the border between animate and inanimate world and our definitions of subject and object. Indeed, when the symbolic and material boundaries of humans opened to technology, some considered it as hospitable, however many found it offensive or even dangerous. One of the main concerns about bioart is that people view it as an unnecessary use of living organisms. While the use of living organisms is often tolerated because they are used for research and thus improving the quality of peoples' lives, bioart is often criticized as an uncalled-for practice because of the role of aesthetics in the artworks. In addition, bioart creates uncertainties among the public because bioart projects such as eugenics are undertaken by artists and not researchers. Nevertheless it is important to bear in mind that (bio)artists also need to do research prior to conducting their experiment or artwork.
Coming back to bioprinting as an art form, I would also like to mention the Dutch artist Diemut Strebe and her 3D printed Van Gogh's ear. She created the replica ear using living cells from van Gogh's great-great-grandson. The ear itself is made from actual living tissue and was 3D printed into a shape resembling van Gogh's left ear. The ear is currently being displayed in a German museum and is suspended in a clear display case full of a nourishing liquid that is expected to keep it viable for many years. The artist has also added a microphone to her installation so you can actually speak to the replica of Vincent van Gogh's severed ear [x].
"Sugababe" by Diemut Strebe • "Body Modification for Love" by Michiko Nitta
Another artist, who is trying to make our life more interesting, bypassing the ethic issue, is Michiko Nitta and one of her works – Body Modification for Love. It is an idea which could be developed in the future – a technique for genetically growing selected parts of another person on another person's skin. What Nitta is proposing is for example a nipple of ex-girlfriend or a mole of ex-boyfriend. Patch of living hair would be also possible to grow on somebody's else arm. It is supposed to be a new form of tattoo as Nitta says. Parents are always upset when their kid makes his first tatoo. How upset they are going to be now, when their beloved one would come up with a nipples on his forearm?
The options are endless and there are a lot more projects, researches and artists I could also mentioned here. There are a lot of things to discover yet and who knows – maybe in the nearest future our bodies would be modified and consist of artificial organs? Not the best scenario, to be honest..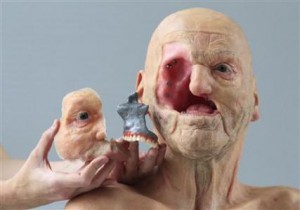 This research project is based on the "Dreaming Out Load" design exhibition curated by the Stedelijk Museum Amsterdam